Nothing beats a big, healthy dose of family, fun, and fresh air. Pack up the kids, get away from your four walls and explore any number of these outdoor activities that will help bring everyone closer together.
Outdoor Activities for Warmer Months
When the weather turns warmer, a whole new world of outdoor activities opens up. Soak up some sun with the ones you love most as you try out a few of these fun outdoor activities for families.
Be Beachcombers
A day at the beach is great fun for every family member. Many outdoor activities are perfect for the beach, such as searching for seashells, examining tide pools, swimming, surfing, or playing beach games like Frisbee, volleyball, and flag football. Building sandcastles, enjoying a picnic, and taking long walks are other great options.
Make Mud Pies
No childhood is truly complete without spending at least some time getting dirty in the backyard. Reserve an afternoon for making mud pies. Fashion pies in all sorts of shapes and sizes. Decorate them with berries, twigs, leaves, and small stones. Hold a Prize Pie contest and award a winner for the most creative or pretty pie.
Try Waterskiing
Waterskiing is an exciting and exhilarating activity to try in the warmer months. If your family members are all of an age where a more extreme sport appeals to them, give it a shot. Even if no one has tried waterskiing before, everyone will still have a blast encouraging each other and laughing at everyone's many tumbles into the waves.
Make a Backyard Slip and Slide
A slip and slide is a fun and inexpensive activity for families to take on during the summer months. Work together to create the slip and slide and then spend the afternoon running and sliding all over the place.
Run Through the Sprinkler
Remember when you were little and summer evenings were all about popsicles and running through a sprinkler? Channel your inner child and run through the backyard sprinklers along with your kids. The kids will get a kick out of watching their parents get soaked and run free; and parents will remember one of the simple pleasures of warm summer months.
Take a Family Bike Ride
Bike rides are economical, environmentally friendly, and great exercise for everyone. Be sure that the bikes are in good repair, have appropriate helmets for everyone, and choose a bike route that even the youngest or most inexperienced member can safely navigate. Biking can also lead to a delicious picnic or other outdoor activities at the end of the ride.
Get Gardening
Gardening is a relaxing and productive outdoor activity for the whole family. Whether the aim is planting flowers or tending vegetables, gardening can be educational for all family members. Children can learn the value of their hard work leading to tasty rewards when they enjoy what they've grown. The produce or flowers from a garden can also be shared with an extended family or neighbors, or even sold at a local farmers' market.
Plan a Family Fishing Day
Pack up the fishing poles, bait, and some snacks, and scout out a local watering hole. Even if you don't catch anything, kids will have fun learning to bait their hook and cast their lines. Should you get lucky and hook something, reel in the big one and capture the image on camera or video. It will make for a lasting memory for sure.
Observe Insects Up Close and Personal
Bugs are a big hit with kids. They love to learn about the creepy crawlers in their world. Check out a book on bugs from the local library and read up on what can be found hiding under logs and rocks. Take a notebook, pencil, and your bug identification book outdoors and see what you can find. When it's time to come inside, follow up this outdoor activity with an extension art activity like bug origami.
Hold Backyard Boat Races
If you live near a small stream or know where to find one, try holding a Family Boat Race Day. Use household items to build small boats and then send them downstream. Watch them race for several yards, marking off a finish line. Celebrate the end of the race by splashing in the stream.
Outdoor Activities Geared for Colder Weather
Just because snow is falling and temperatures are dropping doesn't mean you and your brood have to stay cooped up indoors. Wintertime is genuinely a wonderland! It's so fun your family won't even realize it's downright freezing outside.
Have a S'mores and Bonfire Night
Build a campfire, gather up plenty of blankets, and enjoy s'mores along with one another's company for an evening. Bonfires are an excellent outdoor family activity when done safely. Make sure to build your fire far away from any brush or structures. Always have enough water nearby to put the fire out, and keep it to a manageable size.
Take a Christmas Lights Tour
Load the family up in the car during the holiday months and drive around the town, gazing upon the Christmas lights displays. Bring along snacks and hot cocoa, and put some classic holiday tunes on the radio. This favorite yearly activity might just become a family tradition over time, and something that your children will remember and cherish for years to come.
Chop Down Your Christmas Tree
Many people enjoy the smells and sights that accompany a living tree being set up indoors. While decorating the Christmas tree is a festive indoor activity families love, chopping it down is just as fun! Head out into the wintry forest, or visit a local tree farm to pick out your perfect Christmas tree.
Spend the Day Sledding
A classic winter activity that families can do outside is sledding. You can look for small hills to take little kids on, or larger hills to race down with older kids. Pack up plenty of warm clothing, hot beverages, and your favorite sled or toboggan, and spend some time racing each other down an icy hill.
Learn How to Ski or Snowboard
If sledding seems like child's play for your adventurous gang, try learning to ski or snowboard. You can rent gear at local ski hills and even take beginner's lessons as a family. Learning to ski or snowboard is an excellent skill to try to learn as a family, so you can spend countless hours enjoying this activity for years to come.
Try Snow Tubing
Snow tubing is another wintertime family activity that requires little more than a hill and the right gear. You'll need a sturdy tube that is designed to withstand the lumps and bumps often associated with ski and sledding hills. Purchase several snow tubes and go down the hill as an entire family.
Build a Snowman or a Snow Fort
When Mother Nature dumps loads of snow into your backyard, use it! Build a cute family of snowmen, all dressed up like the members of your actual family, or create a mega snow fort to play in. Once you build the walls up, take your hot cocoa inside the fort, or use it as a snowball fighting fortress.
Creative Ideas to Try in the Great Outdoors
Nature can spark so much creativity in young minds. These family outdoor activities will inspire the whole gang to get outside and make something amazing together.
Turn Your Sidewalks Into Masterpieces
Colored chalk is inexpensive and can offer hours of creative play for the entire family. Children and their parents can draw game boards, murals, hopscotch, or meaningful pictures on the sidewalk or driveway. Working with chalk is an excellent means for practicing handwriting or alphabet lessons, making this activity as educational as it is fun.
Become Photographers
Spend the day outdoors, capturing the beauty of nature through a lens. Visit a nature preserve, walk the streets of your city, or find farm life and capture images of what you see. Later, you can develop these pictures and turn them into a beautiful book of memories for all to enjoy.
Build an Outdoor Family Fort
Hunt for the perfect tree, round up some boards, nails, and various supplies, and build a family tree fort. If a tree fort feels too challenging, gather sticks, ropes, sheets, and other supplies, and fashion a ground level hut to hang out in. Building forts is a timeless outdoor activity that will provide families with hours of fun during construction and afterward.
Make Fairy Houses
Fairy houses are fun and whimsical and can be made with just about anything found in nature. Collect leaves, moss, twigs, rocks, and sticks and create fairy houses in your backyard. With some glue and paint, boring old stumps and plain-looking birdhouses can become places of magic and wonder for children... and fairies!
Go on a Scavenger Hunt
Find a list of items to scavenge for and set to your task. Work in teams to see who can complete the scavenger hunt first. Set aside a small prize for the team that makes it through the list first. Celebrate the hunt with a treat, like homemade cocoa in colder months or popsicles in warmer weather.
Meal Plan at the Farmer's Market
Visiting a farmer's market is an educational, seasonal activity that the whole family will reap rewards from. Browse the unique stalls and choose healthy, local ingredients to take home. Once home, divide your family up and have each team create a meal using the items you brought home from the market. You can also check local farms for their berry picking schedules, and go pick bushels of strawberries, blueberries and blackberries to use in delicious dishes and desserts.
Enjoy Some Fun With Bubbles
Kids love bubbles! Find an easy DIY bubble recipe and whip up your own solution. Take your mix outdoors and experiment with various bubble wands, making all sorts of shapes and sizes of bubbles. See who makes the largest one, the longest-lasting one, or the most interesting bubble. What silly things do your bubbles look like as they float away?
Fashion a Homemade Watering Can
Tending to plants is something that the whole family can help with. Kids learn the importance of caring for living things, and recognize how their contributions to the family aid in the common good via simple chores. Make a homemade watering can together. Take your creation outside and water plants in warmer weather.
Hold a Stuffed Animal Parade
Little kids will have a blast creating their very own parade of toys. Dress up an array of favorite stuffed animals or dolls and load them into wagons or other pull toys. Play some catchy, parade-inspired tunes on your phone, and take everyone (toys included) for a spin around the block.
Do Some Rock Painting
Rock painting is an inexpensive outdoor craft that just about anyone can do. All you need are the proper paints, a paint brush, clean stones, and a fun and creative idea in mind. Rocks can be made into animals, contain inspirational messages, or be covered with funky designs. Anything goes in rock painting, and the only rules are to have fun and be creative.
Make and Fly Kites
A windy day is no reason to stay indoors. Gather around the kitchen table and create homemade kites in all different colors. Take your flock of kites outside and into an open space. Fly them through the air. See whose kite stays up in the sky the longest!
Perfect Day Trip Ideas for Adventurous Families
Pack up the kids, load everyone into the car and take off on the open road! These outdoor adventures might take up an entire day, but the smiles you get will be worth the effort.
Head Out to a Favorite Hiking Trail
A family hike, whether for an hour or a full day, is a fun activity and great exercise. Investigate different nature trails and parks for hiking routes. Learn where local and regional scenic spots such as waterfalls, overlooks, hidden groves, or colorful cliffs may be located, so you can hike to them and enjoy your own corner of the planet.
Take a Tour of Playgrounds
A trip to a single local playground can become predictable and boring after just a few visits. Switch things up and spend the day on a playground adventure. Scout out several playgrounds within an hour from home and hit up as many as you can. Pack lunch for the family and know that everybody will be falling asleep early that night.
Hang Out at a Local Festival
Outdoor festivals can provide great family fun. Hot-air balloon festivals, state and county fairs, sandcastle building competitions, organized nature walks, fireworks shows, kite flying festivals, and more are all superb options for the family to enjoy. No matter where you live, there are bound to be a few events held during the year.
Attend an Air Show
Attending an air show is a thrilling way to spend time outdoors. Do a simple internet search to discover when and where air shows will be performing near you. Warning: this activity can get loud, so prep your family, and bring noise-canceling headphones if you think that will help make the experience more enjoyable.
Go on a Geocaching Adventure
Geocaching is an especially entertaining activity for older children and teens. Geocaching is like a giant, local treasure hunt where GPS devices are used to track down a hidden geocache. To add an extra layer of challenge to the activity, give your family a set time limit and see if you can crack the codes before time runs out.
Take a Canoe Trip
Canoe trips can be lengthy jaunts down winding rivers, but for families looking for a perfect summer mesh of activity and relaxation, canoe trips are a prime family outing. Be sure to block out the entire day, as many river trips can take several hours to complete.
Do a Ropes Course Challenge
If your family isn't scared of heights, see if you can all work together to make it through a ropes course challenge. Test your balance, courage, and family spirit by sidestepping, jumping, and tiptoeing across platforms high up in the air.
Family Activities That Teach Kids a Thing or Two
Life is packed with teachable lessons and moments. Parents can use these engaging outside activities to help kids expand their knowledge and understanding of the world.
Have a Garage Sale
Have a family garage sale and involve the entire family in the process. Children can gather up unwanted items of their own and help sort everything that is for sale. Teach them that their well-loved items will go to a new family who will get great joy from them. Ask older kids to put price tags on everything, and request that younger kids put their design skills to the test, making signs to put all over the neighborhood. Consider using the money you make to purchase something for the family, or treat everyone to a fun night out.
Run a Lemonade Stand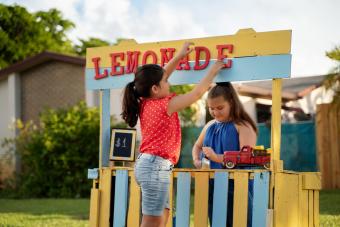 Create a DIY lemonade stand with your kids and whip up a batch of sweet and sour goodness for the neighborhood. Running a lemonade stand will keep kids busy for hours, while teaching them a bit of consumerism and customer service skills. This is a great activity to set up if you have ample yard work to tackle or a garage to clean out.
Start a Dog Walking Business
Want to teach the kids about responsibility and managing money? Start a family dog walking business. Make advertisements about your service and spend the afternoons giving the canines in your neighborhood a well-deserved walk. Use the earnings to enforce lessons about making, spending, and saving money.
Run a Car Wash for Charity
Make signs advertising your car wash. Purchase soap and necessary cleaning supplies and head into the sunshine to get your clean on! Work as a family, or invite friends to aid in your cause and help run your car wash. Take the earnings that you make during the day and donate them to the charity of your choice.
Walk or Jog a 5K
You can likely find a 5K to get the family signed up for during any part of the year. Many of these walk/runs are held in honor of a good cause. Complete it as a family in any way you can, and then go out as a group to celebrate your accomplishment.
Partake in a Clean-Up Project
Check out your community and see if any organizations are doing local clean-up projects. Are there city neighborhoods that need trash picked up, parks that could use a refresher, or gardens that need weeding? Get outdoors and help your city look its best.
Build Something for the Community
Many organizations aim to build things for the community; and if you can find a local organization with an upcoming project, offer up your family's manpower. Build climbing structures and playgrounds, help create community gardens, or pitch in with organizations like Habitat for Humanity to help put roofs over your neighbors' heads.
Shovel Driveways for Elderly Neighbors
Shoveling snow is great exercise and an excellent way to help your neighbors out. Get each of your kids a shovel and clear snow from elderly neighbors' driveways. Maybe there are new parents in your neck of the woods who could use a hand with this chore? Teach your kids that giving without the expectation of reward will make them feel better than a few dollars ever could.
Peaceful Outdoor Activities to Slow Everyone Down
Sometimes you really should stop and smell the roses. Not every outdoor activity has to be packed with adventure and physical exertion. These outdoor family activity ideas are simple ways to bond with your brood outdoors.
Be a Family of Birdwatchers
Birdwatching is an easy and entertaining activity that all family members can participate in. Pick up a field guide from a local bookstore or library and see how many bird species you can find in your neighborhood, or even just in the backyard. Keep a running list of the birds you spot, adding to the master list whenever you go on a birdwatching adventure.
Go Stargazing
During warmer weather, head into the clear night with your family and spend some time gazing up at the stars. Bring a blanket, a telescope, a flashlight, and a guide book to the stars. Locate familiar constellations and discover more about the vast galaxy above.
Watch the Clouds Go by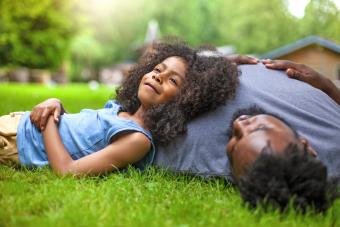 There is so much beauty and wonder in the world around you, and sometimes you simply have to stop and notice all that surrounds you every day. Go outside with a large blanket. Lie down with your loved ones and watch the clouds pass by. Discuss what they look like and what they remind you of. Many of the ideas that your kids come up with will have you giggling through the entire afternoon.
Have a Family Picnic
Pick a warm, sunny day to hold a family picnic. Pack up a blanket and all of your family's favorite picnic snacks and head outdoors for lunch. You can take your meal to a park, a river bed, or simply set up a spot in your backyard to eat. Spread out in the grass and dine alfresco.
Go Hammocking
Pack up some hammocks and find a grove of trees to attach them to. Once the hammocks are all secure, spend some time reading, relaxing, and talking as you sway back and forth.
Swing in a Tree Swing
Don't let the large trees in your yard stand lonely. Let them be the showcase for a family tree swing. Once the tree swing is up, take turns gliding through the air, warm wind at your face. Nothing beats a good tree swing.
Read a Book Under a Draping Tree
Kids love hearing a good story, and you don't have to reserve books for bedtime only. On a nice afternoon, tuck a classic book and a large blanket under your arm, and go find a shady tree to spread out under. The kids will be completely relaxed as they lie back in the breeze while listening to you read stories in nature.
Make Time for What Matters Most
There's nothing more important than family, and when it comes to kids, the saying, "The days are long, but the years are short," could not be more true. Make time to get outside with your family and create memories that will last a lifetime. Whether you head out on a lengthy excursion or simply lounge around the backyard staring at the passing clouds, time spent in the great outdoors with your family will always be cherished.