Harry Potter experts can reign supreme in the decades-old Harry Potter Scene It? game. Get ready to prove to your family and friends that you've really been a witch or wizard all along by successfully completing the challenges and winning the House Cup.
Millennials' Favorite DVD Game: Harry Potter Scene It?
There was a period in the 2000s and early 2010s where board games got an upgrade; from traditional games like Clue to new games like Scene It?, board games everywhere were being issued with DVD tie-ins. With just the press of a button on your remote, you can use your tv to bring an immersive element to your standard gameplay. While DVD players are harder and harder to find nowadays, you can still use your favorite game consoles (should they have their disc drives) to be able to relive those precious moments from your childhood before companies like Apple and Microsoft took over your life.
Specifically, Harry Potter Scene It? takes the same the basic premise as the Scene It? game, but it applies a magical twist on the content and design. It's recommended that you should play with at least two players and that playing time can range anywhere from 30 to 60 minutes, depending on each of the competitors' trivia expertise. Additionally, you can fold the triple circular board into a shorter path to start a faster game or extend it fully for the longest game possible. While the recommended age range for the Scene It? games is eight years old and up, any Harry Potter movie fan with sufficient familiarity of the game's categories can enjoy the challenge of scoring well on all of their O.W.L.s.
Harry Potter Scene It? Contents
This multi-platform board game is pretty easy to set-up and follow, thanks in part to the fact that there's not a ton of pieces to put together and arrange. The first edition of this game comes with:
1 DVD
1 game board
1 6-sided number die
1 8-sided category die
4 tokens
30 House Points cards
160 trivia question cards
The Best Way to Set Up Harry Potter Scene It?
Because Scene It? uses a DVD and a tv screen, then there's a specific way to set up your game board:
Lay out the gameboard in front of a TV and DVD player. The game board can be shortened for short games or fully extended for long games.
Select your token and place it on the start square.
Place the House Points cards in their designated area on the board.
Get the DVD queued up and choose someone to be the DVD master to control the game during play. This person can also keep track of when you set up your timer.
Harry Potter Scene It? Basic Rules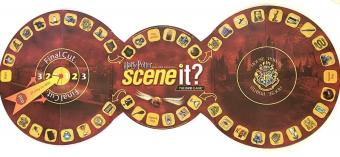 Each player (or each team if you have a lot more than four people playing) selects a token and attempts to maneuver that token around the circular game board and into the winner's circle by correctly answering various questions, some of which will be written on question cards and others which will be presented on the tv screen. Two dice are used in the game; the number die is used to determine the number of spaces a player can move during each turn, and the category die is used to determine the type of challenge they have to complete.
Challenge Categories
Part of the fun of playing this early 2000s game is in the randomness of which types of challenges you might have to face. Although it might be tempting to rage quit after getting the same question category four times in a row, make sure to keep playing on and testing how strong of a wizard or witch you truly are. When rolling the die, you can get both DVD and question card challenges, each of which poses their own difficulties. The challenges you may face include:
All Play - All Play is a DVD challenge that corresponds to the white triangle on the categories die. Everyone can compete in this digital challenge, and the DVD master should press play on the All Play card on the main menu screen. The first person to shout out the correct answer first gets the points.
My Play - My Play is the second DVD challenge that corresponds to the red triangle on the categories die. This challenge is similar to the All Play, but only the player who rolled gets to try to answer the prompt.
Hogwarts questions - If you roll a green triangle, you'll have to answer a question from a question card pertaining to life at Hogwarts.
Wizarding World questions - If you roll an orange triangle, you'll have to answer a question from a question card about the magical world as a whole.
Muggles questions - If you roll a yellow triangle, you'll have to answer a question from a card about the non-magical world in the series.
House Points - If you roll a blue triangle, then you'll have to draw a House Points card (found on the game board) and follow its instructions after reading the card aloud.
Player's Choice - The coveted silver space on the categories die signifies player's choice, and if you land on it, you get to choose whatever challenge you want to tackle.
Make sure to keep an eye on the board as you make your way through the magical realm; land on a floo powder space and win your challenge, and you double up the number of moves you roll on your next turn.
The Ways to Win the Game
Winning Harry Potter Scene It? is a little more tricky than just answering challenges correctly and moving to the end of your game path, as you'll be able to tell with the three-tiered winner's circle whose bottom layer proclaims that you've got to stop. In order to actually win the game, you have to complete one of two challenges:
All Play to Win
The first chance you have to win is by playing All Play to Win DVD challenge. Once you land there, the DVD master will click on the All Play to Win icon, and everyone will compete against one another to answer the question correctly first. Should you be successful, you'll win that round of the game.
Final Cut
If you failed to beat your competitors in All Play to Win, not to worry, all hope isn't lost. You just need to move on to the final cut. In this ending, the DVD master will choose final cut where you'll need to successfully answer 3 questions to prove that you aren't a muggle. Best part? If you fail, you're not kicked out of the game. Just wait until your next turn to try again (as long as someone else hasn't slithered up behind you and taken the win themself).
Tips for Dominating Your Competition
To capture the magic of victory, players can easily prepare themselves for a Scene It? challenge without resorting to Slytherin-esque tactics. To play the best game possible, all you'll need is a little bit of 'swish and flick' practice:
Re-watch the films - First and foremost, you can re-watch each Harry Potter movie, including the deleted scenes and bonus features, to become familiar with the key scenes, lines, and actions that you might be asked.
Get comfortable with the gameplay - Practice game play with the original Scene It? to become accustomed with how the game works and the types of questions to expect.
Practice your trivia outside of the game - There're countless Harry Potter trivia nights around the world that you could attend (both physically and digitally) to get comfortable with quickly spitting out the information.
Other Harry Potter Scene It? Editions You Can Collect
Given how popular and nostalgic Harry Potter is for so many people, it shouldn't come as a surprise that there was more than just one edition of this game released. In fact, throughout the late 2000s, two other editions were released:
Harry Potter Scene It? 2nd Edition - This successor to the frequently played original was released in 2007 and offered new challenges and clips incorporating the films that had been released in the wake of the first game.
Harry Potter Scene it? Cinematic Edition - This massive compilation game covers all eight movies, including both of the Deathly Hallows, and uses Optreve technology to ensure new questions.
Continue to Relive the Magic Together
It can be a challenge for families to find board games that're able to compete with the attraction of high-tech video games, but the Harry Potter Scene It? games, even with their dated tech, offer a unique multimodal experience like none other currently on the market. So, for those September 1st evenings when you still haven't gotten your Hogwarts letter in the mail, drown your sorrows in butterbeer and a round or two of Harry Potter Scene It?.