From kids to adults, everyone loves a good game of checkers. If you can't find an opponent in your home, you can find one in a round of internet checkers, even if it's just the computer. Learn where you can play checkers online through a few trusted websites and apps.
Play Internet Checkers Online Free
If you are looking for a safe place to play checkers against a computer, online with friends, or against other players, you can find multiple reputable websites offering the game. Check out a list of a few of them.
24/7 Checkers
When playing checkers online, it doesn't get easier than 24/7 Checkers.com. This easy-to-use website doesn't require any downloads or sign-in. To start playing, you simply hit play. You can choose one player, two players, or play online. There is also a daily challenge function.
One-player - You can choose from easy, medium, hard, or expert.
Two-player - Choose your color for each player and begin. You can also turn on the force jump feature.
Online - You can choose to play anyone, invite a friend, or join a friend.
Once play begins, you have 60 seconds to make your move. The game also offers strategies for playing the game. If bored with regular checkers, try different versions like the 4th of July checkers or Christmas checkers. These seasonal games add the fun.
Is It Trustworthy?
The game does not require you to log in, so it does not take your email or any other personal information. Additionally, you don't need to download anything, keeping you safe from security breaches. The site also offers a clean privacy and cookie settings document you can check out. While the game does feature ads, they are on the sides of the game, making them unintrusive. Additionally, ScamAdvisors gave this a high rating for safety.
Math Is Fun Checkers Game
Checkers is fun at Math Is Fun. To play, you simply select a few main components like human or computer players, the board size, style, and if multiple jumps are allowed. Once you choose your parameters, you can hit play. Math Is Fun doesn't have a time limit for play, and you can start a new game at any time. It's a great way to get your checkers game on point.
Math Is Fun Site Trustworthiness
If you are worried about playing the Math is Fun checkers game, you don't need to. The game is simple to play and doesn't require any downloads or logins. Cathy Duff also gave this website an excellent review, noting its unintrusive ads and great content. Since this is a site designed for kids, you don't have to worry about your checkers game leading to a virus on your computer.
Braingle Checkers Games
Braingle allows you to play checkers against hundreds of other active players. Each player is ranked by ability on a ladder, and you may choose to play someone at any level on the ladder. The bigger the challenge, the more points you can potentially earn. Games are played over the course of days and weeks, and you do not have to be online at the same time as your opponent. You may also have multiple games going at any point in time. Your open games, moves, and history are tracked on your personal stats page. You must register for an account at this site, and membership is free.
Is Braingle Legit?
Worried about the security of Braingle? Don't be. The ScamAdviser gave this website a 100% trust score, meaning it's very highly trusted. Additionally, TeachersFirst gave it a favorable rating for being family-friendly and safe to use in the classroom. You can also easily find out information about their conditions and privacy on the webpage.
MSN Checkers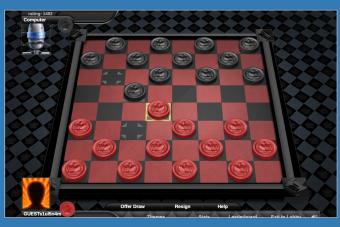 MSN's version of online checkers gives you the option of playing against friends, random players, or the computer. To play, you simply hit play now. MSN will ask if you would like to sign in to your account, but you can easily skip this step. After loading, you will have access to multiple rooms and gameplay options. You can choose to play the computer or wait for a human opponent. You also have the chance to check out themes and leader boards.
Trusting MSN Games
MSN Games is a known gaming website that offers dozens of different games. The ads are a bit bothersome but easily ignored when getting into your checker's match. You can also find information about privacy & cookies, ads, and third-party software at the bottom of the screen. WOT also noted that MSN is considered a very trustworthy website.
GameTable Checkers
GameTable is an interactive game company that offers an online checkers game. In this simple game, you can choose a one or two-player version. In either option, you can select themes, the board size, forced jumps available, and to show your moves. In the single-player, you can also choose from easy to expert. Once play begins, you have the option to get hints and reverse moves. This site also features a how-to-play section, history, and rules.
Security and Features
GameTable currently only offers four different games; it has a simple ad on the top of the browser that is not intrusive to gameplay. You can also find the privacy policy, cookie policy, and terms and conditions. The site also states that you can opt-out of the non-essential cookies. You'll also find an easy-to-use about us and contact us page to find out more about the game and contact about concerns.
Free Apps to Play Checkers
Playing online is great, but sometimes it's just easier to have an app on your phone or tablet that you can open at any time. It's also nice with little kids because you don't have to worry about going somewhere they shouldn't be on the web.
Checkers App
Looking for a simple game designed for everyone? Check out the Checkers app is available from the Google Play Store. This app has dozens of fun features like 10 difficulty levels and game assist. You can also get different themes, realistic sounds, and help with the rules. When it comes to rules, you can play in American through Nigerian rules.
App Safety
While the app states that it does contain ads and offers in-app purchases, it was given 4.3 stars on Google Play Store. One user noted that this was "by far my most favorite checkers app." And if you feel something isn't quite right, you can flag inappropriate content.
Checkers by Optime Software LLC
If you want to play checkers on your iPad or iPhone, you might want to check out Checkers by Optime Software LLC. This app was listed as the #1 Checkers app across Apple products. In addition to one- and two-player modes, the app offers a Game Center to play with friends or random opponents. If you want to upgrade your skills, you might play against the computer. This app plays by the American rules and has various levels of difficulty.
Should You Trust This App?
The Apple Store gave this app 4.5 stars. The game developer also gives you a clear outline of the types of data that are tracked when playing the game. You can also learn the privacy practices offered through their link. Additionally, Justuseapp.com recommended this app as a good one.
Playing Checkers Free Online
Playing checkers is great for all ages. However, you want to be sure that the website you choose for gaming isn't going to give your computer a virus or hack your information. You also want to watch for predatory ads that can look like part of the game. If you pay attention to privacy notices and look for an about us page and contact me page, you'll be in great shape for a good ole' game of internet checkers.