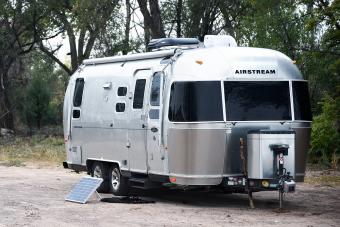 With their unique silver bullet appearance, Airstream campers are among the most unique and easily recognizable recreational vehicles on the road. If you're lucky enough to own an Airstream or otherwise have access to use one for travel, you'll be excited to discover that there are a number of exclusive Airstream-only campgrounds that you can explore, as well as rallies and other events open only to Airstreamers.
Airstream Only Campgrounds
Sean Michael of TheLongLongHoneymoon YouTube channel states, "Airstream campers are a little different. Not only do they look different (thanks to the aluminum exterior), but there's a lot of history there. Airstream is sort of like the Harley-Davidson of the RV world, so there's a huge community of die-hard enthusiasts." With that in mind, it's not surprising that there are a few campgrounds that limit their access to only Airstream campers and the people who travel in them.
Minnesota Airstream Park
Minnesota Airstream Park is located in Clear Lake, which is near the Minneapolis-St. Paul area. The campsites all have full hookups. Some are in a wooded portion of the park, while others overlook the park's nine-hole golf course (that campers can play at no charge).
The park also has a heated swimming pool, a sauna, a clubhouse, bathhouse facilities, laundry equipment, outdoor sports (pickleball, bocce ball, and horseshoes). The campground is open April through October unless inclement weather dictates otherwise. Many of the park's campsites are privately owned, though there are some rental sites available. The overnight camping fee is $50; weekly and monthly rentals are also available.
Jersey Shore Airstream Haven
Jersey Shore Airstream Haven is located between Cape May and Atlantic City. This beautiful campground is situated on 38 mostly wooded acres. It is a perfect home base for visits to the Jersey Shore. The campground has 98 full hookup campsites. Both Wi-Fi and cable are provided at no additional fee. Amenities include a heated swimming pool, a screened pavilion, bathhouse facilities, and a laundry area. The campground is open from late April through late October. Overnight rates start at $50 per night. Weekly, monthly, and full-season rentals are also available.
Tennessee Cumberland Plateau Campground
The Tennessee Cumberland Plateau Campground is an Airstream-only campground situated on more than 375 beautiful acres in the eastern part of the state, near Crossville. Each site has full hookups with 30-amp electricity and Wi-Fi. Amenities include a large clubhouse with a commercial kitchen and ice machine, modern bathhouse facilities, laundry equipment, nine hiking trails, and a large lake. There is also a large fireplace and a lending library. The campground is open April 14 to November 15. Most lots in the campground are owned by members, though there are some visitor spots that can be rented for $30 per night or $180 per week. Privately owned spots are sometimes listed for sale.
Texas Airstream Harbor
Texas Airstream Harbor is an Airstream-only campground exclusively for individuals over the age of 55. It's located on beautiful Lake Sam Rayburn in the East Texas town of Zavalla. Each campsite has full hookups with 30-amp electricity. The campground is gated and offers a clubhouse with a kitchen and laundry facilities. Wi-Fi is free and available throughout the property. The campground has 160 campsites, most of which are individually owned. A few campsites are designated as rental spots. The daily rate for rental spots is $20. Weekly and monthly rentals are available. Individually owned spots are posted on the campground's website when offered for sale.
Virginia Highland Haven
Virginia Highland Haven is a mountaintop campground just for Airstreams. Located in Copper Hill, Virginia, the 75-acre campground offers incredible views of the Blue Ridge Mountains of southwestern Virginia. There are 46 full-hookup campsites with 30-amp electricity. Each site has a concrete patio area. There are numerous hiking trails in the campground. Wi-Fi is available throughout the park, but cable TV is not provided. There is not a bathhouse in the campground, but there is a clubhouse with laundry equipment. The campground does have a designated off-leash area for dogs. The campground is open from May 1 to October 15 each year. The fee for camping here is $37 per night.
Washington Land Yacht Harbor
Washington Land Yacht Harbor is located in the beautiful town of Olympia. The more than 60-acre campground has more than 100 rental RV sites with full hookups. Limited Wi-Fi is also provided and the park has restroom facilities for guests to use. The campground has large event venues that can be rented for special events, such as family reunions or weddings. Overnight camping starts at $33 per night. Weekly and monthly rates are available. The community also includes nearly 200 residential sites, where Airstream owners can lease lots that have mobile homes on them.
Camping for Airstream Club International Members
If you join Airstream Club International (ACI), formerly known as Wally Byam Caravan Club International (WBCCI), you will have access to some members-only camping options and events, as long as you are traveling with your Airstream.
ACI Members-Only Courtesy Parking
If you are a member of Airstream Club International, you will have access to free overnight parking in a number of locations. Referred to as courtesy parking, these no-fee stayovers are made available to ACI members by other members. There are about 500 courtesy parking locations throughout the United States and southern Canada. The list isn't made available to the general public. If you're a member, you'll need to log in to your account to see what courtesy parking options may be available along the route you plan to travel.
Airstream Club International Rallies
Once per year, Airstream Club International holds a week-long Airstream-only rally in a different location in North America. Airstream owners who belong to the club gather from far and wide to camp out with other Airstreamers at a large venue. The location varies each year, but there are always vendor exhibits, educational presentations, and entertainment.
Regional Airstream Club Rallies and Camping
Regional clubs also regularly hold local rallies and other Airstream-only gatherings. The best way to find out about these events is to get involved with the regional group in your local area. Some regional groups even operate their own members-only campgrounds, such as the Top of Georgia Airstream Park in Helen, Georgia.
Camp in a Park Model Airstream
Even if you don't have an Airstream, there are some places where you can experience camping out in one of these unique recreational vehicles. Rates are comparable to a standard hotel room or cabin rental in the location where the campground is located.
Insider Airstream Information
Airstream travel trailers are known for quality just as much as for their sleek, aluminum exterior and long-lasting, durable construction. That's what attracted Sean and Kristy Michael of TheLongLong Honeymoon to this type of camper. Kristy states, "We loved the retro feel of the Airstream. It really is a timeless design, so we felt it would be stylish and hip forever. Also, approximately 80 percent of all Airstreams ever built are still on the road, so that told us that we were getting a quality product." They share a few insider insights:
Classic style - Airstreams have a classic look to them. Kristy explains, "Most people can't tell a 1968 Airstream from a 2006 Airstream, and we really like that. You can make them look as modern or as retro as you want with minimal effort."
Aluminum exterior - The aluminum exterior is about more than just classic design. Sean explains, "It will never go out of style, and it will never rust. If it fades, it can be polished. Many decades-old Airstreams still look fantastic today."
Towing ease - The curved shape of the Airstream isn't just about looks. The sleek, curvaceous design of these campers makes them easy to tow. Kristy expresses, "It really does tow like a breeze, even though it's so heavy and sturdy."
Firsthand research - If you're thinking of getting an Airstream, do your research. Sean notes, "My main advice is to do your homework. Think about how you will be using the Airstream. Read about different models, and if possible visit a good dealership with several on display. Nothing beats seeing the trailers in person!"
Vintage advantages - Sean advises considering all different years when you're shopping for an Airstream. He states, "While some people want a new trailer, others may prefer a vintage model. By restoring a vintage unit, you can have the best of both worlds; a timeless classic that is tailored to your own tastes."
Purchase decision - Kristy advises, "Just do it! I've never met an Airstream owner that has regretted the purchase. In fact, we meet lots of former Airstream owners who sold their trailers to acquire bigger options (fifth-wheels and motorhomes), and they always say, 'We never should have sold our Airstream.'"
Enjoy Your Airstream Adventures
Whether you camp out in an Airstream-only park or book a spot in a general campground that doesn't limit guests to certain types of campers, you're sure to have a blast during your camping adventures. No matter where you stay, be prepared to get noticed when you're Airstreaming.
According to Kristy, "Every time we pull into a campground, I am amazed at the number of smiles and 'thumbs-up' our Airstream attracts. Airstreams just make people happy, partly because lots of people have pleasant childhood memories associated with Airstream. Whenever folks see one, they immediately remember those good times of years gone by."