If you are planning to do some recreational vehicle (RV) camping in Kentucky, you're sure to be pleased with the wide variety of Kentucky RV campsites available throughout the state. Whether you plan to tour Kentucky's many caves, visit horse country, or spend time on or near the numerous lakes and rivers, you'll be able to find a perfect camping spot for your RV.
Pick the Best Parks for RV Camping in Kentucky
When it comes to RV parks, not all are created equal. Choose to make camp in a Kentucky RV park that meets your recreational needs as well as your vehicle needs. Picking a prime campground for your RV getaway makes all the difference between a magical trip and one you would prefer to erase from memory.
Cave Country RV Campground
Located in popular Cave City, Cave County RV Campground is like an entire town of recreational vehicles. This park can easily fit your RV, regardless of its giant size. Big rigs can even hunker down here for a night or two should drivers choose to. The park has full hookups, Wi-Fi, and cable available. The property houses a game room, fitness room, a dog park for Fido, showers, and restrooms, just in case your RV doesn't have its own.
While the campground has plenty for campers to occupy their time with, the surrounding towns and tourist hot spots, such as Mammoth National Park, give vacationers even more fun and activities to fill their days. A nightly stay here costs $46 for a 30-amp RV and up to $51 for a 50-amp over the holidays.
Elkhorn Campground
Elkhorn Campground sits in Frankfort, the capital of Kentucky. Recreational vehicle travelers staying at this campground get the best of both worlds: quiet, peaceful RV life on the grounds and the hustle and bustle of city life right outside the park gates. Sites here include full hook-up and pull-through sites. There is a dump station at the park, located near the bathhouse.
The park gives campers plenty to do. There are basketball and volleyball courts, an arcade, horseshoes, mini-golf, and a playground for the kids. Elkhorn Creek runs through the campground, so be sure to bring along your fishing poles and snag a few finned fellows during your stay.
The campground operates for roughly half of the year, opening in April and closing at the end of October. Rates are about $30 per night.
Whispering Hills RV Park
Whispering Hills RV Park, located in Georgetown, Kentucky, is simple in design. Still, campers love that it has amenities that make the park feel like home and accommodate any sized RV you might be traveling in. The park has 20, 30, and 50 amp hookups available, bathhouses, laundry facilities, basketball courts, a swimming pool, Wi-Fi, and DVD rentals for guests to take advantage of.
The park is only 20 minutes from Lexington, Kentucky, and an hour from Louisville, Kentucky. Horse lovers will especially adore staying here, as horseback riding is available at a facility nearby the park. Other area attractions include a wildlife park, and shopping and dining in historic Georgetown. Nightly rates here range from $36 to $46 depending on the site you score and the time of year you camp.
Singing Hills RV Park
Singing Hills RV Park is located outside Mammoth Caves National Park. It is a popular spot for those who enjoy recreational vehicle camping. The park is open year-round and has several full hookup sites, water, electricity, and Wi-Fi for campers to enjoy. The grounds have tons to do, including volleyball, basketball, horseshoes, a book trade program, and catch-and-release fishing in the property pond. Rates here are reasonable and on par with several other surrounding campgrounds. Campers can expect to pay about $42 for a 30-amp site and $46 for a 50-amp site.
Hillman Ferry Campground
Hillman Ferry Campground is located in the Land Between the Lakes Recreational Area. While it does accommodate tent campers, it is also appropriate for those traveling in RVs. Electric, water, and sewer services are readily available, as are accommodations such as showers, on-site laundry, ball fields, a swimming area, archery, hiking and biking trails, and plenty more. Campers can even rent bikes and golf carts to better get around the grounds.
Rates here range from $26 for a 30-amp site to $75 for an eight-person cabin rental.
Diamond Caverns RV Resort and Golf
Diamond Caverns RV Resort and Golf is located in Park City, Kentucky. Those staying here won't be able to keep from visiting the famous Mammoth Caves, as they are essentially next door to the RV park. This park has everything, from hiking and biking trails to a pool, clubhouse, and basketball courts. The park is unique in that it houses a full 18 hole golf course. Camp, golf, and take in the sights and scenes of the surrounding area. There is no way anyone is going to tire of this wonderland.
Sites here have access to full hookups, on-site laundry, restrooms, and showers on the property. The cost per night is about $46, but this varies depending on your site needs and the time of year you choose to book.
Yogi Bear's Jellystone Park Mammoth Cave
Yogi Bear's Jellystone Park is a kid's paradise and a perfect RV park for families. Located outside Mammoth Caves National Park, Jellystone offers several site options for RV campers. Prices here are higher than at some other parks, ranging from $83 to $126 per night during the peak season.
The park is packed with many fun amenities. It will be hard to force yourself to leave the grounds and explore all Kentucky has to offer. Karst Beach is a massive inflatable water park and is located inside the park. Campers can also shop at the Huckleberry Knob gift shop, rent go-carts, play mini-golf, go fishing at the pond, and do so much more here.
Cummins Ferry RV Park
Cummins Ferry RV Park is located in Salvisa, Kentucky. It sits on the Kentucky River, and the primary draw here is the stunning scenery. Visitors can spend their time soaking up the sights of massive limestone rock walls and majestic waterfalls right outside their camper door. When it is time to switch gears from tranquility to exploration, campers can leave the gated park and head into nearby Frankfort or downtown Lexington.
Sites with full hookups and pull-through options are available. Water, electricity, and dumping needs can all be handled at this pretty, unassuming RV park. Daily rates range from $40 to $55, and visitors can choose to stay a day, a week, or even a month.
Bailey's Point Campground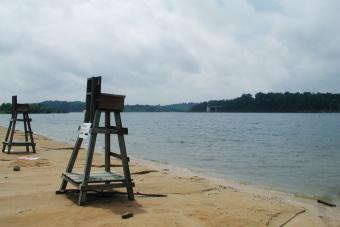 Bailey's Point Campground is the largest among the Army Corps of Engineers campgrounds located along Barren River Lake near Scottsville, Kentucky. If waterfront RV camping is what you are searching for, this is a perfect locale for your next camping vacation. While Bailey's Point Campground's primary draw is the water's edge, there is also much to do inland. The park has an amphitheater, a camp store, and sports courts. It also has hiking trails, fishing, and boat ramps for a fun-filled day on the lake.
The sites here include water and electricity hookups, and the park has a dump station for convenience. Rates here vary, depending on the lot you choose and the time of year you decide to camp. They can range from $17 to $50 a night.
Aurora Oaks RV Campground
Aurora Oaks Campground is located in Hardin, Kentucky, which is in the state's southwestern corner. The RV park is quiet, peaceful, and family-owned. Those looking to park their RV and slow down for a spell will agree that this park has everything they might need for a perfect camping trip. When visitors need some excitement in their day, they can head out to nearby Kentucky Lake or Land Between the Lakes National Recreation Area. The campground is set in the midst of Amish country, which is always fun to explore.
Aurora Oaks has full hookups and pull-through options for travelers, and the grounds have a pool, a playground, on-site laundry, bathrooms, and showers. At about $30 a night, this campground is a Bluegrass steal.
Find Free Camping in Kentucky
Savvy road trippers know where to score a vacation deal. Recreational vehicle camping in Kentucky doesn't have to cost a bundle or anything at all. There are a few prime locales to score free RV camping in the Bluegrass State.
Aurora, Kentucky
Just south of Highway-24 in Aurora, Kentucky, lay six free RV camping spots in the Land Between the Lakes Recreational Area. The camping spots come with boat ramps, but lack dumping and bathroom facilities. There is water available at both the north and south end welcome stations.
McKee, Kentucky
There is free RV camping at the S-Tree Campground. The 20 free sites include gravel parking, lantern poles, a fire ring, and a picnic table. No water or trash removal services are provided at these free sites. The Turkey Foot Campground also offers free RV camping, with 15 sites that include fire rings, gravel parking, vault toilets, and a lantern pole.
Whitley City, Kentucky
The Bell Farm Horse Camp offers RV camping for free. The sites have picnic tables for travelers to use and vault toilets, but do not have water or trash pick up. For those who cannot imagine camping without their equine, this space is big on specific amenities at a very attractive price.
Also close by is Great Meadows Campground. RVs can stop here free of charge, and campers can spend the day fishing in Rock Creek, a favorite spot to snag trout.
Go RVing in Kentucky
These are just a few of the many wonderful campgrounds located throughout the state of Kentucky. Even if you choose the most amenity-packed park on the planet, be sure to consult an RV checklist, making sure you leave nothing crucial behind. No matter where you end up camping in the Bluegrass State, you're sure to make memories that will last a lifetime.