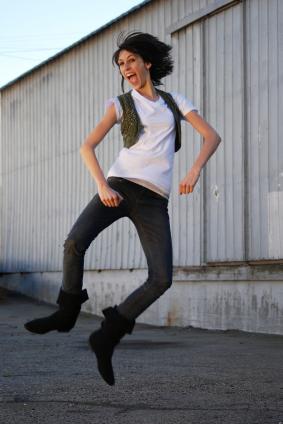 You can easily learn to line dance using step sheets. Whether you have learned the basics during an instructional session at your local club or community center, or you have never line danced before, step sheets lay out the routine so that even true beginners can learn, and polish, the steps to any dance they want to learn. For best results, pair your study of step sheets with visual aids such as videos of dancers performing the moves in real time.
Visual Learning
Not just limited to country line dancing, there are also line dances to popular music and to children's songs. Many people don't think of the Bunny Hop or the Hokey Pokey as line dances, but they are. Learning more complicated line dances is really no more difficult than learning these childhood favorites if you have good visuals to guide you through the steps.
While this YouTube video demonstrates the Watermelon Crawl in both instructional mode and in a performance of the dance up to speed, printing out the step sheet is a good way to supplement your learning. Watch the video a few times to get acquainted with the music and how the dance looks, and then turn the music off and break the steps down using the step sheet. This combination of dance and written instruction can help you learn line dances quickly and correctly. All of the step sheets below are printable. If you need help downloading the printable, check out these helpful tips.
Step Sheets for Popular Country Line Dances
Two more popular country line dances are the Achy Breaky Heart and the Tush Push. The Achy Breaky Heart has a long list of variations, but the step sheet to the left details one of the more basic versions of the choreography. Once you've mastered this version, check out more advanced combinations, or pick them up from other dancers at line dancing clubs or events.
The Tush Push is more advanced than the Achy Breaky Heart, but still accessible for beginners. Because the music, and therefore the step pattern, is quite fast, it's good to learn these steps without relying on the music. Master the steps without listening to the song; then turn on the song and adjust your movements to fit into the rhythm. Only after you can perform the whole combination several times in a row should you try to get yourself up to the speed of the music.
Hip Hop and Pop Music Line Dances
While country line dancing is very well known, there are also popular line dances for other genres of music. These dances are especially common at wedding receptions and other gatherings with family, friends, and coworkers. While there aren't necessarily bars that offer 'line dancing night' in the way that many bars offer country line dancing events, popular music line dances are often used to get large groups of people out on the dance floor.
The Macarena is one line dance that took the world by storm in the 1990s. A favorite for wedding receptions, this line dance is relatively easy to learn.
The Cupid Shuffle is not as internationally well known as the Macarena but it is probably the easiest line dance to learn, except perhaps for the Bunny Hop. Beginning line dancers can tackle this dance with confidence that the steps are basic enough, and the music slow enough, for everyone to learn the dance with ease.
Additional Online Step Sheets
If line dancing is a new passion of yours, you may be interested in learning a long list of dances. If you want to expand your repertoire dramatically, try one of these online resources:
Line Dancer Magazine has a comprehensive database of dance scripts. While this website requires a paid subscription in order to read the step sheets, this resource is an invaluable one to those who are deeply involved in line dancing.
KickIt Search Engine is one of the more useful ways to track down a dance by song, artist, choreographer, or level of dance proficiency recommended for given dances. While it doesn't necessarily have every line dance in it, it comes pretty close and it is a free resource.
Learning and Enjoying
While step sheets are excellent resources for learning popular line dances, don't forget to put the sheets down once you know the steps. Line dancing is a great social activity, good exercise, and a whole lot of fun. Once you know the basic steps, let loose and allow the momentum of the crowd to further enhance your technique. If you listen closely to the music you'll realize that the steps fit the music perfectly in most cases, guiding your rhythms and helping you accentuate the steps with your arms and upper body. If you're relaxed and having fun, the success of your learning will shine through.