Making your own one-pot backpacking meals is an essential part of any backcountry camping trip. Backpacking food is generally expensive if you buy it pre-packaged, but it is easy and inexpensive to make your own.
Quick One-Pot Backpacking Breakfast Recipes
Starting off with a good one-pot breakfast will help provide you with plenty of energy to face a day of backcountry hiking. You can enjoy a tasty, hot breakfast to start the day as long as you have a pot, a burner, and some basic food supplies.
Protein-Packed Potatoes With Egg
Boil one cup of water in a pot. Add 2/3 cup of dehydrated hash browns. Add 1/3 cup powdered milk, 2 tablespoons flour, powdered egg, bacon bits, and dried minced onion. Sprinkle salt and pepper over the top to taste, then stir well. For even more protein, you may also want to stir in some powdered cheese. Boil until hash browns are tender.
Simple Scrambled Eggs
Follow package instructions or a recipe for making scrambled eggs from powdered eggs. This involves mixing powdered eggs with water and powdered milk, along with salt and pepper, then cooking until reaching the desired consistency.
Dressed-Up Scrambled Eggs
Prepare simple scrambled eggs, but enhance them up by adding your choice of backpacking-friendly items. For example, you could mix in canned ham, bacon bits, sliced summer sausage, cheese powder, or dehydrated vegetables, such as onions, peppers, mushrooms, or spinach.
Instant Rice Pudding
Boil water and add a packet of instant white or brown rice in a pot, following quantity instructions on the pouch. Add 1/4 cup of powdered milk. Stir in your choice of add-ins, such as raisins or other dried fruit, brown sugar, pecans, cinnamon, or nutmeg to taste. Boil for five minutes, then turn off the heat and let it sit for five more minutes.
Oatmeal and Raisins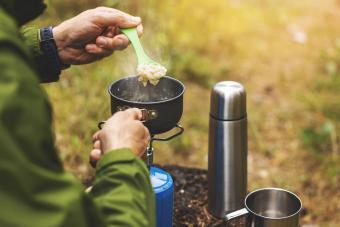 Instant oatmeal packs are easy to carry and prepare during camping adventures. Boil your water in a pot, basing the quantity on the package instructions. Remove from heat. Stir in one or two instant oatmeal packets (based on water amount). Add raisins and other stir-ins based on your flavor preferences. All kinds of dried fruit work well in oatmeal, as do spices like cinnamon and nutmeg.
Peanut Butter Oatmeal
If you need more protein than oatmeal with raisins can provide, consider opting for peanut butter oatmeal. Just prepare instant oatmeal according to package instructions and stir in some peanut butter powder (or other powdered nut butter) when combining the oatmeal and water. For even more protein, top off with crumbled peanuts or other nuts.
Sweet Quinoa Porridge
For a slightly different breakfast dish, use packets of plain instant quinoa to whip up a tasty porridge. Use the amount of water specified on the package, but also stir in a bit of powdered milk. Stir in sweeteners, such as sugar or honey, to taste. Add raisins or other dried fruit pieces, plus cinnamon, and/or nutmeg.
Grits and Ham
Instant grits packs are also a great option for easy camping breakfasts. Just boil water in a pot based on the quantity required for the number of packs you are preparing. Remove from heat and stir in the instant grits. Add salt to taste, then stir in canned ham. If desired, stir in other add-ins, such as bacon bits, powdered cheese, powdered butter, or dehydrated green onions.
Easy One-Pot Main Meals for Backpacking
When you are backpacking, a great one-pot meal will hit the spot at the end of the day. If you stop for an extended break during the middle of the day, these recipes are also a great mid-day meal choice, rather than just grabbing a quick protein bar or other easy backpacking meal idea.
Beefy Macaroni and Cheese
Combine a package of instant macaroni and cheese with chunks of beef jerky for a tasty backcountry dinner. If your mac and cheese packet calls for milk, add the milk quantity to the water. It'll be fine with just water, or you can add powdered milk and powdered butter in the same quantity specified on the box. Boil the water, then add the pasta and some chunks of beef jerky. If desired, you can also add some dehydrated vegetables at this point. Follow package instructions for cooking time.
Chicken and Noodles With Broccoli
Use a package of chicken and broccoli pasta (such as Knorr) and a packet or small can of pre-cooked chicken to make a tasty one-pot meal. Boil water equal to the total amount of water and milk specified in the instructions. For the best flavor, add in powdered milk and powdered butter equal to what is specified on the packet. Drain the chicken and stir it in. If desired, you can stir in powdered cheese or additional dehydrated broccoli or other vegetables during cooking. Cook for the time specified on the packet.
Tuna Alfredo
Make a tasty tuna alfredo dish with an instant alfredo-flavored pasta side dish and a packet or can of tuna. Boil water to match the quantity of water and milk listed in the instructions. Pour the pasta mixture into the pot and add the tuna, being sure to drain first if it is packed in water. If available, stir in powdered milk and dried butter to equal the amount of those items mentioned on the package. If desired, sprinkle in some powdered garlic or add some dehydrated vegetables. Follow package cooking instructions.
Beans and Weenies With Rice
For a calorie-heavy and protein-packed backpacking meal, start by preparing a cup of instant white or brown rice following package instructions. When it's ready, dump in a can of cooked beans with hot dog chunks and stir to combine. Season as desired, possibly by stirring in a ketchup packet, brown sugar, or powdered garlic.
Yellow Rice and Chicken
Use a just-add-water, pre-seasoned yellow rice mix and canned, pre-cooked chicken for a super-quick backpacking meal. All you'll need to do is boil water and cook per package instructions. For even more flavor, stir in some dehydrated corn or other veggies before cooking. Once it's ready, stir in the drained chicken chunks and allow to sit for a few minutes to warm the chicken.
Pizza Rice
It would be kind of difficult to make pizza in a pot while you're on the trail, but you can use an instant tomato-based rice mix and shelf-stable pepperoni to whip up some pizza rice. Just boil water and prepare rice according to package directions, adding in a tablespoon or so of Italian seasoning mix before cooking. If desired, stir in dehydrated mushrooms, bell pepper, and onion prior to cooking. When it's done, mix in some powdered cheese and cut-up pepperoni pieces. Olives or pickled peppers are also tasty last-minute add-ins.
Quinoa With Chicken
Purchase a few pouches of your favorite flavor of instant quinoa to use at the base for fabulous quinoa and chicken dinners to enjoy in the backcountry. Simply prepare according to package instructions, then stir in chicken chunks prior to serving. Add spices to suit your tastes, as well as to change up the flavor profile if you use this option for more than one night. For example, use cumin, chili, and paprika for a Tex-Mex version, or consider herbs de Provence for a European flair.
Spicy Tuna Couscous
You can use instant couscous and canned tuna to create a flavorful meal in just one pot. Boil a cup and a half of water, remove from heat, then stir in a cup of couscous. Add salt, then stir in an individual serving package of sweet and spicy tuna. Cover and let sit for around five minutes, or until all water is absorbed.
Quick Chow Mein
Ramen noodles are a great base for backpacking meals, especially if you add protein using canned meat. It's super simple to make a one-pot chow main dish by prepping chicken-flavored ramen according to package directions, then adding in a can of drained chicken chunks prior to serving. You may also want to stir in some canned bamboo shoots or dehydrated veggies, such as carrots or green onions, prior to serving.
Quick Lo Mein
You can also make your own version of pork lo mein using canned ham and pork-flavored ramen. Simply prepare ramen according to directions and add a can of drained ham. For more flavor, stir in canned baby corn, dehydrated carrots, or dehydrated onions. You could even go for a multiple-meat variety by adding in chicken, as well.
What to Bring: Supplies for One-Pot Backpacking Meals
In order to make one-pot backpacking meals (or even desserts) during your next outdoor adventure, there are a few essentials you'll need to pack.
Single burner backpacking stove
Propane
Matches or lighter
Stirring spoon
Water
Backpacking pot
It is important to know what type and size backpacking pot you will need for your backpacking meals. The best pot for backpacking is a lightweight aluminum pot with a lid. A one-quart pot will be adequate for one person, and a one and half-quart pot for two people will work. If you have more people on the trip, go for at least a three-quart pot. Look for collapsible camping cookware to save space in your pack.
Simplify One-Pot Camping Meal Preparation
To make backcountry meal preparation as easy as possible, plan ahead by combining all the dry ingredients at home in a ziplock bag. Label each bag so you know what meal it contains. Write the amount of water needed and cooking time on each package.
That way, when you get to your camping spot, you'll just need to boil the water, add the bagged ingredients, and cook. If you are a frequent backpacker, consider buying a dehydrator to make your own dried fruits and vegetables to use in backpacking meals. You can even dehydrate cooked rice to make your own instant rice. Chances are, you'll find that dehydrating your own ingredients provides the best value and flavor.