Encompassing the state's four southernmost counties (Starr, Hidalgo, Willacy, and Cameron), the Rio Grande Valley (RGV) of Texas is situated just north of the international border between Mexico and the United States. It is on the northern side of the Rio Grande river and has a warm climate, beautiful scenery, and rich history. The RGV is a popular tourist destination and has a number of beautiful RV resorts that will appeal to snowbirds, full-time RVers, and others who enjoy camping in comfort. The area is particularly popular among retirees, so it is home to many beautiful 55+ recreational vehicle (RV) resorts, as well as some that welcome guests of all ages.
Popular 55+ RV Resorts in the Rio Grande Valley
Most of the RV resorts in the Rio Grande Valley cater to RVers aged 55 and up, such as snowbirds or full-time RVers looking for a warm home base. The lovely campgrounds listed here have full hookup sites that can accommodate big rigs and all offer on-site laundry facilities, as well as activities and amenities for active senior adults. Most also have rental cabins, cottages, or park models in addition to RV campsites.
Alamo Palms RV Resort
Alamo Palms RV Resort is in the town of Alamo. This Encore RV Resorts property has more than 600 campsites. The campground is situated in a beautiful area where citrus groves and palm trees are plentiful. The campground has a swimming pool and hot tub, as well as bicycle trails, a dog park, a game room, pickleball and tennis courts, horseshoes, a banquet hall, a clubhouse, a library, and cable television. Campers have access to a Wi-Fi hotspot and can access high-speed internet for a fee. Overnight rates range from $65 to $74 per night. Monthly rentals range from $500 to $574.
Canyon Lake RV Resort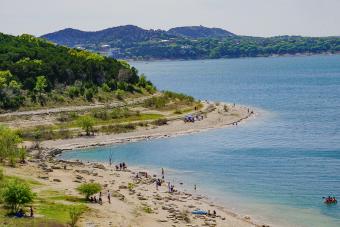 Located in Mission, Texas, Canyon Lake RV Resort has more than 400 campsites. This gorgeous campground has a large private lake that has a private island that guests can reach via a footbridge. Amenities include a swimming pool, a whirlpool, an exercise room, pool tables, horseshoes, a dog run, paddleboats that guests can use for free, and even a fully outfitted woodworking shop.
The campground hosts many organized activities, including arts and crafts, bingo, pot luck dinners, live entertainment, line dancing, and more. Cable television is available for an additional fee. Overnight rates range from $43 to $51, while monthly rentals cost from $520 to $600.
Chimney Park RV Resort
Located on the Rio Grande River in Mission, Texas, Chimney Park RV Resort boasts a tropical setting that's lush with palm trees and river access. The campground has its own boat ramp and boat dock, making it a perfect choice for RVers who enjoy boating, canoeing, kayaking, and/or fishing.
The resort has many other amenities, including a swimming pool, hot tub, billiards room, shuffleboard, library, community center, bathhouse, riverfront picnic area, barbecue grill, and access to high-speed internet in the recreation room. Overnight camping ranges from $34 to $57. Monthly rentals range from $165 to $391.
Mission RV Resort
Mission Bell RV Resort is another great RV resort in the town of Mission. This luxury campground has just over 350 campsites and offers Wi-Fi throughout the park. It is located in a quiet, secluded area with many amenities, including a 20,000 square foot recreation and dance hall, a dog run, exercise rooms, a card room, and a billiard/pool room.
Guests can enjoy many outdoor amenities, including a heated swimming pool, hot tub, bocce ball, shuffleboard, pickleball, and horseshoes. Overnight camping costs $50. Monthly rentals start at $575, though the per month rate goes down for long-term rentals of three or more months.
Sleepy Valley RV Resort
Also in Mission, the lovely Sleepy Valley RV Resort has more than 800 campsites. This sizeable RV resort offers large campsites with Wi-Fi access throughout the campground, as well as a heated swimming pool, a hot tub, a community kitchen, a bathhouse, petanque courts, a tiki hut, a library, and a clubhouse.
The campground also hosts socials, exercise classes, skill-based classes, and various group activities in which guests can opt to participate. The campground is so close to the 27-hole Meadow Creek Golf Club that campers can get there via a golf cart. Daily rates range from $42 to $52 per night. Monthly rates start at $559 and go up to $779.
Victoria Palms RV Resort
For those wishing to enjoy luxury RV camping in Donna, Texas, the gated Victoria Palms RV Resort is a lovely resort offering numerous amenities. Recreational facilities include two spas, a health club, a large pool, a fitness center, tennis courts, pickleball courts, an 18-hole golf course, shuffleboard, pool tables, and a historic clubhouse. The campground also has on-site restaurants, a poolside bar, and a nightclub. It even has a two-story craft center with designated areas for wood carving, ceramics, stained glass work, and sewing. Rates at this Encore RV resort range from $62 to $86 per night. Monthly rates vary from $579 to $686.
Family-friendly RV Parks in the Rio Grande Valley
If you're under 55 or are traveling with children, you'll need to find a family-friendly RV park that welcomes guests of all ages. Even though the majority of the resort-style campgrounds in the Rio Grande Valley cater to snowbirds and retirees, there are some upscale campgrounds where younger adults and kiddos are welcome, as well as older adults. The campgrounds listed below offer full hookup campsites and can accommodate big rigs. They also have on-site laundry facilities.
AmeriCana RV Resort
Located in the town of Palmview, AmeriCana RV Resort is a gated-access family-friendly campground that is near Bentsen-Rio Grande State Park as well as the World Butterfly Center and the World Birding Center, making it an ideal home base for those looking to enjoy birdwatching and wildlife.
The campground has a heated saltwater swimming pool, a hot tub, cabanas, a gazebo, a clubhouse, horseshoes, and a dog park. The park also regularly hosts many group events and activities. RV sites are $45 per night. Monthly RV site rentals start at $499 (electricity not included), with a price reduction for rentals of three months or longer. Unlike most RV resorts, this campground also accepts tents ($30 per night).
Diving Dolphins RV Park
If you are a fishing or boating enthusiast, consider staying at Diving Dolphins RV Park in Rio Hondo, Texas. This small but gorgeous RV park has just 45 campsites. It is situated directly on the Arroyo Colorado River. It has a boat ramp, boat slips, and two well-lit fishing piers. The campground is in a peaceful, rural setting with 400 feet along the waterfront where campers can observe the river's unique beauty.
It's an idyllic RGV setting where guests of all ages can enjoy the beauty of the river and the sounds of nature, while also getting in some fishing. It has a rec hall with a pool table and shower facilities, as well as free Wi-Fi access. The daily camping rate is $45. Monthly rates range from $275 to $325 (electricity not included).
Palmdale RV Resort
Palmdale RV Resort is a gated luxury campground in Los Fresnos that's known for its super-sized campsites that are 40 feet wide by 90 feet long. The scenic resort offers many amenities, including a heated swimming pool, a hot tub, a recreation room, a billiard/poker room, and Wi-Fi access.
They host a happy hour every Friday and periodically offer potluck dinners, dances, live entertainment, and organized activities, including bridge and bingo. Overnight camping costs $52 for up to two people per campsite. There is an additional $2 per night charge for additional guests. Monthly rentals range from $400 to $595.
Park Center
Located in the town of Port Isabel, Park Center is a gated waterfront camping resort located along the Laguna Madre estuary. This campground welcomes RVs of all sizes as well as tents. The campground has boat and kayak ramps and a well-list fishing pier. Boat dock rentals are available.
Amenities include a heated pool, a hot tub, a dog park, an exercise room, a covered patio, basketball, and pickleball, bathhouse facilities, and a recreation hall with pool tables. Wi-Fi is provided near the swimming pool and in the recreation hall. Camping rates range from $46 to $89 per night. Monthly rentals vary from $420 to $807, plus electricity.
Plan an RV Adventure in the RGV of South Texas
If you're looking for a warm place to visit in your RV, the Rio Grande Valley of Texas is a wonderful destination to consider. Be sure to make a reservation before you head to this region in your camper, as there really isn't an off-season in this destination. The campgrounds in this area are open (and often full) all year long, so there's no such thing as a bad time of year to visit, as long as you can secure a campground reservation. Whether you enjoy birdwatching, water-based activities, golfing, or simply want to relax and peruse some palm trees or sit by a swimming pool, you're sure to enjoy every moment of your time in the RGV.