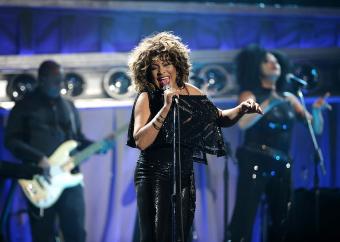 Tina Turner. Her songs are so appealing and widely known that you only have to hear the title of one and it's stuck in your head for the rest of the day. Whether she was covering someone else's song (dare we say, better than the original artist) or belting out one of her own, her voice, talent, and strength leave a legacy that will never be forgotten.
Here's why we - and millions of others - adore her.
Triumph Over Adversity
Tina's rocky childhood and embattled relationship with Ike Turner are well documented - her family was the very definition of dysfunctional, and Ike was controlling and abusive. While her career was taking off, her personal life was going from bad to worse.
When she left Ike, she ended up playing small solo gigs and relying on food stamps to support herself and her kids - even while her voice could still be heard on the radio and her songs were still on the charts. How's that for a kick in the pants? But Tina Turner was well known for her determination and optimism, and we all know how well that worked out!
Going Solo With Style
After her divorce and a brief period of struggling to make ends meet, Tina started appearing on those kitschy 70s variety shows (I can't be the only one who remembers seeing her on Donny & Marie, can I?). She did some cabaret work and recorded a couple of albums that didn't exactly take off. But she was doing what she loved, and there was no looking back now.
Eventually, Rod Stewart caught her act and invited her to perform with him on Saturday Night Live. That led to her opening for the Rolling Stones on their 1981 tour. She recorded a cover of Ball of Confusion with Heaven 17, and the video for that song got on MTV (which made her one of the first Black artists to have a video in regular rotation). Things were starting to look up once again!
There Are Comebacks, and Then There's Tina's Comeback
The 1980s would prove to be her decade, and boy, did she blaze through it like a shooting star! In 1983, she released her cover of Al Green's love song, Let's Stay Together. If you haven't heard this song you are MISSING OUT! Go listen now, we'll wait. Her smokey, sultry voice, combined with her signature hair and sparkly dresses, were irresistible. The song was a hit (and charted higher than the original). Her record company gave her two weeks (two weeks!) to record an album - and that album was Private Dancer.
In addition to the title track, this record included the hits Better Be Good to Me, and What's Love Got to Do With It. It sold over 10 million copies. After that, there was no stopping Tina Turner.
The Line for Duets Forms to the Left
Now that we've got the history lesson out of the way, there are even more reasons Tina Turner was the absolute queen. She recorded some fantastic duets during the 80s and then went on to deliver some seriously amazing live duets with a few people you might just be familiar with. For example...
David Bowie
Mick Jagger
Bryan Adams
Cher
Beyonce
Elton John
Pet Shop Boys
Paul McCartney
Bruce Springsteen
By the Numbers
Need some hard data to really understand why Tina was simply the best? She didn't earn the title of "Queen of Rock & Roll" for nothing!
She set the world record (at the time) in 1988 for the largest paying audience for a solo performer: 180,000 people
Over 100 million records sold worldwide, across seven decades
She has three songs in the Grammy Hall of Fame, and has won 12 Grammys including four for Best Female Solo Rock Performance
There's a star on the Hollywood Walk of Fame with her name on it, because of course there is
She's been inducted into the Rock and Roll Hall of Fame twice - once as a duo with Ike Turner, and again as a solo performer
She was the first female artist AND the first Black artist to be featured on the cover of Rolling Stone magazine
So. Many. Other. Awards! She won MTV Video Awards, BRIT Awards, American Academy of Music Awards, awards from many other countries... seriously, her hardware alone would need a storage shed of epic proportions.
And she's got her own Barbie doll. How many people can say that?
Influence on Other Artists
You don't have a mind-blowingly successful career without inspiring others - and Tina Turner sure made her mark on the artists she worked with and those that came after. Just take a look at these names, who have credited her as inspirational:
Janis Joplin
Beyonce
Jennifer Lopez
Janelle Monae
Kelly Clarkson
Nina Kraviz
Rihanna
And that's just a sampling.
Simply the Best
While Tina Turner will always be known for her style and her catchy tunes, it's her voice that still blows us away. There is simply no one else who sounds like her. She could belt out a staggering ballad, and then, without missing a beat, jump into a banger of a rock ditty complete with wild dance moves (in high heels, no less). She persevered through hard times to become one of the most recognized artists ever - and we are all the better for it.
Sadly Tina passed away on May 24, 2023. But her legacy is forever. The best way to honor her is to throw on your favorite Tina Turner songs, and sing along at the top of your lungs. Dancing is also encouraged (though maybe skip the high heels). And now, we're off to take our own advice. Rest in peace, Tina.