Tried-and-True Traditional Camping Meals
There are many types of traditional camping meals, ranging from simple one-pot concoctions to multi-course dinners that include a main dish, side dishes, and even dessert. Consider trying one or more of these favorite meals the next time you spend the night in the great outdoors.
Classic Franks and Beans
There are few dishes easier to prepare than franks and beans. All you need is a few cans of pork and beans, some hot dogs, and a pot to create this outdoor dining favorite.
Delicious Barbecued Chicken
Barbecued chicken is a popular camping meal. This traditional favorite requires no work beyond brushing your favorite cuts of chicken with a tasty barbecue sauce and allowing the meat to cook on a grill or over an open campfire.
Everyone's Favorite Grilled Hamburgers
Nothing tastes quite as good as a thick hamburger that has been cooked over an open fire. Enjoy your burgers plain, brushed with barbecue sauce, or made with a packet of onion soup mix stirred into the meat before cooking.
Good Old Weenie Roast
No camping trip is complete without enjoying a few hot dogs cooked over the grill or an open campfire. You can cook them on the grate or spear them on sticks for the ultimate interactive camp cooking experience.
Traditional Grilled Steak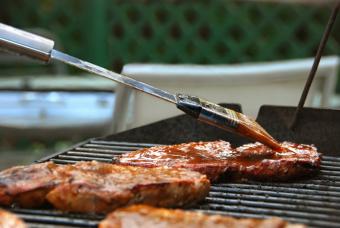 Steaks are a great main dish to prepare on the grill at your favorite campsite. Bring your favorite cuts alone in a cooler and cook them the first night.
Scrumptious Shish Kebab
Shish kebabs are a terrific choice for camping meals because they are easy to make and include both meat and vegetables. You can assemble them in a cooler and bring them from home or make them at camp. Either way, they're a crowd-pleaser.
Campfire Chili
Campfire chili is a classic one-pot camping meal that everyone loves. You can bring canned chili to heat over the fire, or you can make your favorite chili from ingredients you bring. Either way, it's a crowd-pleasing meal that's cheap, quick, and a classic for a reason.
Fresh Fish
If you love fishing or are camping with someone who does, you'll definitely need to cook a fresh fish dinner. There are lots of ways to make this classic camping food -- from grilling it with herbs and butter to dusting it in pancake mix and frying it in oil. No matter how you make it, nothing tastes better.
Old-Fashioned Pancakes
Pancakes are a camping classic, and they're perfect for any type of adventure. You can carry pancake mix if you're backpacking and need a lightweight breakfast, or you can use your favorite pancake recipe and customize with blueberries, walnuts, or any other tasty add-in.
Easy Eggs and Bacon
Whether you're cooking over a camp stove or a fire, you can use a griddle or frying pan to make eggs and bacon. This is an easy camping breakfast that will start the day off right.
Classic S'mores
S'mores are the perfect sweet treat to end a delicious campground dinner. The flavorful combination of warm and gooey marshmallows and chocolate sandwiched between graham crackers just cannot be beaten.
Roasted Marshmallows
No camping outing is complete without spending at least one evening roasting marshmallows around the campfire. This is a great kids camping food, since older kids can manage the cooking with little adult assistance.
More Camping Food Ideas
Once you have the traditional camping foods packed and ready for your trip, add in some extras. You can expand with some tasty camping foods that are easy to make, such as a balsamic chicken skillet. Remember, food always tastes better when you're camping, so you can't go wrong with any camping food you choose.