Despite a legendary career that spanned 50+ years under his belt, Dean Martin would have considered his greatest legacy to be the kids and grandkids he left behind. Across three marriages, he had eight children and several grandchildren. Unlike his kids, many of Dean Martin's grandchildren have stayed far away from the limelight, seeking to carve out their own unique lifestyles outside of their iconic last name's influence.
Dean Martin and His Family Man Reputation
Dean Martin's Rat Pack buddies weren't any more successful in marriage than he was, racking up nuptials like poker chips at their casino venues. But, Martin remains a standout for how seriously he took caring for his many children (both biological and adopted) amid a cultural expectation that encouraged an uninterested parenting style at best.
Today, his kids and grandchildren are doing well for themselves, not only because of his connections, influence, and funding, but also because of their own hard work and merit.
Dean Martin's Grandchildren at a Glance
The late singer's grandchildren are as follows:
| | |
| --- | --- |
| Dean Martin's Known Grandchildren | Their 'Martin' Parents |
| Jesse Martin | Claudia Martin |
| Mickey Guerin | Deana Martin |
| Alexander Gunther Martin | Dean Paul Martin |
| Pepper Martin | Ricci Martin |
| Montana Martin | Ricci Martin |
| Rio Martin | Ricci Martin |
There is also one great-grandchild, the child of Dean Martin's son Alexander and daughter-in-law Megan. Here's the breakdown in a little more detail:
Marriage #1 to Elizabeth Anne "Betty" McDonald
Early in his career, Dean Martin married for the first time to Elizabeth Anne "Betty" McDonald in 1941. Because of speculative alcoholism and infidelity in their home, the marriage only lasted nine years. But together they had four children: Craig, Claudia, Barbara Gail, and Deanna.
Craig Martin
Dean Martin's first son, Craig, was born in 1942. Instead of taking center stage like his father before him, Craig worked on the production side of the Hollywood machine, producing shows like Sha Na Na and The Dean Martin Show. He married actress Carole Costello sometime in the mid-century, and they stayed together until her death in 1987. Little else is known about his personal life.
Claudia Martin
Claudia, Dean and Betty's first daughter, born in 1944, was one of the more public-facing of Martin's large brood. She balanced being an actress with three marriages and ultimately becoming a mom.
Claudia only had one child, Jesse, with her first husband, Kiel Martin. There's very little public knowledge about the first of Dean Martin's grandchildren, Jesse, other than that she was born around 1970. As far as has been made public, Jesse is Dean's only grandchild to come from his first marriage.
Barbara Gail Martin
In 1945, Gail followed her sister Claudia into the growing Martin family tree. Instead of being bit by the acting bug, she took on her father's musical prowess and performed a modest singing career early in her life. She performed in Las Vegas, co-hosted with her father, and had guest spots on several talk shows. She's also kept very tight-lipped about her personal life. There's speculation she married in the late 1960s, but no confirmation of any marriage or children has been made public.
Deana Martin
The last of Betty and Dean's children was Deana Martin, who's by far the most public-facing of the Martin kids. She was born in 1948, and by the 1960s, she was a frequent feature on the variety show circuit, having spent her education training to be an actress and singer. She even hosted her own show, The Deana Martin Show, for four seasons.
Despite her lucrative time in Hollywood (where she continues touring well into her 70s), her personal life isn't very publicized. She married John Griffeth in 1990. Though there is extremely scant information on any children, a few sources point to Mickey Guerin as her son or Dean Martin's grandson. You can keep up-to-date on her life through her Instagram.
Marriage #2 to Dorothy Jean "Jeanne" Biegger
Jeanne Biegger was a successful figure herself - the 1947 Orange Bowl queen and model - before she linked up with Dean Martin in 1949 (merely two weeks after his first divorce with Betty McDonald was finalized). Their marriage lasted for 20 years and they had three children together.
Dean Paul Martin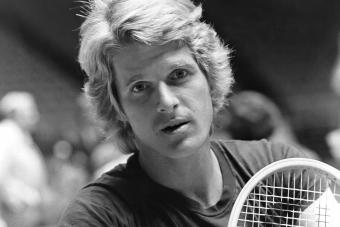 Dean Paul Martin was Dean Martin and Jeanne Biegger's first child, born in 1951. Instead of heading straight into the Hollywood pipeline that his adolescent singing and early acting career predicted, Dean Paul served seven years as a Captain in the American Air Force. He was only 35 when piloting a F4-C Phantom jet over the San Bernadino Mountains, crashed into a mountainside at 400mph.
Before his tragic death, Dean Paul married accomplished actress Olivia Hussey in 1971 and together they had a son named Alexander. Despite other marriages and relationships, Alexander was his only child.
Dean Martin's grandchild Alexander has had his own time in the spotlight acting in small roles in various film projects. The last credited role he has is from 2013. Currently, he's married to Megan W. Martin, and they have one child together.
Ricci Martin
Ricci Martin was Jeanne and Dean's second child, born in 1953. He went on to have a successful music career, headlining a band called The Pack, collaborating with Carl Wilson on the Beached album, and working with the '90s nepobaby band, Dino. He passed away in 2016 to unreported causes.
During his marriage to Annie Rassmussen, he had three children: Pepper, Montana, and Rio. Pepper rose to fame in the first season of the 2022 reality series, Claim to Fame. You can follow her on Instagram for more updates on future projects. Meanwhile, Montana's kept her life largely offline, with her last Tweet dating to 2013. As of 2023, Rio has no confirmed online presence.
Gina Martin
Gina Martin was born in 1956 and married Carl Wilson of the famous band, The Beach Boys. Though, the two never had any children before his death in 1998.
Marriage #3 to Catherine Hawn
Dean Martin's last marriage to Catherine Hawn, a non-celebrity, may have been short-lived, but Dean reportedly adopted her daughter Sasha from a previous marriage. Like so many of her step-siblings and aunts and uncles, Sasha followed in their industry footsteps. She's had a brief acting career and managed to keep her family life private.
Dean Martin's Grandchildren Live Private Lives
Unlike some celebrity grandchildren, Dean Martin's grandkids have stayed out of the public eye for decades. Much like legacy families from that Tinseltown era, the Martin children and grandchildren honor their family name in private and have sought out to establish careers and lives away from the industry that consumed their father.