Summer is wrapping up and fall hasn't fully set in just yet. If you're looking for the perfect September nails to show off your style in the month that leads up to all the autumn coziness, these cute nail ideas will give you all the inspiration you need.
Fall Leaves Are Cute for the Season
September is just the beginning of autumn, but you can still sport fall nail designs this early in the season. Deep, warm colors paired with an autumn leaf design still go with nearly everything and help you stay on trend this fall.
Sunny Yellow Nails Are Bright & Cozy
If you want a simple nail design with some color, a warm, golden yellow is perfect for your September nails. It's still sunny for the season but gives off those autumn sunset vibes you might be looking for.
Copper Is a Cute September Nail Color
A little luxurious and definitely getting points for an autumn color scheme, copper is the way to go if you want a metallic September nail design. It still feels sleek for the end of summer, but hints at the warmth of approaching autumn.
Try a Simple Music Note Design
Did you know September is classical music month? Why not represent with your nail design? Sweet little music notes feel quirky and cute for September.
Cream Is a Popular September Nail Color
White is striking and beautiful in summer and looks perfectly icy in winter, but September calls for something a bit warmer. Cream, almond, or off-white fits well into a September color palette and goes with all of late summer and early fall outfits.
Warm Up Neutral Nails for September
Cream not your thing? That's okay, because there are countless other neutrals that work for your September manicure. Stick to mostly warm shades for on-point nails this time of year.
Apples Designs Are on Trend for September Nails
September is one of the best months for apple picking. Plus, Johnny Appleseed Day falls on September 26th. That's why apple-themed nails look so cute this time of year. They're also a subtle nod to the excitement of back-to-school season.
Gilded Gold Leaf Nails Look Luxe
What's warmer than glittering gold nails? You can add some subtle luxury to your nail design with a gold leaf application on some or all of your nails.
Red, White & Blue Nails Make Sense in September
You might think July is the best month for patriotic nails, but there are a lot of reasons to sport red, white, and blue nails in September. Labor Day, Patriot Day, and Constitution Day are just a few reasons to sport a patriotic nail design during this month.
Dark Glitter Nails Are a Popular September Look
Deep blue, rich green, jet black, and whimsical purple all look striking beneath a coat of nail glitter. If you're going to go the shimmery and shiny route with your nails, try a dark and moody color for September.
Glossy Burgundy Looks Sophisticated
A rich nail color in a high gloss finish is a sophisticated look for your September manicure. Almond tips are on trend, and this burgundy color works from now until the end of the year.
Try Sandy Beige Nails for Your September Vacay
Headed to the beach over Labor Day weekend? Need a vacation nail design idea? Jet set with sandy nails. They look intentional on the coast while you soak up the sun, but they'll complement all the fall outfits you plan to wear when you return home.
Rock Multicolor Nails in September
Summer may be coming to an end, but colorful nails are still popular in September. The key is to combine colors well for a balanced look. A combination of warm and cool tones, deep and light colors, or various shades of one color help you transition a multicolor nail look into early fall.
Play With Purple for Trendy September Nails
If you can't decide between deep red and ocean blue, September is a great time to rock a purple nail look. Play with various shades, tones, and topcoats to add dimension to your purple nails.
Contrasting Nail Designs Are Daring
Some seasons call for muted and blended nail looks — think of spring's pastels and the go-to neutrals we love. But other seasons are an opportunity to have fun with a contrasting look.
Much like a red and green Christmas nail fits into December, this bold look makes sense in September. Cool blue, warm orange, and contrasting color depths make this nail look striking in the best way.
Rich Blue Is Made for September Nails
We love a warm-toned nail look in September. But since this month's birthstone is the sapphire, blue is fair game as well. Bold cobalt or even a rich navy are stunning this time of year.
Quick Tip
If you love the color of sapphire but don't feel drawn to its sparkle, a matte nail look might be best for you.
Subtle Florals Make Sweet September Nails
Floral nail designs aren't just for spring and summer. You can totally sport a nail design with flowers in September. The key here is to choose subtle floral symbols or opt for muted nail colors.
Try Coffee-Inspired Nails for Your September Sips
Did you know September 29th is National Coffee Day? Why not let your coffee order inspire your nail design to honor the day? Choose a color in the same shade as your perfect cup of coffee or ask for adorable coffee details at your nail salon.
September Birthday Nails Call for a Confetti Design
Celebrating your birthday in September means fun, confetti nails are a must. Let everyone know this is your birthday month with a sweet manicure sporting a layer of colorful confetti.
Sunflower Nails Are Darling in September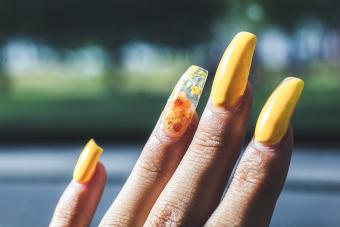 If you're going to choose a floral nail design for September, opt for a flower that's often still in bloom during this month. Sunflowers are a fun choice. They're still bright, but sunflower yellow is a warm shade fit for autumn style.
Get Inspired by Woodland Creatures
September is prime time for camping, nature walks, and hiking. Why not feature a sweet woodland animal on your nails? Foxes, bears, owls, and deer make sweet designs for your cute nail look.
Pick a Plaid Pattern
If you're looking for a fall nail pattern, look no further than plaid. From buffalo check to tartan, plaid speaks to the coziness of September and gives a little nod to the academic looks often seen this time of year.
Get Creative With September Nails
Since September isn't known for a major holiday and sits in the middle of summer fun and autumn coziness, it's easy to go the boring route with your nails. But, there are a ton of ways to get creative with your September nail look. That means you won't run the risk of meeting someone else with the exact same nail design and lets you add some extra flair to your style!