When developing policies and procedures for your own company, it can be very beneficial to first review examples of these types of documents. Of course, your final version needs to reflect your company's actual practices, but it can be helpful to start with a pre-existing document for inspiration rather than beginning from a blank screen. Before implementing a new policy, have it reviewed by your company's legal counsel for compliance with applicable federal, state and local laws. The samples provided here are for informational purposes only and do not constitute legal advice.
Sample Attendance Policy
A company's attendance policy should define key terms, specify procedures for reporting absences and detail applicable consequences.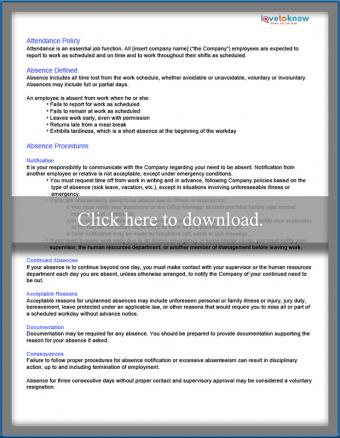 Sample Payroll Procedures
The purpose of this type of policy is to define the company's pay period, specify pay dates and provide details about payroll taxes and how employees are required to report their time. It's also advisable to include how garnishments are handled and inform employees of their obligation to keep their address current for tax purposes.
Sample Credit Card Usage Policy
If you issue company credit cards to employees, it is imperative to have them sign off on a policy that outlines usage guidelines.
Dress Code Policy
It is a good idea to provide a written policy that specifies expectations for workplace apparel. The sample policy provided here outlines a business casual approach though it can be adjusted to meet the needs of any workplace.
Time Off Policies
Whether your company offers paid time off (PTO) or a combination of sick leave and vacation time, it is important to clearly outline procedures for usage. Additionally, if your company is a covered employer under the Family Medical Leave Act (FMLA), you must also have (and follow) a written FMLA policy.
Workplace Safety Policies
Safety is important in all work environments, though policy requirements vary greatly based on the nature and level of risk associated with the type of work performed.
Drug & Alcohol Policies
It's important to have a policy that spells out your company's stance on substance abuse and delineates any drug and alcohol testing procedures. Your workers' compensation insurance provider likely has a standard drug and alcohol policy that they recommend or require. If not, you may find one of these to be appropriate.
Substance Abuse: This policy details procedures for pre-employment, cause-based and random drug and alcohol testing, along with prohibitions, procedures and consequences for policy violations.
Drug-Free Workplace: This example goes a bit further, incorporating issues like off-duty behavior that can impact the company's reputation and the use of prescription medication not prescribed to the individual.
Note: This is an area that is changing quickly regarding regulatory requirements. You should be aware of the OSHA rule passed in 2016 that limits employers rights to require across-the-board, post-accident drug testing. It's also important to be aware that there are states where employers can't enforce drug policies for employees who have medical conditions.
Staffing Policies & Procedures
It's important for any company to have specific policies and procedures that govern the employee selection process. This helps to ensure that candidates are treated fairly and that the company is complaint with Equal Employment Opportunity (EEO) requirements.
New Hire Policies and Procedures
It's advisable to have a structured process in place for the various phases of the new hire process.
New Hire: This sample policy spells out step-by-step what HR and managers should do in preparation for onboarding a new hire, as well as steps to take during their initial period of employment.
Employee Orientation: This general overview describes the timeframe and responsibilities for employee orientation. Consider adapting this sample employee orientation and new hire checklist as specific procedures.
New Employee Mentoring Procedures: If your company has a formal mentoring program for new team members, it can be beneficial to put together a formal procedures document outlining expectations and guidelines. Review this community college example to start.
Technology Equipment Policies
A well-written policy describes the specific rules to follow and who needs to follow them. In most cases, all employees have to follow written policies and procedures. Some policies apply only to managerial or salaried employees.
Key Benefits of Written Policies
Implementing written policies has several benefits for employers. One of the major advantages is that you avoid inconsistency. A written policy gives managers and supervisors clear directions on handling specific work situations. If an employee is chronically tardy, the policy spells out the consequences.
Of course, having written policies and procedures is just the beginning - supervisors actually have to follow them and enforce them consistently. When managers follow the written policy, you can avoid having one manager fire a tardy employee and another manager only warn the tardy employee, which could create an unfair or discriminatory environment.
Putting your policies in writing lets employees know exactly what they need to do to remain in good standing. One of the best ways to use a policy handbook is to have new employees sign a statement confirming they have read and agree to abide by the policies in the handbook. Should someone break one of the policies, you have proof the offending employee knew the rules ahead of time and should be held accountable for his actions.
The Importance of Legal Review
Never use sample policies and procedures that you find online as-is, as any policy you adopt needs to reflect the actual practices in your company. They must also be in compliance with all applicable laws and regulations, and there can be significant differences in state and local compliance requirements. You should always consult with a licensed attorney with experience specific to employment law prior to finalizing policies and procedures, whether they are individual documents or combined to form an employee handbook or procedures manual.