Lightweight handbags are easy to wear as a shoulder bag, crossbody, sling back, or backpack style. For the serious traveler, you will find a lightweight handbag an ideal travel bag choice.
Women's Lightweight Handbags and Travel Purses
Travelers aren't the only ones looking for lightweight handbags. Anyone wishing to ease back or shoulder pain often experienced when wearing a handbag may find a lightweight handbag a great option. Whatever your reason for searching the best lightweight handbags, you may be surprised by all the choices you have.
1. The Convertible Mini Weekender
The 2-in-1 Béis ­­­convertible mini weekender is a unique lightweight design made of black cotton/polyester with PVC trim. What makes this weekender so special is the bottom part of the bag that zips off, so the bag becomes a handbag. As a lightweight carry-on bag, there's a zip nook for a pair of shoes and external pocket ideal for keeping your keys handy. The straps are adjustable and removable. The weekender features a padded laptop sleeve that fits up to a 16" laptop. A built-in trolley pass-through makes this an easy choice for any traveler.
Handle drop: 10"
Weight: 3.4 lbs
Size: 16"Hx8"Dx16"W
Color: Black or beige
Price: Around $88
2. Orion Crossbody Best Lightweight Handbags
Herschel Supply Co? Orion Crossbody is one of the best lightweight handbags. Made of wrinkled 100% nylon with a leather front panel and trim, the main compartment is secured with separating YKK® zippers. There is one outer zip pocket for additional storage. The bag features an adjustable shoulder strap as well as a top handle.
Weight: 10.86 oz
Size: 12.36"Wx 8.62"Hx 3.98"D
Colors: Deep burgundy, black, peacoat, and rosewater pastel
Price: Around $80
3. Lewis N Clark Anti-Theft Crossbody Purse and Sling Bag
The Lewis N Clark anti-theft crossbody purse and sling bag features a lock zipper main compartment. Inside this unisex bag, you'll find RFID card slots and internal pockets designed to hold a wallet, passport, keys, and other necessities. There's one exterior pocket, and it has a lock zipper.
Weight: 13.12 oz
Size: 11"Hx 3"D x 9.5"W
Colors: Moss, onyx, plum, and lake
Price: Around $47
4. Travelon Anti-Theft Classic Slim Double-Zip Crossbody Bag
The Travelon anti-theft classic slim double zip crossbody bag is a water resistant lightweight travel purse that can be worn as a crossbody, backpack, or shoulder bag. The main compartment has a locking zipper pocket and padded tablet sleeve. You will find additional storage in the front with a locking zipper pocket. You can store a water bottle in the zipper mesh pocket. The bag features interior card slots and passport pockets with RFID blocking technology. A rear slip pocket provides you with storage space. The body and adjustable/removable traps are slash-resistant. You can lock your bag to a stationary object or chair using the lock-down hardware.
Weight: 10.5 oz
Size: 9"Wx0.5"Hx1"D
Colors: Purple, black, chocolate, midnight, and nutmeg
Price: Around $29 to $34
5. Travelon Anti-Theft Classic Essential Messenger Bag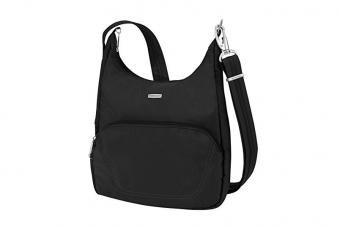 The Travelon anti-theft classic essential messenger bag is a great choice for a lightweight purse. You have the option of wearing this messenger bag either as a shoulder bag, or you may prefer to wear it as a cross-body purse. One of the best lightweight handbags, its body and strap are slash-proof construction. Inside, you'll find card and passport slots with RFID-blocking technology and a removable key clip with an LED light. There are several interior and exterior pockets. All pockets have an anti-theft, lock-zipper.
Strap length: 25" to 45"
Strap drop: 14" to 25.25"
Weight: 13.1 oz
Size: 2.5Dx 9.75"Wx10"H
Colors: Black, midnight, nutmeg, and purple
Price: Around $31 to $36
6. Travelon Anti-Theft Classic Mini Shoulder Bag
The Travelon anti-theft classic mini shoulder bag features a waterproof, slash resistant body and shoulder strap. The main compartment has a locking zipper. The interior features card and passport slots with RFID blocking technology. Inside, you'll also find a tethered/removable key clip with a LED light. The bag has locking pockets in the front and back.
Strap length: 17.25" to 44"
Strap drop: 10" to 20.5"
Weight: 10.9 oz
Size: 8.5"Hx8.5"Wx2"D
Colors: AV Stripe, black, black/white stripe, chocolate, midnight, nutmeg, purple, and wine.
Price: Around $29
7. Baggallini Big Zipper Travel Crossbody Bag
The Baggallini big zipper travel crossbody bag is made of 100% nylon. The handbag features three exterior zipper pockets stacked on top of each other and a top zipper opening. A removable RFID wristlet is included with the bag.
Crossbody strap length: 52"
Shoulder strap drop: 28"
Weight: 13 Oz
Size: 11"Wx11"Hx1"D
Colors: Adobe, beach, black, black zebra, eggplant, jungle canopy, juniper, midnight blossom, Pacific, and portobello
Price: Around $48
8. Mobile Solution Classic Convertible Carryall Lightweight Purse
Samsonite's mobile solution Classic Convertible Carryall is a great way to organize your daily essentials with several interior zip pocket, a pen sleeve and two slip pockets. This lightweight purse has a padded tech panel that will fit up to a 14.1" laptop. The water-resistant nylon bag features vinyl trim and Samsonite's SmartSleeve? that slips over luggage handles for easy carrying.
Weight: 1.23 lbs
Size: 12.5"Hx16.3"Wx7"D
Color: Black
Price: Around $64
9. Primo Sacchi Italian Leather Micro Crossbody Shoulder Bag
Primo Sacchi Italian smooth leather small micro crossbody/shoulder handbag is handmade in Florence, Italy. The interior compartment is divided by a center zipper compartment. A zipper pocket on the interior back offers more storage options. The handbag has a top zipper closure and the shoulder strap is detachable.
Weight: 6 oz
Colors: Available in 33 solid colors and patterns
Size: 6.69"Hx3.54"Dx6.69"W
Price: Around $53
10. Baggallini Everywhere Bagg Best Lightweight Handbag
The Baggallini Everywhere Bagg features an RFID lining that keeps all your personal identity items secure from theft. The zip top closure reveals an interior with 10 card slot, key fob, lipstick holder, detachable coin purse, and pen holder. The bottom slip pocket has a zipper closure that can be used as a sleeve to secure your purse to a suitcase handle. The bonus RFID wristlet can be removed and used separately.
Adjustable strap length: 52"
Size: 9"Hx13.5"Wx5"D
Weight: 1.15 lbs
Colors: Available in 18 colors
Price: Around $60
11. NEE Nylon Tote Lightweight Handbag
The NEE Light Weight Nylon Tote Bag Handbag is water resistant with a zip top closure. This tote features PU handles and a spacious interior that can hold up to a 15" laptop in addition to your personal essentials.
Weight: 10.41 oz
Size: 15"Wx5.5"Dx12.2"H
Color: Black, brown, navy, and purple
Price: Around $22
12. Vera Bradley Mini Hipster Crossbody Lightweight Purse
The Vera Bradley women's signature cotton mini hipster crossbody lightweight purse features RFID protection. One of the best lightweight purses, this hipster crossbody purse is made of machine washable 100% cotton. The quilted patterns are readily recognized as Vera Bradley's signature fabrics. You can wear this mini crossbody purse over your shoulder or wear in a sling bag style. You can carry six credit and/or debit cards in the RFID card slips protected by a zip closure pocket. The purse features one slip pocket and one ID window.
Adjustable strap length: 56"
Weight: 6.38 oz
Size: 8"Hx7"Wx1"D
Colors: Available in 29 iconic patterns
Price: $44.78
Finding the Best Lightweight Handbags
You can browse through the best lightweight handbags to find the perfect purse for your travel or daily needs. You'll find that lightweight purses offer valuable features that make this a must have for your purse collection.