Bissell ProHeat CleanShot
Buy Now
There are several excellent Bissell steam cleaners on the market. The Bissell ProHeat 2X CleanShot Upright Deep Cleaner is the perfect combination of toughness and gentle cleansing. It leaves a perfect finish on carpeting, while dislodging the toughest dirt and stains with its powerful dual brush system. This unit features a hand tool for easy cleaning of staircases and furniture, as well as a spraying crevice tool for tight corners and a tough stain tool for the most difficult discoloration.
Bissell Proheat Deep Cleaner
Buy Now
The Bissell 79011 Proheat Upright Deep Cleaner offers professional cleaning strength. It features a patented hot water heater that provides maximum steam cleaning effectiveness via continuously heated cleaning action. The unit's 12 amp cleaning system is quite powerful, removing tough and ground in dirt and stains from carpeting, upholstery, and other fabrics. It comes with a variety of attachments, including a nine foot upholstery cleaning hose, a brush for tough stains, and a hand operated spray trigger.
Bissell PowerLifter Upright
Buy Now
The Bissell 88063 PowerLifter Upright Deep Cleaner is a lightweight, portable steam cleaner that is designed to be used as a household carpet cleaner. With a seven amp motor, this unit provides deep cleaning capabilities, effectively removing odor and embedded dirt from carpeting.
Bissell Steam Mop Hard Floor
Buy Now
If you don't have carpet in your home, the Bissell Steam Mop Hard Floor Cleaner is likely the best Bissell steam cleaner for you. This electric mop is designed to steam clean hard floor surfaces without the need for harsh chemicals and without leaving unpleasant residues or fumes. The electric upright unit has a mop head that swivels 360 degrees to reach all areas that need cleaning.
Bissell Flip Eaze
Buy Now
Looking for a Bissell floor cleaner for every day use? Not every cleaning requires the power of a steam. Consider the Bissell Flip Eaze Upright Dry Vacuum and Wet Mop for touch ups in between major cleaning.
Bissell Little Green Proheat
Buy Now
Looking for a powerful carpet cleaning solution? The Bissell Little Green Proheat Turbo Carpet Cleaner is small, yet powerful. It packs a powerful punch when it comes to carpet cleaning, cleaning and drying in a single step thanks to a combination of spray and suction. The unit features a built in heater, as well as a powerful rotating brush that is effective on stubborn dirt.
Bissell SpotBot Hands-Free
Buy Now
Looking for the ultimate in modern carpet steam cleaning? The Bissell SpotBot Pet Hands-Free Compact Deep Cleaner might be perfect for you. This robotic unit goes to work on touch spots, leaving you free to work on other tasks while it does its job. Use a preprogrammed cycle based on the type of stain you are dealing with, as well as the appropriate attachments. This unit is ideal for those who battle pet odors and stains, as this unit is designed especially to provide an effective solution for the permanent removal of these types of smells and discolorations.
Pet Odor & Stain Removal Formula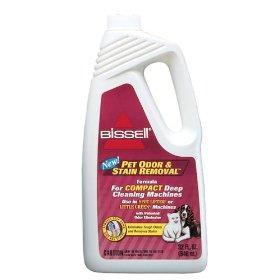 Buy Now
If you live with furry friends, make the most of your Bissell steam cleaner with the Pet Odor and Stain Removal Formula to deodorize and freshen your carpeting.
Bissell Little Green Formula
Buy Now
Bissell Little Green Formula cleaning solution is a great option for cleaning household carpeting, furniture upholstery, automobile interior, and more. The low foam formula has powerful cleaning, deodorizing, and freshening capabilities.
Multi-Allergen Removal Formula
Buy Now
Have allergies? Consider using Bissell Multi-Allergen Removal Formula in your steam cleaner. In addition to helping get rid of stains and odors, this formula also removes common allergens including pet dander, pollen, and dust mite waste.