Functional and Fashionable Diaper Bags
Parents know that when they travel with a baby, they need to carry a lot of stuff. What better way to hold all those items and accessories than with the latest diaper bags?
Today's diaper bags can be sleek and stylish or whimsical and vibrant and come in a huge variety of colors and designs. You may feel like you're lugging the whole nursery around, but there are so many options on the market, there's no reason you can't look great doing it.
Click on any of the images in the following slides for shopping information.
Stylish and Organized
More Details
The Honest Everything Tote, available for just over $150.00, has nine strategically placed pockets (some insulated, some designed to keep messy items away from everything else) so you'll be able to get your hands on what your baby needs in no time at all. The black satchel style goes with just about anything and doesn't scream "diaper bag" since it could easily pass as a purse. It's easy to keep clean and made from vegan leather. Even the lining wipes clean without too much fuss.
Keeping Things Organized on the Go
More Details
The PacaPod 3-in-1 Baby Changing Tote Bag (just under $200.00) comes in a beautiful camel color and is made from vegan leather and natural fabrics. It's not just any diaper bag; this one comes with a changer pod, feeder pod, and changing mat. Everything stays organized and tucked away in its area. There's room to spare, so you'll be able to keep a few essentials in the bag for yourself, too. Use the handles or the longer strap to stay comfortable while you're out.
Sporty With Feminine Flair
More Details
The Nolita Neoprene Diaper Backpack (less than $100.00) keeps your hands free while you're on the go. It comes in black/dark camo or black/gray and has room for everything your baby may need while you're away from home for the day. If you have a stroller with you, you can easily attach the bag to that. The zip closure ensures that everything will be secure, and it also comes with a changing mat.
Urban Black (Faux) Leather
More Details
The Playback bag from VAUVA is another backpack option, this time available in urban black waterproof faux leather for just over $100.00. The polyester interior is spacious and has pockets to keep bottles and other items separated on the inside. It's washable, easy to manage, and something mom or dad can feel comfortable carrying. In addition to pockets galore, you get a changing pad and wet bag with this design.
Leather Luxury
More Details
Looking for a leather everyday bag that could almost double as an oversized handbag? The Emma Leather Diaper Bag from Storksak (just over $350.00) has you covered with its gorgeous tan or black leather exterior and lined interior. The outside has two bottle pockets for easy access, interior zip and elasticated pockets, exterior pockets with and without zippers, a zipper along the main compartment, rolled handles, and an adjustable shoulder strap with stroller straps.
Messenger Style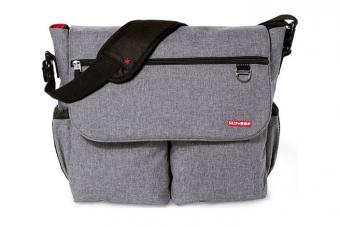 More Details
The Dash Signature Messenger Diaper Bag from Skip Hop (around $70.00) would look right at home on mom or dad's shoulder. It comes in gray or black polyester and easily switches to a stroller bag. On the outside, you get zip, wall, and side pockets, plus a top handle. On the inside, there are wall pockets to keep the small essentials like diaper creams and pacifiers. The magnetic flap closure makes it easy to open and close the bag without a lot of fuss.
For the Tech Parent
More Details
The Duo Signature Diaper Bag from Skip Hop, around $70.00, combines eye-catching prints with an unusual shape. It has a total of 10 pockets, at least two of which fit most bottles. Stash your essentials (like your tech gadgets, including tablets and some laptops) in the tech pocket on the front and use the handles or adjustable shoulder strap with shoulder pad when it's time to go. This design offers enough space for everything the baby will need, plus the included cushioned changing pad.
Expandable Bag
More Details
This simple black bag is anything but boring, and it's available for just over $70.00. For starters, the middle is so expandable, you can get a 20 percent bigger bag just by utilizing that space. Wear it over your shoulder or hang it on a stroller and enjoy the amount of organization it provides with its 11 pockets (one of which is a cellphone pocket with easy access). Keep your stuff separate from baby's thanks to all those pockets, and negate the need to carry a separate purse. It also comes with a changing pad.
For the Day Trips
More Details
The cotton (exterior) and polyester (interior) Birdling Mini Day Tripper Pink Diaper Bag is a sweet pink (or navy) style that resembles a classic tote bag. The shoulder strap is removable if you decide you don't need it for an outing, and there's an insulated interior pouch you can snap inside to keep bottles separated from all the other items you need to carry. In addition to that, there are five exterior pockets and a key clip. Expect to pay around $75.00.
For Longer Trips
More Details
The larger cotton and polyester Birdling Weekender Gray Diaper Bag (just over $200.00) is ready for longer trips. If you'll be gone for longer than the afternoon, this might be the perfect option. The shoulder strap is, as usual, removable, if you choose to carry it by the handles. Instead of one or two interior compartments, there are three, and you'll probably never wish you had just one more pocket to keep you organized since there are 13 (six interior and seven exterior), plus a key clip.
With such diversity in bags, there's something for every type of family, from the suburban mom always on the go to the family who travels a lot and needs lots of space.