Welcoming a new baby into the family of faith is a very sentimental occasion filled with life, love, tradition and joy. Make it a memorable celebration with uplifting decorations in a comfortable setting.
Decor for the Baptism Ceremony
Call the church well in advance to make arrangements for the baptism or christening ceremony. Every church has different rules or requirements of what is expected from the family. At this time, you can ask about simple, tasteful decorations for the ceremony, such as floral arrangements, candles and a banner with the child's name, welcoming him into the congregation.
Decorating the Celebration Space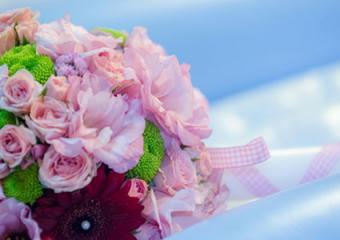 Parents or godparents of a newly baptized infant commonly host a gathering or party to celebrate the baby's baptism or christening. This may also be hosted or planned by close friends or family members. The gathering may be small and include only immediate family, or it may be very large, including extended family members and friends.
Common Baptism Décor Symbols
The most common symbols used for décor at a baptism are those directly associated with the baby's entrance into her religious family. Symbols are often interspersed with a special word, verse, or phrase such as "Blessings" or "This child is blessed." Common motifs include:
Crosses: One of the most common themes, the cross is central to the Christian religion and frequently found on baptism-related items.
Angels: Angels have a religious significance and they lend a sweet touch to the decorations.
Bibles: As the core religious book for Christians, the Bible is another common motif in decorations.
Doves: The symbol of peace and the Holy Spirit, doves are an elegant theme for a baptism.
Baby Shoes: A pair of tiny baby shoes or christening shoes is a delicate motif.
Praying Hands: The image of praying hands is appropriate for a baptism as it can represent both the prayers others have for the child and the child's future in the faith.
General Decorating Ideas
The celebration might take place at someone's home, a rented party room or hall, or at a restaurant. No matter what the size of the gathering is or where it takes place, using inspirational or handmade decorations can add a special touch to the event.
Pennant-Style Banners
Gather some card stock paper, ribbon or string, craft paint and a hole punch and create a banner to hang on a wall, across the fireplace mantel or over the buffet table. Cut the card stock into squares or triangles and stencil a letter on each card. Punch a hole in each top corner and string together a message like, "God Bless" on one string and the baby's name on another.
Tissue Paper Pom-Poms
Make large pom-poms to hang from the ceiling using the same method for making tissue paper flowers. The only real difference is size; use full sheets of tissue paper folded and cut in half. Tie a long ribbon around the middle of the sheets once they've been folded accordion-style to hang them from the ceiling or a light fixture after your done fluffing the sheets.
Tulle Chair Sash
Embellished chair backs with a tulle sash. White tulle will match the table coverings or you can pick up one of the hues from your color scheme. Five yards of tulle covers three chair backs that measure 17-1/2- inches wide. Cut a five-yard section of tulle into three equal parts measuring 53 inches each. Wrap the tulle around the top of the chair, tying a knot in back. Fan the wrapped tulle to cover more of the chair's back.
Baptism Table Decorations
Decorations for a baptism gathering should inspire a feeling of softness and elegance. Think pastel colors and layers of white. Cover tables in white tablecloths for a neutral backdrop and then bring in coordinating colors on tableware, even if it's as simple as paper plates, cups and napkins with colorful centerpieces. You could also dress up tables with place mats and table runners. Set up a large table with assorted treats and goodies and let guests serve themselves.
Color Schemes for the Tables
For a boy consider white with soft blues and greens, silver or gray, blue with tan or light green and tan.
For a girl consider white with pinks and orange, yellow, purple or gray.
For boy/girl twins consider white with pink and blue, yellow and blue, yellow and green or pink and green.
Centerpiece Ideas
Centerpieces for tables don't have to be complicated when you're keeping simplicity and elegance in mind:
Fresh flowers - Follow your color scheme with white lilies, white and pink or blue carnations or baby's breath in blue or pink jars.
DIY tissue paper flowers - Create soft, full blooms in any color using several square sheets of tissue paper folded accordion style and tied together in the middle. Cut each end into a rounded petal shape and start unfolding the layers of paper to form the flower. See the whole tutorial on YouTube.
Marshmallow crosses - Dip each end of a marshmallow in melted white chocolate then cover in sprinkles that match your color scheme. Thread four marshmallows on a bamboo stick then use toothpicks to attach one on each side near the top, forming a cross. Insert the stick into a small vase of flowers or glass container filled with color-coordinated candy like jelly beans, gum balls or coated chocolate balls.
Rhinestone cross containers - Pick up some inexpensive glass vases or jars and use self-adhesive rhinestones to embellish them with sparkling crosses. If they don't adhere well, use a toothpick to apply a dab of clear drying adhesive like Household Goop. Add water, flower blossoms and floating candles for easy, yet elegant, centerpieces.
Favor Ideas
Baptism favors can also serve as decorations when they are arranged artfully in pretty baskets, bowls, platters, or tiered trays.
Cake pops - Fill a cake platter with chocolate-dipped cake balls on a stick. Dip them in white chocolate with sprinkles that match your color scheme. There is a YouTube video entitled, Beginner's Guide to Making Cake Pops, if you need a tutorial on how to make them.
Flower pot favors - Celebrate a spring baptism with small terra-cotta planters filled with flowers. Before planting, spray paint the pots with a white primer and then follow-up with a metallic silver. Plant small flowers such as African violets or pansies in each pot and tie a satin ribbon around the exterior. Cut a wooden skewer in half and attach a paper tag to the top saying, "Thank you for attending," or "A gift of appreciation."
Candle favors - Use glitter craft paint designed for glass to embellish small glass votives with silver or gold crosses. Use white, pink or light blue candles. Put each one in a small gift box topped with a bow or personalized gift tag.
Where to Buy
Most party stores offer a selection of baptism decorations. Religious stores and shops specializing in infant goods may also carry them. The following stores sell baptism party supplies and decorations.
Oriental Trading Company - Here you can find personalized paper napkins and faith-themed paper tableware.
BigDotofHappiness.com - A wide selection of personalized banners, color-themed party kits with balloons, tissue paper pom-poms, honeycomb balls and streamers, place mats, and pink and blue mylar cross balloons.
Shindigz - Find a large selection of tableware, banners, invitations, confetti, balloons, personalized photo cards and more.
Add a Festive Touch
A baptism is a special event in the life of a church as well as an event that will be remembered by the family. In addition, baptisms generally become part of the official church history, so it's an important day that you'll want to commemorate. Adding a festive touch with cute or elegant decorations can make the day that much more special.