A baby monitor is an investment in your child's safety. It offers security, freedom and peace of mind to new parents. However, it's important to choose a model that not only offers the features you're looking for but one that has a good track record. If you're on the search for the best baby monitors available, there are many options to consider.
Levana Astra? Video Monitor
Levana was the first company to introduce wireless, hand-held, full-color-video baby monitors to consumers. The Levana Astra? 3.5'' PTZ Digital Baby Video Monitor with Talk to Baby? Intercom is a great choice for parents who want to be able to communicate with their child through the monitor.
An LCD screen with zoom functioning allows a close eye on baby with LED night vision while using the audio feature on the child's end can include not only a parent speaking, but also allows for three different lullabies to help babies fall asleep. The Astra also has a long-lasting battery life with up to 48 hours in power save mode without recharging.
Astra monitors carry over a 4-star rating from nearly 500 consumers at Target, where you can purchase the item for about $130.
VTech Safe and Sound Monitors
These monitors offer both audio and video models. The digital audio monitor offers DECT secure transmission, light and sound sensors, a night light, an intercom and 18 hours of battery life. Models are available with one or two parent units. A one unit monitor costs about $40 plus shipping; the two-unit version costs about $60 with free shipping.
VTech's full-color video and audio monitor is packed with exciting features. It offers encrypted digital video and audio transmission, vibrating and sound light alerts, wall mount bracket, 2.8 inch color LCD screen, full motion video with split-screen option, infrared night vision, intercom system, temperature sensor, and a lullaby feature, and were selected as the winner of a National Parenting Publications Award for its value and features. Models are available with up to three parent units and range in cost from around $170 to $280.
For parents who want reassurance of their sleeping baby even when they're with a babysitter for the night, this VTech Wi-Fi Monitor allows audio and video viewing from a remote location via phone or tablet. The monitor includes a motion detector and HD viewing so you can have a clear idea of whether your baby is sleeping safe and sound. One unit includes a 5" screen and Wi-Fi camera and can be purchased for just under $200.
VTech's Safe and Sound monitors have received impressive reviews from many popular blogs. BabyCenter chose these monitors as a finalist in their 'Best Of' 2016 competition. Daily Mom says the video monitor stands out because of its added features; Mommity loves the temperature sensor and the ability to zoom in on her baby's crib, and My Boys and Their Toys says the audio monitor "offers peace of mind; anywhere, anytime."
Owlet Baby Monitor
A solution for tech-savvy parents and those concerned with baby safety, the Owlet baby monitor uses Smart Technology to monitor a baby's oxygen level and heart rate. Unlike an audio or visual monitor, this monitor comes as a sock that a baby wears as it sleeps, using pulse oximetry to measure levels while it provides real-time results. Results come through a smartphone app from an independent base unit in the child's room. The smart innovation has earned the Owlet a number of child safety and tech awards.
The Owlet baby monitor can be purchased for approximately $250.
Angelcare AC1300 Monitor
This monitor offers a unique under-the-mattress motion detector pad that detects even the lightest motion from your baby. The monitor is designed to sound an alarm if there is no movement detected for 20 seconds. A 3.5-inch video monitor and an audio monitor are included. Other features include a full-color display, temperature display and sensor, night light and sound detector lights.
The Powered by Mom blog gave this monitor a sterling review for its reassurance for worrying mothers and clear video stream so you can see what your child is doing in their crib. This monitor sells for about $160 at Amazon.
Motorola MBP36S Video Monitor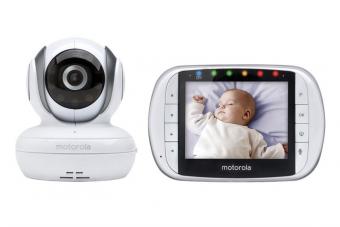 This monitor features wireless, digital technology and its full-color, large 3.5 inch LCD screen offers clear views of your baby. Other features include a two-way intercom system, night light, five lullabies, infrared night vision, pan, tilt and zoom ability, temperature monitor, sound light alerts and a 600-foot range. Reviewers from Babycenter love its crisp night vision, which is so clear that you can see a baby breathing on the screen.
The Motorola MBP36S costs about $180 with free shipping.
Philips Avent DECT SCD570/10 Baby Monitor
The Philips Avent DECT SCD570/10 audio monitor was the winner of the Editor's Choice Award on BabyGearLab for its sound quality, microphone adjustment, large range, and two-way talk to your baby. The audio monitor features DECT technology, boasting zero interference and complete privacy.
The monitor is also equipped with lullabies, temperature gauge, a night light, and a vibration alert for a woken baby. The battery lasts for up to 18 hours of usage, and a docking station is included for recharging. You can buy this monitor at Jet.com for under $94, with slightly lower pricing if you purchase more than one unit.
Infant Optics DXR-8
This monitor earned the Gold award from TopTenReviews for its ease of setup and its superior audio and video quality. The monitor includes night vision, remote temperature display, an alarm function, and two-way talk so you can speak to your child without entering the room. The optical lens is interchangeable for maximum visual display.
Hookups are available for up to four cameras for total room coverage. The monitor, a Best Seller on Amazon, can be purchased for $165.
Summer Infant Babble Band
The Babble Band is a great investment with a price of about $50.Chosen as one of the best baby monitors by TheBump, this wearable monitor allows a sound, lights or a vibration to hit your wrist when your baby begins to babble without you having to worry about carrying anything around with you. The band has a range of up to 800 feet and the battery lasts for up to eight hours with continuous use.
Features to Look For
Most baby monitors can be used with batteries or the typical electric connection. Some baby monitors may be wireless. Many of these offer at least two channels, and you may also have the option of having more than one receiver or camera. Baby monitors range from basic models to those offering extensive added features. Some added features include:
Night vision
Room temperature sensor
Lighted motion and/or sound sensors: this feature is especially good for parents who are deaf or hard of hearing.
Vibration motion sensors: this feature is great for sight and/or hearing-impaired parents who may not be able to see light alarms or hear baby crying.
Extra receivers
Nightlight
Plays soothing lullabies
Talk features that allow you to talk to your baby
Although baby monitors provide many benefits, some models experience major audio or video interference with other monitors or electronic devices. This can be challenging - and even downright embarrassing and potentially dangerous if your neighbors can listen in on your conversations or even view what's going on in your home. It's important to find a model that offers the least interference possible. To eliminate this problem, Consumer Reports recommends purchasing a monitor that uses Digital Enhanced Cordless Technology (DECT) and encodes data for privacy.
Rest and Peace of Mind
A good quality baby monitor will help provide the assurance you need to not only get those precious moments of rest during your baby's early months but also give you the freedom you need to get things done. Whether you're looking for a top of the line video monitor or one with basic audio features, there are wonderful options to choose from no matter what your budget.