Free, editable lesson plan templates make it easy for teachers to get organized and provide the best education possible for students. Click on the template to download it, then add your information and print. If you run into any problems using the PDF lesson plan templates, consult this helpful guide.
Basic Lesson Plan Template
A basic lesson plan printable template is perfect for preschool and kindergarten lessons or elementary classrooms because it is short. This free, editable PDF includes sections for your objectives, materials, activities, take home work, and assessment. The large notes section allows you to leave reminders for yourself about how to implement the lesson or what changes you might want to make next time you use the lesson.
Detailed Lesson Plan Template
Middle school, high school, and even college teachers might prefer to use a more detailed lesson plan as their lessons tend to be more complex. This free lesson plan template includes the basic sections along with sections for specific curriculum standards, what instructional strategies you'll use, and space for background information where you can include what students should already know about your topic.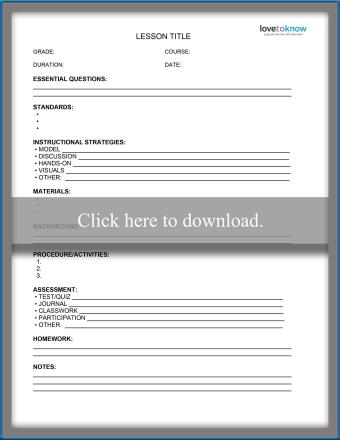 Daily Lesson Plan Template
You can use a blank daily lesson plan template to plan out all your lessons for one entire day. There are spaces to write each period, a lesson overview, materials, activities, and homework.
Ways to Use a Daily Lesson Plan Template
This multi-functional daily lesson plan template works for any grade level.
Elementary teachers who teach a variety of subjects will find this format particularly useful because they can write out an overview of what lessons they'll teach for each time period throughout one school day.
Middle school and high school teachers who may teach different levels of their specialty throughout the day can also stay organized with a daily lesson plan template.
This type of lesson plan is also great to leave for substitute teachers because it gives them an overview of how the entire day should look in your classroom.
Course Lesson Plan Template
When you want to ensure your entire course is planned out ahead of time and includes all the elements it should, a course lesson plan template comes in handy. You can include your course objectives, curriculum standards, topics, lesson titles, and homework or assessments.
Weekly Lesson Plan Template
If you're going to be out for an entire week or you just love to see the bigger picture, try using a weekly lesson plan template or printable weekly organizer to supplement your individual lesson plans. The weekly lesson plan template allows you to keep tabs on topics, lesson titles, and homework for five different time slots each day of the school week.
Tips for Using Lesson Plan Templates
The key to making free lesson plan templates work for you is taking the time to customize them.
Choose one format and use it all the time. Before long you'll be planning your lessons in your head following that format.
Know what information you're required to include for lesson plans based on your school's guidelines and choose a template that fits.
Add as much detail as you feel you need.
Make the lesson plan fit your personality by using colored fonts, adding stickers to printed copies, or printing lesson plans on special paper.
If you prefer digital organization, create a folder for each class, course, or subject on your computer and keep a blank template copy alongside your completed lesson plans.
If you like printed lesson plans, create a binder for each class that includes a course lesson plan, weekly breakdowns, and individual lesson plans.
Lesson Planning Made Easy
Lesson planning can feel like a real drag sometimes, but free lesson plan templates help make the process quick and easy. Pick a template you love and use it for all your lessons. The more you use it, the easier it will be to get your lessons planned. Freebies for teachers help keep budgets in check and classrooms at the top of their game.