Lois Lowry's Number the Stars is a work of historical fiction offering numerous topics for extended activities. Parents and teachers can use these free activities and printables to further discuss the difficult themes covered in the novel and open the minds of readers.
Book Overview
Published in 1989, this 140-page, middle-grade novel examines the life of two little girls living in Denmark during World War II. Annemarie Johansen is just ten-years-old and lives next door to her best friend, Ellen Rosen. Told from Annemarie's view, the story follows these two families as they discover Nazi plans to "relocate" Jewish people.
In the back matter, author Lowry discusses how she got the idea from a friend's childhood stories as well as the incredible true story of the Danish Resistance where the country's courageous citizens found a way to successfully smuggle nearly 7,000 Jewish people to Sweden. Awards for this classic include the 1990 Newbery Medal.
Activities
Extension activities for this book could include geography, history, psychology, and topics of personal courage. These suggestions require few supplies and little planning or completion time.
Number the Stars
Readers create a stunning, one-of-a-kind image in this mid-level art project. In the book, Annemarie mentions her thoughts on a Bible verse that talks about God numbering the stars. Extend this impossible concept through creative means by building an image made entirely from stars.
What You Need:
Pencil and eraser
Colored pens or thin markers
Number the Stars Printable Worksheet
Directions:
Give each student two copies of the Number the Stars Worksheet.
On the first sheet, students should use a pencil to create a unique dot-to-dot image inspired by the book. Ideas might include a portrait of Annemarie, the Star of David, or a ship. Students should number the stars on the worksheet in the correct order to complete the image.
Students can then erase the pencil marks or trace over them with colored pens to create a final image.
On the second sheet, students should only write in the correct number sequence so it looks like a blank dot-to-dot page.
Make copies of each numbered dot-to-dot page for the rest of the class to complete.
The Hero in Me
Most of the characters in the book face at least one scenario where they have a choice to save others. In this activity, students reflect on personal experiences where they had the chance to be a hero and either rose to the occasion or chose not to act.
What You Need:
Pencils or pens
Sticky notes
The Hero in Me Worksheet
Directions:
Ask each student to think of a time when she could have stood up for someone else, helped someone else, or maybe even rescued another person or animal.
Students then fill in the worksheet using this scenario. All stories should be anonymous.
Hang the stories in a horizontal row at eye level for the class.
Give each student a stack of sticky notes and ask them to read all the other stories. As they read each story, students give one example of how the writer could have reacted differently to the situation. Hang that note in the appropriate column at the bottom of the page.
Discuss each story and all the possible reactions.
Hidden Object
Challenge readers to transport a hidden "contraband" item throughout their day without getting caught by a grown-up as a means to understanding Annemarie's challenges with hiding things in the book.
What You Need:
"Contraband" item for each student; look for small objects that like gum, jewelry, or photographs
Variety of materials to hide the objects like small boxes, envelopes, or wrapping paper
String, tape and other materials kids can use to attach their item somewhere on the outside of their person
Hidden Object Discovery slips
Directions:
Give each student a contraband item and ask them to choose any materials from the supplies to completely cover or conceal the item. Kids must be able to carry the item in some way outside of their body, clothing, or bags.
Give each student a Hidden Object Discovery Slip which must be included with their concealed item.
Ask students to use the provided materials to find a way to carry the concealed item with them throughout the day. Students are allowed to carry the item in their hand, turn it into a piece of jewelry, etc. However, they can't put it in a pocket or fold it up in a shirt sleeve. The packaging must be visible.
Students keep their item throughout the day, trying to avoid questions from adults about the item. If an adult asks about it in any way, the student must open their packaging and have their Hidden Object Discovery Slip signed by the adult who asked about it.
At the end of the day, see how many kids were able to keep their item concealed and how long each student was able to conceal it.
False Identity
Pair students up to help each other create false identities that could be believable like Ellen posing as Annemarie's deceased sister Lise.
What You Need:
Magazines
Scissors
Glue
A False Identity Worksheet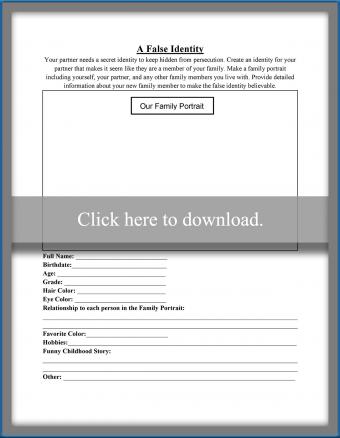 Directions:
Pair off all students and give each student a copy of A False Identity Worksheet.
Each pair must use clippings from the magazine to create a fake family portrait in the empty box on A False Identity Worksheet. The fake family should at least include representations of the student and their partner but can feature any other desired family members.
Each student then fills in the rest of the worksheet taking care to make up a believable identity for their partner.
Ask pairs to present their fake family member in a brief presentation. Each partner can create a unique story line, they don't have to relate to each other.
Additional Resources
These additional activity ideas will help round out your lesson plans. You can use them as additional activities after each chapter or to give students more options in their reading responses.
Going Beyond the Words
Reading about an experience like this from a child's perspective helps young readers relate to the story. What takes their understanding further are the activities that accompany the text. Give your child something to think about with these projects.