You'll be the coolest team parent of the season with these simple, but fun snack ideas for your child's baseball or softball team. When it's your turn to bring snacks for the entire team, a bit of creativity will go a long way. Snacks for a baseball team don't have to be boring - and with these fun and easy ideas you'll be the MVP of snack time.
Make Your Own Baseball Team Snacks
If you're the baseball mom with snack duty and want to ensure a healthy option for the entire team, make the snack yourself. You don't have to do anything extravagant. Choose simple recipes that come together quickly and have the whole team looking forward to break time when they see you arrive at practice or a game.
Fill Your Own Fruit Cups
Fruit cups are sweet and get you extra points with health-conscious parents. Skip the sweetened syrup by making your own fruit cups with fresh ingredients. Use seasonal fruit layered in a plastic cup and give each kid a disposable fork to make snacking simple. Add a small cup of yogurt to each serving for a sweet and filling fruit dip.
Whip Up Some Granola Bars
Most kids love granola bars and these homemade versions will make you a fan-favorite with parents and teammates alike. Start with a versatile granola bar base and make it extra tasty with fun flavor combinations. Try sprinkles and vanilla extract for a birthday cake bar, cinnamon and raisins for texture and spice, or a mix of seeds and dried fruit for a trail mix twist on crunchy granola bars.
Make It a Party With Pizza Bites
Homemade pizza bites are easy and only take about 15 minutes to prepare.
Ingredients:
Canned biscuit dough
Marinara sauce
Mini Pepperonis
Mozzarella cheese
Preheat your oven to 350 degrees and spray a cupcake pan with a non-stick spray. Add one biscuit to each cupcake section and use your finger to create a well. Add a spoonful of sauce, a few pepperoni slices, and a pinch of cheese on top. Bake for ten minutes or until the cheese is bubbling. Package your mini pizzas up for easy snacking after practice or a game.
Dish Out Protein Bites
These bite-sized protein bombs are packed with all the sweet things kids love and all the nutritious things parents will appreciate. The protein element will help them recover from intense practice or a high energy game while keeping them full until dinner time. Swap peanut butter with almond butter or sun butter for an allergy-friendly option.
Offer Cold Cut Sandwiches
Who says baseball and softball team snacks have to be strictly snack foods? A little sandwich has all the components kids might crave after a game or practice. Make cold cuts ahead of time by using pre-packed rolls to make the sandwiches in bulk. You can even repurpose the bag to carry your snack easily to the practice. Have a couple of peanut butter and jelly sandwiches in there for the pickier teammates to enjoy.
Make Your Own Veggie Cups
Prepping a selection of veggie cups for the team won't take up much time, but will offer the team a healthy snack. Cut carrots and celery in long strips and pair with a small cup of ranch. Broccoli, cherry tomatoes, peppers, and cauliflower are also great options. You might also offer hummus, honey mustard, or cottage cheese as dipping choices.
Let Teammates Make Their Own Trail Mix
Having some control over the snack will have teammates lining up to make their own trail mix. Offer nuts, dried fruits, cereal, and sweets in large containers and give each child a cup or bag for creating their own perfect trail mix.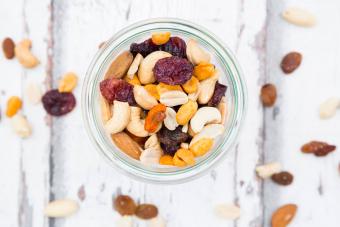 Pair the Best Pre-Packaged Snacks
When it's your turn to bring snacks to baseball or softball games, don't feel you always have to go the homemade route. There are tons of nutritious and kid-friendly snack options that are easy to stock up.
Yogurt cups are perfect for a quick and easy snack. Pair them with granola or fresh fruit for fiber.
Beef or turkey jerky packs a protein punch and complements a sweet treat like cookies or a veggie selection.
Applesauce pouches are mess-free and easy to hand out. Add string cheese for a balanced snack.
You can bring apple slices straight from the store or just slice a few apples yourself. Add a yogurt-based dip, peanut butter, or cheese cubes for a protein option as well.
Don't just bring boring grapes - pop them in the freezer the night before for an extra sweet, frozen treat after practice. These go great with granola bars.
Single-serve bags of pretzels or tortilla chips pair well with small cups of hummus or guacamole.
Popcorn is full of fiber and teammates will love choosing between butter, caramel, and cheese options. Add bananas for balance and to keep kids full between meals.
Give every kid their own charcuterie cups filled with meat, cheese, and fruit. Serve alongside a bag of single serve crackers or pita chips.
Give the team a protein-packed s'mores treat. Prepare graham cracker sandwiches with nut butter, chocolate chips, and a sweet layer of marshmallow cream. Keep parents happy by pairing this snack with baby carrots or celery sticks.
Add a Cool Baseball Theme to Your Snacks
If you really want to impress the teammates and the parents, add sports flair to your snack options. This doesn't have to be a complicated recipe that requires advanced decorating skills. Just look for ways to bring some personality to the snacks you're offering. Doing so might make those healthy snack options more appealing to kids.
Use a red food dye pen to draw baseball stitches on jumbo marshmallows and add them to the top of fruit kabobs.
Spread cream cheese on rice cakes and use small red pepper slices to create baseball stitches. You can also offer a sweet option with round Rice Krispies Treats topped with frosting and strawberries.
Bake protein-packed donuts or grab some cake donuts from the store and decorate the tops to look like little baseballs or softballs.
For pre-packaged snacks with clear wrappers, you can draw baseball and softball stitches on the wrapper for an easy decoration that will grab the attention of little teammates.
Bring Drinks Kids & Parents Will Love
Part of your responsibility as the snack provider usually means you're likely in charge of drinks as well. Bring one or two options that kids will love and parents will approve of.
Bring small water bottles for simple hydration. Throw in a few packets of water-enhancing flavor powders to get kids on board.
Grab a kid-friendly drink that provides electrolytes and goes light on the sugar.
You can find small smoothie drinks with a yogurt base to add protein to your snack options.
Juices without added sugar add fiber, and the sweetness kids might be craving. Try unsweetened apple juice, orange juice, and pineapple juices.
Bring a juice that tastes like fruit but includes a serving of vegetables.
Flavored sparkling water might be appealing to kids who love soda.
Avoid too much dairy right after an intense practice and offer chocolate almond milk or soy milk instead.
Post-Game Baseball or Softball Snack Bags
For game day snacks, a lot of times parents make a snack or goodie bag the kids can just grab after the game. You can just use plain brown lunch or gift bags or customize them with baseball stickers or baseball-print tape.
Try any of the options listed above for snacks and drinks to put in the bag and hand them out after the game. If you want to go all out, you might can also consider adding a small goodie or treat to the bag - whether kids win or lose, they'll have a special softball or baseball snack after the game. Extras to throw in post-game snack bags might be:
Some bubble gum or small packages of Big League Chew
Fruit leathers or juice-based fruit snacks
Mini packages of Cracker Jack
Rice Krispie treats (you can make a healthier brown-rice cereal version)
Mini brownie bites (try a healthy no-bake version for ease and extra protein)
Protein bars - store-bought or homemade (especially for older kids)
Customize Oreos or other store-bought cookies to have a baseball theme
Mini candy bars (like Baby Ruth) can be fun additions to a healthier snack bag, but keep in mind anything chocolate will melt if it's hot weather
Make the Right Preparations
Once you've decided on the snack and drink options you want to bring, make sure you do all the necessary prep for a successful post-game snack time.
Pack a cooler for all of your cold snacks like yogurt, cheese, or deli meats.
Use an additional cooler to keep drinks cool. Even if you're bringing water or drinks that only need to be refrigerated after opening, kids will look for an ice cold beverage after all their hard work.
Bring extras of everything. Some kids may have bigger appetites or could drop their snack before it's finished and need a replacement.
Include backup options for kids with peanut or dairy allergies or who stick to a vegetarian or gluten-free diet.
Pack plastic utensils and a roll or two of paper towels.
Do all of your prep the day before so you aren't stressed or pressed for time.
Keep a few bulk snack options in your pantry just in case you need something last-minute or need to fill in for another parent on the fly.
Offer snacks with a smile and remember that everyone has a unique preference for food so there could be one or two teammates who just aren't a fan of your snack offering and that is okay.
Make Your Snack the MVP
Planning and preparing the team's snack can be fun and is a great way to offer your support as a parent and a fan. Remember, you don't have to bring the most elaborate snack or aim to please everyone. With a little creativity and time to plan, your snack option will be a grand slam!