Everyone remembers a great day at the beach, and with a few pro tips and tricks, your family beach photos can capture that breezy, laid-back, sun-kissed vibe.
The beach can be a tricky place to take pictures, but there are some hacks that can help a ton - whether you're shooting with a film or digital camera or even your phone. It's all about using the beach environment to your advantage.
Know the Best Time to Take Family Beach Photos
The beach can have super bright light, so you need to time your shooting to avoid ugly shadows. This isn't as hard as it might seem. Pick a time that's just before the sun goes down, and the light will take on a golden glow for your family beach photos. Keep outfits neutral and plan to shoot a lot of pictures.
Quick Tip
No matter when you're shooting, the key to making your beach photos look better is being aware of the light. Look at which direction it's coming from and how bright it is. Make sure it's not way brighter behind the people than it is on their faces.
Make the Most of Foggy Beach Light
While the sun is awesome for sunbathing at the beach, it can get in the way of your pictures. Pick a day that's foggy and overcast instead! Even if it's not the weather for soaking up the rays, it's the ideal light for flattering portraits of your family. Capture some of the beach scenery too to give your pictures lots of context.
Make Your Own Shade for Great Beach Photos
Can't shoot your family photos on a foggy day or just before sunset? Don't stress! Grab a beach umbrella and make your own shade. Turn people so the sun isn't super bright behind them either (think trees or beach grass as a background).
Use That Last Light for Sunset Beach Family Photos
You don't have to stop shooting just because the sun is just about down. In fact, that very last light of the day can be some of the most flattering when it's at the beach. There are lots of surfaces to reflect the light like water and sand, so your photos will feel bright even as it's getting dark.
Quick Tip
If you're shooting these family photos yourself, watch your camera settings as the light is fading. If your phone or camera is on auto mode, it will probably do this for you. You might need to hold super still, though, to avoid blur in longer exposures.
Kick Off Your Shoes for Casual Beach Portraits
No matter what you choose to wear for your family beach photo outfits, be sure to kick off your shoes. Nothing says "beach" like being barefoot, and it will give your pictures a chill, fun-loving vibe everyone will love.
Embrace Neutral Colors in Your Clothing
When it comes to choosing your clothing, the best colors to wear for family beach photos are ones that are already there at the beach. You can't go wrong with neutrals (after all, the sand, stones, and shells can't possibly have the wrong color scheme). You can also bring in warm earth tones that go with the golden light.
Dress in Shades of Blue
Another winning outfit option for beach family photos is all shades of blue. This is awesome if you're working with a lot of people because most shades of blue go well together. It's the ideal beachy color too, since it's right there in the water around you.
Get Playful for the Cutest Beach Pics
When you're ready to take your family pictures, don't forget to have a lot of fun. The joy you feel playing together at the beach will definitely show up in your photos. They'll be perfect for sharing on Instagram too.
Capture the Adventure in Your Family Beach Photos
Beautifully planned and posed beach photos are wonderful; don't get us wrong. But if your family is into adventure at the beach, make that part of your pictures. Grab your boards or waterskis and ask a friend (or a pro) to take pictures of you doing your thing.
Quick Tip
If you have action in your photos, take a lot of them as quickly as you can. This lets you capture the moments as they're happening, plus those little things that happen in between moments. It's the best strategy for action shots at the beach or anywhere else.
Frame Up With Beach Boardwalks and Paths
The beach tends to include a lot of wide open spaces, but you can anchor your photos and give them a pro feel by finding spots to frame your family in the pictures. Think boardwalks, paths, wooden fences, piers, and anything else. Try to get the lines of the scene to lead in from the corners or edges of your photo.
Take Some Beach Photos in the Water
Grab your waterproof camera or phone case and take some shots in the water too. This can be such a fun way to show how you love swimming or snorkeling together, and it's a totally creative option for beach family photos, too. The same light rules apply here: go for just before sunset or on a cloudy day to avoid harsh shadows.
Shoot Family Photos at the Beach in Winter Too
Don't let cold weather stop you from getting some great family portraits at your favorite lake or ocean. Bundle up in winter gear and grab a camera. Bonus: in a lot of places, the light can be less bright at the beach in winter.
Let the Wind Be Part of Your Family Pictures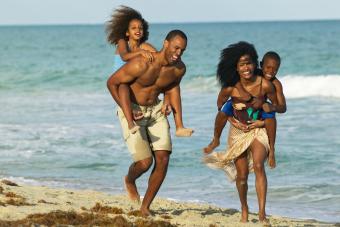 Just like you need to work with the light instead of against it when you're taking family photos at the beach, you can also work with the wind that's coming in off the water. Let it be a part of your pictures. It's okay if it blows people's hair and clothing around. Seeing the wind in the picture will help everyone know you took your photos at the beach.
Capture Candid Interactions With a Walk on the Beach
Real interactions between family members can take your beach photos from just fine to totally amazing. Go for a stroll on the beach and have someone continuously take pictures as you walk together and chat. You'll get those real emotions and interactions and end up with pictures you love.
Get Some Creative Family Photos by Firelight
While after-dark family beach photos might not be for everyone, they can be unique and beautiful on your holiday card or for sharing online. You'll need a tripod or camera support here because you'll have less light. It's also best to shoot these pictures before it's totally dark (think twilight).
Quick Tip
Adjust your camera's ISO to be higher for this type of photo or use higher speed film. This makes the sensor or film more sensitive to light and lets you shoot after it starts to get dark.
Remember to Have Fun
The beach isn't the easiest place to take pictures, but you've totally got this. Just watch the light, shoot a lot, and most of all, remember to have fun. You'll love your beach family photos if you capture the joy you feel being together in such a wonderful and beautiful place.