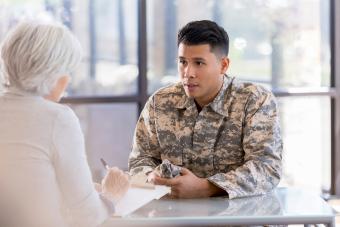 Military service members and their families experience unique stressors, including frequent relocation, active-duty deployment, strains on marriage, and adjustment issues. The Military and Family Life Consultant Program (MFLC) is offered by the Department of Defense (DOD) to help navigate these challenges. It provides counseling services by licensed professionals who specialize in helping military personnel and their dependents. Learn more about what the program includes and how to seek services.
The Military and Family Life Consultant Program
The MFLC program is available to active-duty, National Guard, or reserve members, or DOD civilians, and immediate family members or surviving family members. All services are offered free of charge, which means that lack of finances can never prohibit you from getting the support you and your family need.
What the Program Includes
MFLC consultants are licensed masters or doctorate-level counselors who provide "non-medical counseling." Non-medical counseling is counseling related to concerns that do not include serious mental health problems. This means that the MFLC counselors provide assistance with issues in areas including:
Relationship problems
Crisis intervention
Stress management
Grief and loss
Parenting issues
Employment issues
Deployment adjustment issues
Again, these services are available at no cost for service members and their immediate families. Counselors are available on, as well as off military bases, and they can provide individual, couples and family counseling. Counselors can also provide presentations to units related to issues such as those listed above.
What the Program Does Not Include
Because the MFLC program provides non-medical counseling, services such as the following are not included:
Treatment for more serious mental health concerns such as post-traumatic stress disorder (PTSD)
Suicidal or homicidal thoughts
Sexual assault
Child abuse
Domestic violence
Alcohol or drug abuse
At the beginning of MFLC services, a counselor will assess your situation. If they determine that your concerns are outside the scope of the program, they will provide you appropriate referrals to other behavioral health providers.
MFLC for Children
The MFLC also provides services specific to children. Counselors specializing in child and youth behavioral issues provide assistance with concerns such as:
School adjustment
Parent-child and sibling communication
Behavioral concerns
Separation and reunion adjustment
Self-esteem issues
Communication and life skills
These services can be found in locations such as child developments centers, installation-based youth and teen centers, on- and off-installation public schools, and youth camps.
Is the MFLC Program Confidential?
Services provided by the MFLC program are confidential. Your service member's career will not be impacted if you seek help. Services are not reported to the command, nor do they impact your service member's security clearance.
Exceptions to privacy include suspected family maltreatment such as child abuse or neglect, danger to self or others, or illegal activity.
How to Begin Services
One way in which you can begin services offered by the MFLC program is to ask your Commanding Officer how to contact the MFLC where you are stationed, or where your family is living if you are on deployment.
You can also contact counselors over the phone by calling (866) 966-1020, by emailing resources@phcoe.org, or by utilizing the online chat room.
How to Become a MFLC Program Counselor
If you are interested in becoming a counselor with the MFLC Program, the first step is to complete a four-year bachelor's degree. After that, you would need to complete a graduate program such as a doctorate in psychology or a master's degree in areas such as counseling, marriage and family therapy, or social work. Part of the graduate training includes an internship where you are supervised by a licensed mental health provider. After earning your graduate degree, you may be required to do additional supervised clinical work depending on your jurisdiction. The end of the process typically includes taking a licensing exam and obtaining a license to practice in your state or jurisdiction.
Utilize Your Support Network
If you are in the military, both you and your family have extra stressors that civilian families do not endure. However, there are services available to assist you, and utilizing these services can help avoid additional problems down the road. The MFLC Program provides assistance specifically for this purpose, and those who have participated in the program have found the services to be beneficial.