From necklaces, to shoes, to earrings, to whatever sparkly thing you're wearing in your hair, you've probably figured out exactly how you want your prom accessories to look. However, you might be forgetting one thing - the prom corsage and boutonniere.
Just like picking out the outfit and accessories, you need to be deliberate with the flowers you pick for your prom corsage and boutonniere. After all, color isn't the only thing that matters when it comes to picking flowers.
Choose Flowers for Your Prom Corsage or Boutonniere That Last
Whether you're ordering a custom corsage/boutonniere at a florist or putting your own together, the flowers you choose will have a big impact on its overall look. No matter if you're picking them out for yourself or giving one as a prom night gift to someone else, you want to put together a beautiful arrangement.
Naturally, you want to pick flowers that match your prom ensemble (or your date's), but the blooms with the brightest and boldest colors might not be perfect for the occasion. Sure, they'll catch your eye, but you could be shedding flowers throughout the night. Or worse, leaving the evening with a shrivelled up arrangement.
Don't fall prey to their tempting nature; instead, keep your eyes steady on the best prom flowers that'll withstand tons of dancing, humidity, and all the fun the night brings. All the flowers listed below are solid, long-lasting flower choices for the big night for a wrist corsage or a boutonniere.
Carnations
There's a reason schools sell carnations around Valentine's Day - they're quaint flowers with a textured bloom that lasts a long time after being cut. On top of that, carnations are one of the many flowers out there that come in a rainbow of colors, making it a perfect choice for anyone's prom fashions. Historically, they've had sweet romantic connections, which can add a hidden layer to your corsage or boutonniere.
Chrysanthemums
Chrysanthemums, with their bountiful petals and beautiful hues, are frequently pulled during prom season. They do very well after being cut and hold up as a centerpiece for any corsage or boutonniere.
Clematis
If you've ever seen The Little Mermaid and can remember the big flower Ariel tosses into her hair, then you've already got an idea of what the clematis looks like. While it's not exactly the sea-flower Ariel uses, it has that wide-petaled, starry appearance. Clematises are vibrant flowers that perform great after being cut, and will draw attention to any corsage or boutonniere.
Freesias
Another long-lasting cut flower you might not have heard of is freesia. Freesias have a more delicate, trumpet-like appearance, and are perfect for someone with a unique personality. They, too, come in a variety of colors, and are heavily fragranced, so you'll get to skip on the perfume for one evening.
Gardenias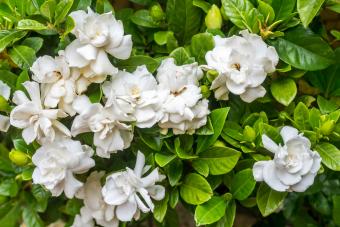 Gardenias have a classic look, historically associated with legendary Blues singer Billie Holiday. They're fragrant and gentle and have been a popular choice for decades. While white gardenias are the most common, you can also find them in pink, red, and yellow shades too.
Hydrangeas
Right now, hydrangeas are taking over the formal world. Take a peep and you'll see them in office buildings, hotel lobbies, and wedding bouquets or centerpieces. They make huge blooms, do great when they're cut, and come in soft versions of almost every color.
Roses
Of course, you can't have a list of flowers for prom corsages and boutonnieres without including the most infamous of all - the rose. They come in just about every color imaginable, have multiple sizes, and are so intricately linked to everything romantic that they're everyone's go-to flower. While they can range in meaning from platonic love (like a yellow rose for friendship) to deep romantic love (i.e. red roses mean love and passion), these flowers do very well when cut and will last the whole night through.
Quick Tip
If you want to really step out of the box with your rose corsage, avoid red or pink and instead, pick less common colors.
Orchids
Orchids are tall, resolute flowers that have a unique profile which makes them a striking addition to any prom corsage or boutonniere. While they're certainly eye-catching, they're a bit too delicate for wrist corsages. So, if you're dead set on having an orchid, try using smaller blooms and couching them in ribbons and bows to keep their petals protected.
Incorporate Color Meaning for a Special Touch
If you want to go full-on Victorian romance with your corsage or boutonniere, consider picking special flowers. Incorporate the language of flowers in your corsage, and give your date the added excitement of uncovering your message.
Here are a few examples of what giving different colored flowers used to mean:
White Carnations = sweet love
Red Roses = deep, passionate love
Red Gardenias = secret love
Get Inspiration for Prom Corsage Bracelets & Boutonniere Pins
If you're putting your own together or giving your florist a blueprint for your vision, use these ideas as inspiration for creating the perfect wrist corsage style.
Stick with a single-color theme. Use flowers of all one color to give your wearable arrangement a modern, monochromatic look.
Go for soft and simple. Your corsage/boutonniere doesn't need to be huge or make a big statement. For example, stick with a few pastel rose buds and some baby's breath to give your arrangement a delicate, feminine look.
Match your big personality with a big bloom. Choose one gigantic bloom, like a hydrangea, to be the centerpiece for your corsage or boutonniere.
Pull out subtle colors in your outfit. Bring out hidden colors in your outfit by choosing flowers in the same shade.
Dressed to the Nines, Flowers Included
You want a prom corsage or boutonniere to be the thing that puts the final touch on your outfit - the pièce de résistance, so to speak. But, the way to have a corsage or boutonniere that stands out all night long is picking the right flowers. Now that you know which ones to gravitate towards and why they're made for major events like prom, you're ready to create a beautiful accessory that might not last a lifetime, but'll definitely last the whole night through.