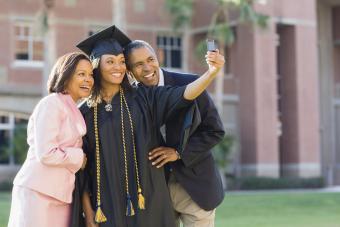 Although the terms are sometimes used interchangeably, graduation announcements and graduation invitations are different. A graduation announcement is sent to all relatives and friends of the family to announce the achievement, whereas an invitation is a request to attend the ceremony. Once you figure out what to say on graduation announcements, you can have some fun with the actual wording. Use this guide to create an eye-catching graduation announcement the recipient will want to hang onto for years.
What to Write on Graduation Announcements
Whether you're ordering online or making a DIY version, there are some basic pieces of information that you should include on graduation announcements. Use these as a basic template, and then customize it for your preferences.
Student's and parents' names: Formal announcements should include the student's full name along with parents' names. Informal versions can include nicknames rather than a full name.
Student's picture: Most often, announcements include either a senior portrait of the graduate or a photo of them in cap and gown at the ceremony.
School name: The name of the school the student is graduating from should appear somewhere.
Class year: Be sure to include the year and graduation date. It's a good idea to include a phrase like "Class of (year)".
Achievements: Highlight any big successes the grad achieved throughout their educational career, like serving as valedictorian, graduating with honors, or being accepted into their top college.
Graduation Announcement Ideas
Knowing the basics of what to put on graduation announcements is just the start. You can personalize them they're so totally unique and memorable. Many graduates today are sending more informal announcements that showcase individual personality. Some of these creative announcement ideas include:
A collage of senior pictures
A side-by-side of the student on the first day of school and graduation day
Personalized postcards
Image of a monogrammed graduation cap with the graduate's initials
Bookmark with photo booth style pictures of the graduate and a tassel with the year
Image of the graduate walking away from the camera with cap and gown on
Quick Tip
Email announcements are becoming more commonplace, but people still love receiving a physical card they can cherish.
Graduation Announcement Wording Examples
There are different ways to announce the graduation ceremony. These include everything from a graduation poem to a prayer or a memorable quote. The idea is to share the achievement with details about the student, the graduation ceremony, and future plans. These sample graduation announcements will give you some ideas. Personalize any sample wording by adding or removing information about your particular situation.
Cute Graduation Announcements
There are lots of cute ways to announce your graduation, from whimsical verses to fun statements.
Dr. Seuss Announcement Wording Example

"You're off to great places! Today is your day. Your mountain is waiting, so get on your way!" -Dr. Seuss.

Parent Names) are delighted to send (Student Name) out into the world for his next great adventure.

Congratulations, (Student First Name), on your graduation from (School Name).

After the ceremony, he will leave this great place to discover others throughout Europe.
All Grown Up Wording Example

All grown up!

(Student Full Name) graduated from (School Name) on (Ceremony Date).

She has taken her first steps into the adult world by accepting a full scholarship to (College Name), where she will major in (Major).
I Came, I Learned Wording Example

I Came, I Learned, I Conquered.

(Student First Name, "Nickname," Last Name) is thrilled to announce her graduation from (School Name), Class of (Year).

Watch out (College Name), (Student First Name) is on her way!

Thank you for being a part of her high school legacy.

The greatest gift you can share is your sincere pride and joy!
Announcements Celebrating the Graduate's Success
Focusing on the success and the achievements of the new grad is another great idea for announcement wording.
Graduating With Honors Example

Perseverance, dedication, and patience helped her exceed expectations.

Today we celebrate the achievement with some very special treatment.

(Student Full Name), Class of (Year), (School Name) has made us all proud by graduating with honors.
Sports Achievement Wording Example

It's a slam dunk for (Student Full Name)!

He has won many games throughout his high school career, and now he takes home the ultimate trophy, a high school diploma.

Thanks for being on our team all these years.

(School Name), Class of (Year) will honor graduates on (Date of Ceremony) at (Location).

You don't have to be in the crowd to cheer for (Student First Name), cards are welcome and can be sent to (Student Address).

(Student First Name) is undecided which team he'll join next, so stay tuned!
Meaningful Graduation Announcement Examples
Graduation is a big accomplishment and marks the start of a new chapter in the graduate's life. Lean into the sentimental side with a graduation announcement that reflects all the emotions, the graduate's faith, or an inspiring message.
Milestones Wording Announcement Example

From infant to toddler, child to teenager, young adult to grown woman, (Student Full Name) has reached many milestones thanks to the teachers, friends, and family members guiding her every step of the way.
From high school to (College Name) Class of (Year) and next onto (Graduate/Post-Graduate School), we hope you join us in congratulating (Student First Name) on another milestone and continue to guide her in the years to come.
Religious Wording Announcement Example

"For I know the plans I have for you', declares the LORD, 'Plans to prosper you and not to harm you, plans to give you hope and a future." -NIV, Jeremiah 29:11

Thank you Lord, family, friends and neighbors for helping our little girl along the journey of high school.

It is with great honor we introduce our favorite member of the Class of (Year), (Student Full Name).

God is good and has set her on the path toward helping others as she will enter (Occupational Field) school in the fall.

In celebration of this momentous occasion, we humbly ask for your congratulations and a promise of continued support and guidance (Student First Name) on her next leg of life's journey.
Inspirational Wording Announcement Example

A journey of a thousand miles begins with one step. - Sun Tzu

Please join us in congratulating (Student's Name) on their success in graduating from (Name of School) on (Graduation Date).

They will begin a new journey at (Name of College or Occupational Field) in the fall.
Announcement Etiquette
If you're unfamiliar with the etiquette for graduation announcements, it may not be clear what to do when the time comes to send them out. No matter the tone or style you choose, there are some standard etiquette practices everyone can follow.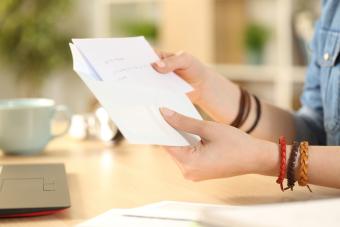 When Should I Send Graduation Announcements?
According to Fox Business, if you are not planning a graduation party, then send the announcements in the days following the graduation ceremony. If you are planning a party, announcements can be sent with invitations three to four weeks before the events.
How Many Should I Send?
Graduation is an important milestone in a person's life, so send announcements to more people rather than fewer. Even acquaintances will be happy to hear of the accomplishment.
Sending Graduation Announcements
Send announcements to friends, neighbors, and family members you would invite to a birthday party, cookout, or another gathering.
Announcements can be ordered through school, online, a local print shop, or created on your computer using printable graduation announcement templates.
Write out entire words rather than using abbreviations when addressing the announcements.
Since you probably won't be able to invite everyone to the graduation ceremony, you can send announcements after the ceremony takes place.
Once an announcement has been chosen, it can seem complicated to put together. Keep these tips in mind when preparing the mailing:
If your announcements came with vellum paper, it goes on the inside of the announcement.
If there are two envelopes, the one with the glue is the outside envelope. The inner envelope should have the name of the addressee.
It's acceptable to be a little informal on the inner envelope, such as writing "Grandma Sarah." However, if you don't know the person well, remain formal and write "Mr. Jones," etc.
On the outer envelope, handwrite the person's formal name and address.
Recipient Etiquette
If you received an announcement about a graduation, you might wonder if you must send a gift. It's not required nor expected that everyone receiving an announcement will send a gift. However, high school graduates are often about to head into true independence for the first time, so gifts can be helpful and appreciated. Gifts for graduates can range from kind words to goods like:
Gift certificates
School Supplies
Household Supplies
A cash gift
Handwritten card o note of congratulations and encouragement
Gifts and cards of congratulations should be addressed to the graduate.
Spreading the News
Graduation is an exciting time in a young person's life. It marks the end of childhood and the beginning of a bright future. Whether the special grad is graduating from an elementary level program, high school, or college, close friends and family love to be informed of major life accomplishments. One of the best parts about achievement is getting to share your success with others.