Homecoming corsages are not only beautiful, but they're a traditional part of getting ready the fall homecoming dance.  If you're searching for a unique ideas, we've pinned down some of the best styles to consider!
Need to Know
Where does the corsage tradition stem from? It word comes from the French term 'bouquet de corsage,' but the tradition is rooted in Greek history. It was believed that these botanic accessories would ward off evil spirits. In the Victorian Era, giving a corsage to your date became a common practice for formal events. This is still the case to this day.
Homecoming Corsage Etiquette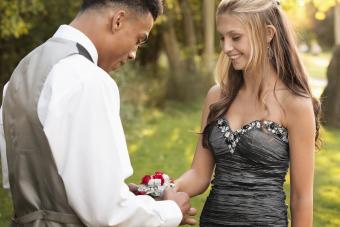 The corsage is usually part of what you'll wear to homecoming. It is a small flower arrangement that is either pinned on your dress, attached to your wrist, or it is a small bouquet that is held in your hand throughout the evening. Normally, your date purchases the corsage and presents it to you when they pick you up. In exchange, you present either a corsage or a boutonnière to your date.
However, in recent years, some homecoming goers have begun buying their own corsages. If you're going to the dance with a group of friends, or just want to be sure that you get the perfect corsage, you also have the option to purchase it on your own. The corsage, no matter the style, is intended to coordinate with an individual's or couple's ensembles. 
Tips for Choosing the Right Corsage for Homecoming
When buying a corsage, there are a few key details to keep in mind:
Inquire about the style of dress or outfit your date plans to wear. This can make a difference — for example, pin-on corsages are not ideal for strapless and spaghetti strap style dresses. 
Ask about the color of their outfit as well. This can ensure that you buy a corsage for homecoming that doesn't clash.
Place your order at least two weeks in advance to give the florist plenty of time to create the accessory.
Ask your date about any allergies they may have to prevent any issues from arising on homecoming night
Choose the right type of flowers. You want sturdy buds that won't fall apart or wilt halfway through the dance.
Quick Tip
If you and your date want to coordinate your corsage and boutonnière, consider visiting the florist together and placing the order at the same time. This will ensure that this task gets checked off your list on time and that you get exactly what you both want!
Stunning Homecoming Corsage Ideas
There are several different types of corsages, each with its own benefits and shortcomings. We break down your choices and the details to consider when selecting this dance accessory.
Wrist Corsages
A wrist corsage is a small arrangement of flowers, usually three or five, which attaches to the person's wrist. This style is one of the most popular types of corsages for homecoming because it is comfortable to wear, and if the person's dress is strapless or spaghetti strap, then it is almost a necessity. Since pin-on corsages are best attached to a thick strap on the dress, these formal styles would not allow for the use of one.
Need to Know
Corsages are normally placed on a person's left side, which means that you will need to stand on your date's left for photos in order for this floral accessory to be seen! 
Pin-on Corsages
A pin-on corsage is the traditional type of corsage and is a nice choice if your dress is a classic style. However, if your dress does not have straps, then a pin-on corsage is not for you. A pin-on corsage attaches to the strap of the dress, so if you have no straps then you might want to look for a different type of corsage.
Nosegay Corsages
A nosegay corsage is a small bouquet of flowers that is held in hand throughout the night. This type of corsage is not very popular but can give a dress a unique appearance. The reason nosegay corsages are not favored is mainly because they have to be held, as opposed to being attached to a dress or wrist.
This makes it easier to lose the corsage, and it only leaves you with only one free hand throughout the night. However, a nosegay corsage allows for a few more flowers to be added since it won't weigh down the person's dress or wrist.
Ring Corsages
Those looking for a modern, simplistic take on the wrist corsage might try a ring corsage. This style features one or two small flowers attached to a ring she can wear on her finger. Because these are smaller, they won't feel heavy or get ruined easily.
Ring corsages may be cheaper because they use fewer flowers. If you're wearing a long-sleeve or heavily embellished dress this might be the best way to keep from covering up any of the dress's details.
Wrapping Armband Corsages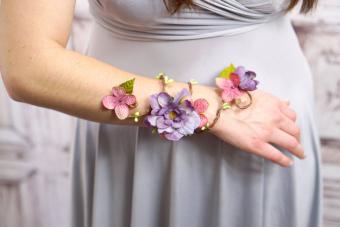 This homecoming corsage idea features a strand of flowers wrapped from the wrist up to the elbow or from the elbow to the shoulder. Armband corsages use a ribbon or flexible green stem to hold together the sparse flowers cascading down a person's arm.
Those wearing a simple strapless gown can use an armband corsage to enhance their overall look. Because this corsage is larger than others, it may cost more for the additional flowers and could feel constricting for dancing.
Choker Corsage
What many people don't realize is that corsages are trending, but instead of sitting perched on the shoulder or wrist, many women are choosing to adorn their neck or chest with this statement piece.
Where is this all coming from? The recent revival of Carrie Bradshaw in the HBO series And Just Like That may be the culprit as this fictional fashionista has always been a trendsetter when it comes to clothes — and let's face it, she is the OG of statement corsages! 
For this look, the goal is to go big and bold. Choose one large statement flower to steal the show. This not only creates a statement look that pairs perfectly with a simple strapless dress, but it also keeps everyone's focus on your face.
Modern Corsage Styles
Style and design trends for homecoming dresses and corsages change on an annual basis. You can get a classic look when you use timeless flowers like roses or carnations or you can go bold with a more exotic flower or style choice.
Rose Corsages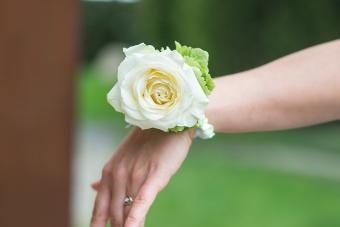 Roses are the most classic flower you can use in a corsage. With colors ranging from white to red, yellow to pink and even custom dyed colors, you can use roses to match any outfit.
Tight rosebuds are great for pin on and ring corsages while open roses look beautiful as a single flower on a wrist corsage. Let your florist know if you'd like the roses open or closed and choose a color that compliments your outfit.
Contemporary Floral Designs
The traditional corsage features one kind of flower with ribbon and either greenery or baby's breath as an accent. In contrast, modern flower designs feature a mixture of textures and colors from different flower species, greens, and other natural elements.
Get the monochromatic look or ombre effect when you choose several shades of one color and different flowers on one corsage. For a more natural look, pair one main flower with different types of greens and fillers like baby's breath. Think of this style as more of a small arranged bouquet that's meant to be highly designed.
Fall Flower Corsages
If you want a corsage that captures the spirit of Autumn, include fall flowers like Ranunculaceae or sunflowers. Pick fall colors like deep yellows, oranges, reds, and browns to mimic the changing colors of leaves. Make sure the colors match or compliment your dress and be prepared to include fewer flowers on the corsage since fall blooms tend to be big.
White Orchids
White orchids are a classic flower with a unique, simple look. When using orchids in your corsage, make them the focal point. Skip the extra ribbon or embellishments and set the flower against a simple leaf background or cluster a few flowers together. The resulting corsage will be timeless and add a delicate touch to your ensemble since you'll only use a few flowers.
Peacock Feathers
Use peacock feathers in place of leaves, ferns, or other greens on your corsage to give your floral some extra flair. The greens in the feather will mimic this natural look, making the entire corsage unique without being flashy or too trendy. For a bolder look add a brightly colored ribbon like the teal found in the feather's natural design.
Tropical Flowers
Flowers like the hibiscus that typically feature bright, bold colors and grow in tropical regions make any corsage into a statement piece. Since the color of these flowers stands out, keep the rest of the corsage simple with flat green leaves and white accents.
Arrange the flowers in a cascading pattern to accentuate the beautiful colors or cluster them to mimic their natural look when growing in the wild. No matter how you style them, the tropical flowers will be the focal point of the corsage.
Dark Designs
If your dress has more of a gothic feel, look for a dark corsage to match. Deep red or purple flowers and black ribbon look elegant and correspond with a darker fashion style. Black ribbon with white flowers resembles the feel of an old, black-and-white photo, whereas red flowers are reminiscent of blood and vampires.
Crystal Designs
Transform your corsage from an accessory into a piece of jewelry by incorporating crystal elements. Start with a sparkly bracelet and see if the florist can attach your chosen flowers to that base instead of the typical elastic band.
A single large bloom with a jewel accent brings the whole look together. Or, if you've got a vintage style in mind, have a corsage made from crystal flowers. You'll be able to save this keepsake forever since the crystals won't die and dry up like real flowers.
What About the Boutonnière?
Corsages aren't the only flowers you will see on homecoming night! Guys typically wear a boutonnière, which is a small flower arrangement that is pinned onto his left lapel.
A boutonnière is crafted to match the corsage, so if someone is wearing a corsage with a few red roses on it, then the boutonniere would likely be a single red rose. Many times, you can buy your corsage and boutonnière together for a discounted bundle price. 
Prices & Where to Buy Homecoming Corsages and Boutonnières
Price ranges for a corsage can run anywhere from $30 to $100, depending on how elaborate it is, the type and amount of flowers, and the florist's skill level. When buying a corsage, remember to order it a couple of weeks in advance in case there are problems with the florist and to be sure that your order will have time to be filled.
Online shops like 1-800 Flowers offer both individual corsages as well as corsage and boutonnière bundles that can be delivered right to your door or you can visit a florist in your area to order a more unique corsage style. This also allows you to choose from more flower options compared to when you order online. 
Have Fun With the Tradition
Receiving a corsage for homecoming  a fun tradition. Even if the recipient isn't part of the homecoming court, everyone deserves to look their best on this big night! With a corsage that makes you look and feel your best, you'll be ready to dance the night away.