Household items that can be used as toys may seem mundane to you, but when you have a child with an active imagination, these objects can transport them to other worlds while building essential life skills!
Check out these regular items that can be transformed into cheap toddler toys, plus how you can turn them into awesome activities.
Paper Towel & Toilet Paper Tubes
It's amazing how enticing these cardboard products can be! Kids will literally pull them out of the trash or peel off all of the paper in order to get to this perfectly plain paper pipe. Why? They can be a spyglass, a microphone, a drumstick, or a sword!
For the parents who want to change these common items into cheap toddler toys, consider helping your kids make homemade binoculars or rainbow rainsticks! You can also make a DIY bird feeder so that your kids can put those binoculars to good use.
Plastic Water Bottles
Plastic bottles are another typical household item that kids absolutely adore. Best of all, these items seem to be amusing with or without anything inside. Parents can craft soda bottle jet packs, sensory bottles, DIY compost bins, and so much more.
Boxes
Everyone with a toddler knows that the box is way better than whatever junk you can find inside! This magical container can transform into a car, a rocketship, and even a castle.
For the parents who want to make the most out of this item, consider grabbing some washable markers and letting your kids color their hearts out. You can also craft robot costumes, tunnels, airplanes, and any other items that their imaginations can cook up.
Brooms
My son is OBSESSED with our broom. We sweep the yard daily. I don't quite understand this obsession, but since we love Montessori, it was easy to turn this coveted household item into a way to build gross motor skills, coordination, and even promote self-care.
All you need is a clean broom, some fake leaves from your local craft store, and painter's tape. Make shapes on the floor with the tape, sprinkle leaves all over the place, and have your toddler sweep the leaves into the designated spaces.
Kitchenwares
Turns out that some of the most amusing household items are sitting right in your kitchen! Kids can pretend to be a chef or a drummer. They can also take these items and engage in various types of water play.
The best part -- you likely have an endless supply of kitchen items that you never use, making them the perfect things to transform into cheap toddler toys.
Helpful Hack
One of my favorite activities involves dried pasta. When at the grocery, grab a few boxes of pasta in a variety of shapes and colors. Then, head home and grab some plastic cups, a big mixing bowl, a ladle, tongs, and wooden spoons. Have your tots transfer and sort the various types of pasta using their collection of utensils. Just make sure to supervise!
Spray Bottles
Play that involves spray bottles not only boosts fine motor skills, but it can also teach life skills! Fill a bottle up with water and have your littles water the plants, clean the windows, and wipe tables clean.
If you don't mind a colorful mess, grab a few bottles and combine food coloring and water in each. Then, lay out some butcher paper on a floor that is easily cleaned and have them make custom spray art! This is a great way to teach colors to your kids too.
Blankets
Is there anything better than a blanket fort? This quintessential kid activity has been around for generations for a reason -- the world can be overwhelming, but a small, warm, and cozy space can calm kids and help them to feel safe. It also puts everything at their level.
Paint Brushes
It's funny -- even with nothing on them, kids love paint brushes. These mini versions of a broom are perfect for pint-sized hands. Parents can let their kids show off their inner Picasso or they can grab a bucket or water and a collection of paint brushes and rollers and let their kids paint the sidewalk.
On a hot summer day, this can keep them entertained for hours and there will always be room on their canvas, thanks to the power of the sun!
Solo Cups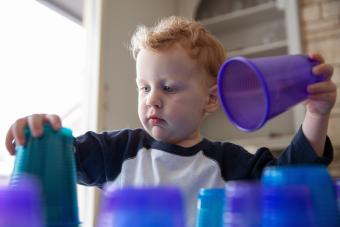 Whoever said that bigger is better clearly had a toddler in tow! Stacking cups are a great way to build a child's fine motor skills and improve concentration, making solo cups a solid choice for a rainy day. Have them make towers for play or use these stacks as makeshift bowling pins!
Pantry Items
Ever notice that those indoor play areas for children seem to always have a mini market? These imagination spaces give kids opportunities to socialize, engage in creative play, and better understand the world around them. Thankfully, when you can't make it out to one of these public spaces, you have a market right in your own kitchen!
Grab a shopping tote and have your kids shop for items, organize products, and even stock the shelves after shopping. Better yet, give them a list of ingredients for your dinner, have them shop for them, and then let them start working on becoming a master chef! Measuring, mixing, and pouring are all great for building fine motor skills and they can teach them math at the same time.
Need to Know
Make sure to supervise these activities. If items are open, little hands are likely to reach in. The best way to prevent choking and big messes is to keep a close eye on them throughout the activity.
Anything in Your Closet
Dress up another classic kid's activity that doesn't require a big box of costumes. Children love to mimic the people they love the most -- and that's you! Grab one of those handy cardboard boxes and fill it with old shirts, hats, scarves, jewelry, purses, wallets, and anything else they might find fun!
This can enhance their pretend play, build their communication skills, and maybe even give you a glimpse into the future.
Certain Household Items Should Not be Used as Cheap Toddler Toys
We all want to keep our kids entertained, but certain items are not ideal for toddlers. Avoid using these household items as toddler toys:
Pet Toys: We love our animals, but their mouths harbor a lot of bacteria. If your pup is a chewer, some of these items can also have sharp edges.
Pots and Pans: I remember playing with pots and pans as a child, putting on likely very obnoxious concerts with my siblings for our mother. These items are harmless when on the floor, but once a child sees it as a toy, there is nothing stopping them from trying to pull it off the stove when it is filled with boiling water or hot food. Instead, stick to items that aren't used on the range or in the oven.
Keys: Your great grandmother likely gave you a set of keys to play with and you survived, but these items are not only dirty, they also many times have sharp edges and are made of dangerous metals (if consumed), so they should be avoided. Also, did you really want that particular item running off, never to be found again?
Lotion Bottles and Baby Wipes: Kids always seem to gravitate towards these items, and while handing them over to keep them calm during a diaper change seems harmless, you don't want your kids getting a hold of these products later and putting them in their mouths.
Remote Controls: Not only is this another item you don't want wandering off, but these household objects hold batteries, which you don't want popping out and ending up in little one's mouths.
Pocket Change: While coins may seem harmless, these items are an unsuspecting choking hazard.
Magnets/Magnetic Items: This is another item that most of us survived playing with, but since children love to put things in their mouths, the last thing you want is them eating a handful. If eaten, these items can cause dangerous perforations and even lead to death.
Playing With Household Objects Can Boost Your Child's Development
What we love very most about these cheap toddler toys is that they can help your child's development. Researchers have found that object play "may be conducive to learning object properties and functions, motor skill acquisition, and growth in cognitive, social, and language domains."
In other words, household items that can be used as toys are a fantastic choice so get creative and let your kids' imaginations soar!