Festive Desserts
There's no reason you need to serve the same old tired desserts year after year. Instead, try one of these fun, creative desserts this Christmas that your guests are sure to love.
Try studding some mixed fruit cocktail oranges with cloves for a light, fruit-based dessert.
Reindeer Cupcakes
Serve these fun reindeer cupcakes at a buffet or a children's party.
Start with a basic cupcake recipe, then pipe on some marshmallow frosting. Freeze the cupcakes for 30 minutes to harden the frosting, then dunk into some warm chocolate ganache. Pipe on the eyes and nose and add a pretzel.
Santa Strawberries
These festive Santa strawberries make a fun plate garnish on the side of another dessert, or you can put out a whole tray of them on a dessert buffet table for those who want a lighter dessert option.
Simply cut the end off a strawberry so they can stand up straight. Slice off the tip and pipe on some stiff icing to form a beard and some buttons. Replace the tip as the hat and pipe on the tip to finish.
Santa Hat Brownies
Add a festive touch to some chocolate brownies by giving each one its own Santa hat.
Start with any brownie recipe, pipe on a small amount of frosting, and top with an upside down strawberry. Add a little more frosting to the tip of the berry to complete.
Candy Cane Cookies
Candy cane cookies are a fun addition to kid's parties, buffets, or to use as an adornment next to a cup of hot cocoa.
Twist these candy cane cookies up by flavoring the two colors a little differently for a fun taste journey. Consider using peppermint and almond or vanilla and chocolate-mint.
Yule Log
While most people no longer burn a Yule log to celebrate the season, cutting into one can be just as festive. Make this chocolate sponge cake-based dessert and serve it around a roaring fire. To put your own creative twist on this holiday recipe, consider filling the Yule log with mint or almond frosting, pudding, or raspberry preserves.
Melting Snowman Cookies
These fun cookies are sure to dress up your dessert table. Start with a basic sugar cookie recipe and top the cooled cookies with royal icing. Put a marshmallow in the top center for the head and decorate.
Baked Alaska
Individual servings of baked Alaska can be a gourmet treat for a holiday dinner. Give the dessert even more holiday flair by opting for peppermint, gingerbread, or eggnog ice cream and garnish the dessert with a peppermint sprig.
Christmas Tree Cookies
These elegant tree cookies are made of traditional Christmas almond macaroons, formed into cones or trees. Once baked, dip them into melted white chocolate colored green. Right before the chocolate hardens, roll the bottoms in some chocolate shavings and insert a chocolate candy star into the tip.
Christmas Tree Cupcakes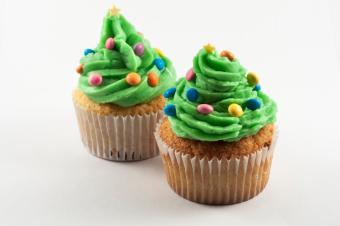 Decorate some Christmas tree cupcakes to match your tree's theme. Start with a basic cupcake recipe, then pipe on some buttercream frosting dyed green. Decorate with candy stars and candy coated chocolates to give it a festive look.
All of these desserts are a wonderful finish to any Christmas dinner. A memorable dessert makes the holiday meal complete.