Holiday Cheese Ball Bites
When the holidays roll around, it's nice to have some festive appetizer recipes on hand to wow dinner guests and get in the holiday spirit. Choose from a variety of mouth-watering hors d'oeuvres, ranging from sweet to savory, to get you started.
Dinner guests will love this tasty delight featuring the colors of the season. It works great paired with wine and a veggie tray.
Ingredients
8 ounces plain cream cheese, softened
2 cups shredded white cheddar cheese
1/3 cup dried cranberries
1/3 cup chopped pecans
1/3 cup chopped parsley
Directions
Combine cream cheese and shredded cheese in medium bowl; mix well.
Form 12 to 15 balls with cheese mixture; chill 30 minutes in refrigerator.
Coat each cheese ball with mixture of cranberries, walnuts, and parsley.
Serve with crackers, if desired. Or, place pretzel stick on top of each cheese ball.
Servings: 12 to 15
Spiced Mixed Nuts
No holiday is complete without spiced mixed nuts on the hors d'oeuvre table. This recipe is easy to make, and is sure to be a hit this holiday season. Combine mixed nuts of your choice and a savory spice mixture containing olive oil, cumin, chili powder, garlic powder, paprika, cayenne pepper, and cinnamon.
To change things up a bit, try a sweet spice mixture of cinnamon, sugar, nutmeg, ginger, ground cloves, and canola or olive oil instead. Let it sit out for the evening and people will probably munch on it all night.
Pigs in a Blanket
Kids and adults alike can't turn down this flavorful appetizer recipe. It's a great option for a casual buffet or family-friendly party with other finger foods.
Ingredients
2 cans refrigerated crescent roll dough
48 mini smoked sausage links (or hotdogs)
Directions
Cut crescent roll dough into 48 thin triangles (or rectangles).
Roll each sausage in dough.
Bake at 375 degrees on ungreased cookie sheet 12 to 15 minutes or until slightly brown.
Servings: 48 wrapped sausages
Deviled Eggs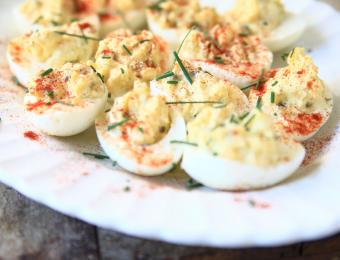 Deviled eggs at the table are a holiday staple for many families. Use eggs, mayonnaise, vinegar, mustard, salt and pepper, and paprika to make basic deviled egg recipes. Or, get creative and spice things up by adding extra seasonings, filling ingredients, or fancy garnishes to this classic party hors d'oeuvre.
Holiday Mini Quiche
This delicious pre-meal delight stimulates your appetite in just the right way, and never goes out of style. Serve it alongside fruit kebabs.
Ingredients
2 cans refrigerated crescent roll dough
1 can heavy whipping cream
6 large eggs
1 1/2 cups shredded cheddar cheese
1/2 cup bacon bits
Salt and pepper to taste
1/2 cup chopped parsley
Directions
Spray mini muffin tins with nonstick cooking spray; line each tin with crescent roll dough.
Whisk together eggs, cream, salt and pepper; stir in cheese and bacon bits.
Place mixture in dough-lined muffin tins.
Bake at 375 degrees for 15 to 20 minutes until edges of quiche are golden brown.
Top with parsley for garnish.
Servings: 48
Crab Stuffed Mushrooms
Regardless of which holiday you're serving dinner for, crab stuffed mushrooms are always a hit. This satiety-boosting appetizer works well with any type of dish but especially a hearty seafood lasagna. Using mushrooms, crab meat, parmesan cheese, cream cheese, mayonnaise, scallions, and artichoke hearts as ingredients, this flavorful hors d'oeuvre will leave your guests begging for more.
Pesto With Pinenuts
Homemade pesto goes great with a variety of pasta-based meals. Pair the pesto sauce with crackers, breadsticks, pita chips, veggies, or fresh bread. Made with garlic, olive oil, basil, Parmesan-Reggiano or Romano cheese, and pine nuts, this decadent pesto recipe will make your mouth water. To change things up, swap walnuts, pistachios, hazelnuts, pecans, or almonds for pine nuts.
Bacon Wrapped Dates
This tasty recipe seems labor-intensive, but is actually quite simple with few ingredients. Add it to your pork dinner menu.
Ingredients
18 roasted almonds
18 cream cheese pieces
18 dates, pitted
6 slices bacon, cut into thirds
Directions
Stuff dates with cream cheese and almonds.
Wrap bacon around each stuffed date; secure with toothpick.
Bake at 400 degrees for 5 minutes; turn dates over and cook an additional 5 minutes.
Drain dates on paper towel and serve.
Servings: 18
Crab Meat Au Gratin
While this delicious crab meat au gratin recipe may take 30 minutes to prepare and cook, it's well worth your time when you discover how tasty it is. Made with crab meat, eggs, and cheese it's different from traditional cold crab dip recipes because this toasty treat is served warm and fresh from the oven. Pair crab meat au gratin with crackers, pita chips, fresh bread, or veggies to complete the appetizer.
Black Bean, Pomegranate and Avocado Salsa
This festive burst of flavor is the perfect Christmas dinner appetizer. It's especially appropriate if your meal will incorporate a little Mexican spice. Using black beans, avocado, pomegranate, jalapenos, onion, cilantro, and lime juice as ingredients, this simple recipe takes just 10 minutes to make. Pair black bean, pomegranate, and avocado salsa with chips of your choice, and serve the days it's made for best results.
Slow Cooker Cranberry Meatballs
Give meatballs a holiday twist by choosing this flavorful cranberry meatball recipe, which pairs meatballs with a sweet and spicy cranberry sauce. While this tasty slow-cooker recipe requires some extra time to prepare and cook, it surely won't let you down. Serve finished meatballs with toothpicks on a bed of lettuce or snap peas, with cranberries for a garnish.
Christmas Queso
This toasty queso warms you up during cold holiday evenings. While it's the perfect addition to any holiday menu, it requires only two ingredients and takes just 10 minutes to make.
Ingredients
10-ounce can diced tomatoes and green chilies, un-drained (Rotel brand)
16-ounce package Velveeta cheese, cut into cubes
Directions
Combine Velveeta and Rotel in saucepan.
Cook for 5 minutes over medium heat until cheese is melted; stir frequently.
Serve with pita chips, tortilla chips, crackers, or fresh vegetables.
Servings: 20
Marinated Olives
Many people love olives and making this delicious food into a holiday appetizer is quick and easy, yet elegant looking. Try a flavorful marinated olive recipe, using a variety of different colored olives, red wine vinegar, olive oil, bay and thyme leaves, garlic, rosemary, and fennel seeds. Garnish this fancy hors d'oeuvre with rosemary sprigs.
Prosciutto Wrapped Asparagus
Wow dinner guests with this simple but fancy treat. It goes well with a roast or prime rib dinner.
Ingredients
12 asparagus spears
6 prosciutto slices, halved (12 pieces)
2 teaspoons olive oil
Salt and pepper to taste
Directions
Wrap each asparagus spear with prosciutto slice.
Drizzle with olive oil, and top with salt and pepper.
Broil in oven for 3 minutes; turn each spear over and broil for 3 another minutes.
Servings: 12 spears
Garlic Shrimp
This simple but elegant treat is a must have, as it's perfect addition to your menu. Belive it or not, you can prepare garlic shrimp - made with shrimp, butter, garlic, parsley, and lemon juice -- in just 30 minutes or less. Serve them with toothpicks on a bed of spinach leaves or a decorative holiday platter, or pair with a tossed salad. To make this hors d'oeuvre more festive, garnish shrimp with rosemary sprigs and chopped parsley.
With this many festive appetizer recipe ideas to choose from, you'll be set for Christmas, Thanksgiving, and any other holiday you're itching to throw a party for. In fact, many of these holiday hors d'oeuvre recipes can be served year round for all special occasions.