Rice Krispies Treats are a classic sweet all year round, and they're pretty easy to whip up at home. But what if you leveled them up to make fun and tasty Halloween Rice Krispies treats? Don't worry, these silly and spooky Rice Krispies treat ideas are beginner level and don't require a lot of skills in the kitchen. You'll have a Halloween-themed crispy rice treat in a short amount of time with a small amount of effort.
Make Easy & Goofy Halloween Monster Rice Krispies Treats
More Details
This is one of the easiest Halloween upgrades for your Rice Krispies treats. These edible monsters are colorful, so fun for kids, and an extra-sweet treat. All you need to do is dunk half of your Rice Krispies treat into a bright and colorful candy melt and add edible eye candies before they set. You can make monsters with one big eye, more than ten eyes, or mismatched eyes. You can even add sprinkles and additional chocolate for more details.
Need to Know
The perfect Halloween Rice Krispies treat starts with a simple and tasty Rice Krispies treat base. Our crispy rice treat recipe is easy and delicious!
Pumpkin Spice Rice Krispies Treats Are a Must
This Halloween crispy rice treat variation is an absolute must. It is pumpkin spice season, after all. Here's how you can add pumpkin spice flavor to your traditional Rice Krispies treat recipe.
While your butter and marshmallows are melting, measure out ⅛ cup of pumpkin puree, 1 teaspoon of pumpkin pie spice, and ½ teaspoon of cinnamon.
Once your mixture is melted, add the pumpkin and the spices.
Mix well.
Add orange food coloring (or red and yellow food coloring to make orange) before pouring in your rice cereal.
Proceed with your recipe as usual.
Spooky Black Rice Krispies Treats Are Beyond Easy
More Details
This might be the easiest way to make your crispy rice treats look scary (and stilly yummy) for Halloween. All you need to do is add a large amount of black food coloring to your wet mixture before adding in your rice cereal. We suggest using black gel food coloring and starting with about ½ teaspoon to get that spooky jet black color.
Quick Tip
With dark black crispy rice treats, bold neon sprinkles will stand out for a colorful Halloween dessert.
Candy Corn Crispy Rice Treats Are Just Plain Cute
More Details
We're not here to debate whether candy corn is a yummy fall treat or an inedible triangle of wax. We're just here to tell you that these quirky candy corn Rice Krispies treats are adorable and worth making. Plus, there's no actual candy corn in them, so you won't alienate the anti-candy-corn folks in your life. These sweet candy corn crispy rice treats from Dessert for Two are more of an aesthetic choice for a Halloween dessert, and we are here for it.
Make Effortless Mummy Rice Krispies Treats
More Details
There are really no limits to the Halloween food masterpieces you can make with melted chocolate and edible candy eyes. In this case, you can effortlessly make these mummy crispy rice treats. Once you've made your traditional Rice Krispies treats, here's what you need to do.
Ingredients
Melted white chocolate
Edible candy eyes
Small piping bag
Directions
Melt white chocolate and add most of the mixture to a bowl. Add the rest to a small piping bag with a small hole cut in the tip.
Dunk the face of your treat into the melted white chocolate to create a base.
Before the base dries, add the eyes.
Use the piping bag to drizzle more white chocolate, in a zig-zag pattern, over your treat. This creates the "bandages" for your mummy.
Let all the chocolate set and enjoy!
Get Nostalgic With Milky Way Rice Krispies Treats
Raw Meat Crispy Rice Treats Are Deceptively Yummy
More Details
Don't worry, we're not actually suggesting you add raw meat to your crispy rice treats. Actually, we strongly advice against doing so. What we are suggesting, however, is using red food coloring to make your lumps of crispy rice look like raw meat. If you're bringing dessert to a Halloween party, this one will be shocking — in more ways than one — for all the other guests.
Helpful Hack
This is a versatile Rice Krispies treat idea. Go the extra mile and make packaging for your "raw meat." You could even call it zombie guts, ground werewolf, or vampire hearts.
Creepy Spider Web Rice Krispies Treats Are Easy
We love a Halloween treat with all the spooky vibes and an understated elegance. That's the energy we're getting from these spider web crispy rice treats. The marshmallow web details on top of these classic treats make them perfect for a Haunted Mansion-themed Halloween party or ideal as a parting gift for your haunted house tour. South Lumina Style shows you how to get this creepy crispy rice look with an easy spider web Rice Krispies treat guide.
Swap Traditional Cereal for Count Chocula
We love the traditional Rice Krispies cereal in our cereal treats. But, since it's spooky season, stepping away from the ordinary is totally allowed. For this little crispy rice treat twist, all you have to do is swap traditional rice cereal for equal amounts of the seasonal spooky delight known as Count Chocula.
You may have grown up eating this cereal, which makes it all the more enjoyable — we love a nostalgic moment. Count Chocula, as the name suggests, gives your Rice Krispies treats a rich chocolate flavor. Plus, there are yummy marshmallows in the cereal mix.
Brew Some Magic With Hocus Pocus Treats
More Details
These Hocus Pocus Rice Krispies treats will put a spell on you! If you watch the classic witch movie every Halloween — and you totally should — these book-themed crispy rice treats will make your movie viewing even spookier. A Pumpkin & a Princess has this detailed how-to on making the Hocus Pocus-themed treats. We dare you to reach for one without calling "Booooook, come home or make thyself known!"
Personalize Your Crispy Rice Treats With Candy
Making a batch of Rice Krispies treats that suits all the Halloween taste preferences in your home is easy with this little hack. All you have to do is prep the crispy rice mixture, set out some classic Halloween candies (think chocolate bars, peanut butter cups, and M&M's), and let everyone add their favorites before you let the mixture set up. When it's time to slice and serve, everyone will be able to spot their personalized square.
Helpful Hack
As you're adding the goodies to your crispy rice mixture, be sure to press them down into the pan so the candies are evenly distributed.
Discover the Magic of Halloween Crispy Rice Treats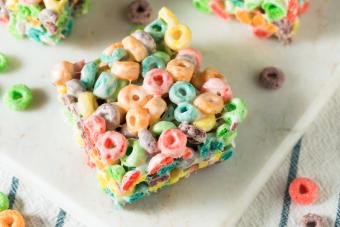 The real magic in making Rice Krispies treats is making them your own. You can use any cereal you like, choose wacky marshmallows if you prefer, and add all the sweets that make them extra tasty. Try some of these Halloween crispy rice treats for a spooky (or silly) snap, crackle, and pop experience.