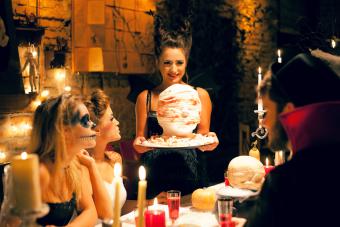 If you're hosting a Halloween party, make sure to include some tasty treats designed with grown-ups in mind. Whether the party is a family event or if the guest list is limited to adults, use these Halloween party food ideas for adults to expand the menu beyond commonly-served kid-friendly fare. Instead, create a truly delicious Halloween spread that is sure to impress your grown-up guests. You just might earn the reputation of being the ghostess with the mostest in your circle of friends (or coven, as the case may be).
Halloween Party Charcuterie
Showcase your spooktacular creativity by putting together a Halloween charcuterie board that is uniquely yours. Include a variety of sweet and savory treats, sticking with a Halloween color scheme as much as possible. For example, start with a centerpiece of candy corn surrounded by gourmet cheese, including some blocks and some slices cut into creative shapes with small Halloween cookie cutters. Add a variety of cured meat, crackers, olives, berries, and, of course, some novelty spiders for the perfect party platter of Halloween finger foods.
Pumpkin Hummus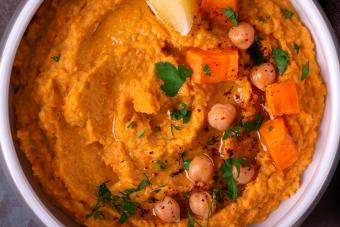 Hummus is a popular party food that you can easily adapt for Halloween by using a hummus recipe that calls for pumpkin. After all, you can't have too much orange food at a Halloween party. Top it with a few chunks of roasted pumpkin (see below) and some cooked chickpeas. Drizzle with olive oil. Place a bowl of pumpkin hummus near your charcuterie board and serve it alongside pita chips.
Roasted Pumpkin Slices
For a spectacularly seasonal touch, serve sliced roasted pumpkin at your Halloween party. It's easy to roast pumpkin; it's basically the same as roasting butternut squash or acorn squash. Simply wash the pumpkin and cut it in half, then scoop out the seeds. Cut each half into slices, then toss in olive oil. Place on parchment paper, lightly season with salt and pepper (or cinnamon if you prefer), then roast in a 450-degree Fahrenheit oven for 10 minutes. Flip, then cook for five to ten minutes longer.
Mummified Jalapeno Poppers
For a spicy selection, whip up a batch of mummified jalapeno poppers. Just cut fresh jalapenos in half and stuff them with a 50/50 mixture of softened cream cheese and your favorite shredded white cheese seasoned with a bit of salt, pepper, and garlic. Wrap with flattened strips of crescent roll dough to create the look of a mummy, then add bits of chopped black olives for eyeballs. Bake in an oven that has been preheated to 400 degrees for 10-12 minutes.
Eyeball Canapes
What says Halloween party better than a creepy-looking eyeball that's not connected to a head? These macabre but delicious munchies are super-easy to make. Just scoop a bit of cheese out of the center of several mozzarella balls and stick a pimento-stuffed green olive in the middle of each one. You can stop there, or go the extra mile by encircling the cheese with thinly sliced prosciutto. They're a cute enough Halloween food to give kids a creepy kick, but the taste is something that only adults are likely to relish.
Deviled Eggs
Deviled eggs are a natural choice for any Halloween party menu. You don't have to tweak the title of a recipe for deviled eggs for Halloween, but you can dress it up a bit beyond just sprinkling paprika on top. For example, you can tint the filling green and add pimento-stuffed green olives to create creepy eyeballs or use black olives to fashion spiders on top of ordinary yellow filling. You could even create pumpkin-looking deviled eggs with orange food coloring and green onion or spinach bits.
Witch's Cauldron Dip
Prepare your favorite spinach dip recipe and put it in a black serving bowl to create the appearance of a witch's cauldron with a greenish brew inside. Whether you opt to make a hot spinach dip or a cold spinach dip, add the finishing touch just before the party. Snip a few carrots so they're about the length of fingers and use cream cheese, sour cream, or another spreadable white edible to craft fingernails on the pointy end of each carrot, then place them in the dip with the "fingernails" showing.
Gruesome Arachnid Guacamole
Speaking of ghoulish-looking green dip, no Halloween party is complete without at least one guacamole-filled cauldron. Start by making an ordinary guacamole recipe, but adapt its presentation for Halloween. Fill a bowl with the green concoction, then embellish it in spidery style by piping on sour cream in the shape of a cobweb. Add a whole black olive and some slices, situated to look like a spider. Serve with black or dark blue tortilla chips.
Halloween Veggie Tray
No grown-up Halloween party is complete without a vegetable tray. However, you don't have to stick with a standard party tray arrangement of raw veggies paired with dip. Get super creative and arrange dippable vegetables such as carrots, celery, cucumbers, and ranch or blue cheese dip together so that the finished display looks like a pumpkin. It's up to you if you want to make a friendly smiling pumpkin or one that has a more sinister appearance.
Dark and Stormy Fruit Skewers
Fruit is a must-serve for just about any adult party. For most festive occasions, brightly colored fruit adds a perfect festive touch. For Halloween, though, opt for fruit that's more muted in tone. Blackberries are a natural choice for Halloween due to their dark hue. They look particularly elegant on a party buffet when served on skewers paired with honeydew melon. If you'd prefer to stick with an orange and black combination, opt for cantaloupe instead of honeydew.
Calaveras and Calacas Cookies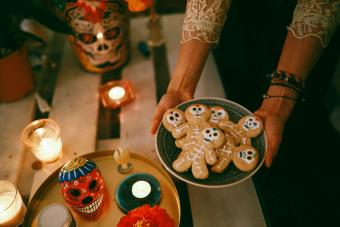 Go for a more grown-up version of frosted and decorated Halloween cookies by making your favorite cookie recipe, cutting the dough with a person-shaped cookie cutter (such as one used for gingerbread people), and decorating them Day of the Dead (Día de los Muertos) style. Rather than creating a basic skeleton head using only white and black frosting, you'll decorate each cookie with a colorful calaveras (skull) and, of course, fill in the calacas (skeleton) on the body part of the cookie.
Graveyard Mousse
Chocolate mousse is a super-easy chilled dessert to serve at a party. Make your favorite chocolate mousse recipe and either spoon it into individual serving dishes or put it all in a big bowl from which guests will spoon out their own servings. Either way, sprinkle some crushed chocolate cookies on the top. Make tombstones by using frosting to write on pieces of graham cracker or similar rectangular cookies and stick them in the sweet concoction.