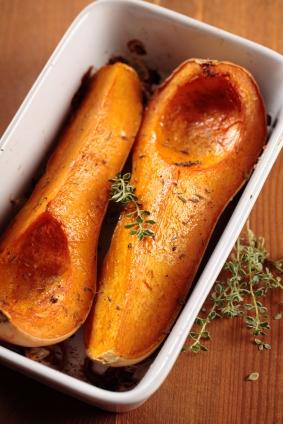 There are many simple ways to cook butternut squash and use it for your favorite squash recipes. Butternut squash can be used as a side dish or incorporated into a recipe.
Preparing Squash For Cooking
Before you begin to cook butternut squash, you will want to prepare it properly. The first thing to do is to peel the squash. To peel, follow these easy steps:
Use a chef's knife to trim off the top and bottom of the squash.
Next, cut the squash in half crosswise.
Cut the bottom section in half lengthwise.
Scoop out the seeds in the squash using a large metal spoon.
Use a vegetable peeler or paring knife to remove the tough outer skin.
From this point, you can either dice the squash or cut it into thick slices. It can be cooked any way you prefer, and used in recipes like butternut squash chickpea soup.
Recipes for Butternut Squash
There are several methods for cooking butternut squash. Try these simple and delicious recipes.
Roasted Butternut Squash
Ingredients
1 pound butternut squash, peeled and cut into 1-inch pieces
2 tablespoons extra-virgin olive oil, plus enough to drizzle over cooked squash
1/2 teaspoon sea salt
1/2 teaspoon fresh ground black pepper
Juice from 1/2 lemon
Instructions
Preheat oven to 475 degrees.
Place a baking rack in the center of the oven.
Line a baking sheet with parchment paper.
In a bowl, toss the squash with olive oil and coat generously.
Add salt and pepper to the squash and toss again to combine.
Place the butternut squash on the baking sheet in a single layer.
Roast for 15 to 20 minutes or until golden brown on all sides. After the first 10 minutes of roasting, flip the squash to cook evenly.
Remove from oven and place in a serving bowl.
Drizzle with more olive oil and lemon juice.
Roasted butternut squash is also a welcome addition to pumpkin soup recipes, too.
Baked Butternut Squash
Ingredients
1 large butternut squash
2 tablespoons lemon juice
1 tablespoon butter
1/2 teaspoon salt
1/2 teaspoon fresh ground black pepper
Instructions
Preheat oven to 350 degrees.
Place whole squash onto an ungreased baking sheet.
Using a sharp knife, prick the squash all over to create small holes.
Bake, uncovered for 60 minutes or until tender.
Remove from oven.
Using a large chef's knife, cut squash in half lengthwise.
Remove seeds using a spoon and any visible fibers.
Season each squash half with salt, pepper, butter and lemon juice.
For a special touch, you can heat 2 tablespoons butter, 1/2 teaspoon ground cinnamon and 1 tablespoon brown sugar over low heat and stir until well blended. Just before serving, brush this mixture over the baked squash.
Microwave Squash
Ingredients
Instructions
Cut squash in half.
Scoop out all seeds.
Wrap squash in plastic wrap and place cut side down on a microwave safe plate.
Cook on high for 5 to 7 minutes or until soft.
Remove from microwave and allow to cool before handling.
Grilled Butternut Squash
Ingredients:
1 butternut squash
1 tablespoon extra virgin olive oil
1/2 teaspoon salt
1/2 teaspoon fresh ground black pepper
Fresh rosemary and thyme for garnish
Instructions:
Preheat grill to medium high.
Peel squash, cut in half lengthwise and remove all seeds.
Cut the squash into long thin slices.
Brush the slices with extra virgin olive oil and sprinkle with salt and pepper.
Place squash slices on the grill.
Grill each side for 2 to 3 minutes.
Remove from heat and place on a platter.
Garnish with fresh herbs.
Special Addition
Butternut squash is a very versatile vegetable. It can be cooked in many different ways. Try and experiment using it in some of your favorite dishes. Toss it in a squash casserole, soup or even a pasta dish as a special touch to add flavor as well as nutrition.