Are you wondering what to do with leftover sweet potatoes? While this tasty tuber tastes fine on its own as a reheated side dish, that's certainly not the only option. There are a lot of creative ways to prepare, serve and enjoy leftover sweet potatoes. Even the pickiest household members won't even realize they're eating leftovers when you make these delicious dishes.
Vegetables Paired With Leftover Sweet Potatoes
Leftover sweet potatoes can be combined with other vegetables to make a delicious side dish.
Corn and Onions With Sweet Potatoes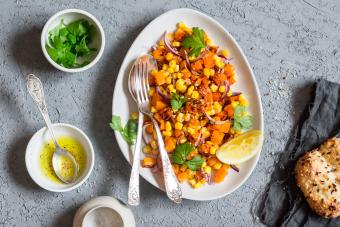 The sweetness of whole kernel corn pairs wonderfully with sweet potatoes. For a super-easy dish, slice a red onion and stir-fry on the stove. When the onion is soft, add a can of drained whole kernel corn. Stir in some chunks of leftover sweet potato. Sprinkle with salt and pepper, then heat through.
Kale and Sweet Potatoes
If you're looking for a nutrient-rich combination, prepare braised kale by stir-frying it in a pan with olive oil and garlic until it wilts. Stir in chunks of leftover baked or boiled sweet potatoes and allow to heat through.
Roasted Root Vegetables
Cut up a variety of root vegetables into chunks of about an inch. Use any combination of carrots, parsnips, beets, or turnip roots. Toss with olive oil and your choice of seasonings (such as salt, pepper, garlic), then roast in a 425-degree Fahrenheit oven for 30 - 45 minutes. Stir once while cooking. Add cut-up chunks of leftover baked or boiled sweet potato, stir again, and cook for another five minutes.
Broccoli and Sweet Potatoes
The flavor of sweet potatoes pairs perfectly with roasted broccoli. Follow the basic instructions for roasting broccoli in the oven, which just involves tossing broccoli florets with oil, spreading on a cookie sheet, and cooking at 400 degrees Fahrenheit for around half an hour. Add chunks of cooked sweet potato during the last five minutes, stirring to combine. If desired, you can roast other veggies along with the broccoli, such as chunks of pepper or zucchini.
Scrumptious Sweet Potato Sides
Sweet potatoes can easily be altered into several interesting and tasty side dishes that don't require additional vegetables.
Savory Mashed Sweet Potatoes
If you have leftover boiled or baked sweet potatoes, it's easy to convert them to savory mashed potatoes. Just heat them, put them in a bowl and add water or milk, butter, salt, and pepper. Use a potato masher, fork, or electric mixer to blend until fluffy. Use them as you would ordinary mashed potatoes.
Sugary-Sweet Whipped Sweet Potatoes
If you have leftover sweet potato casserole that's sugary, you can easily turn them into a sweet version of whipped potatoes. Just put them in a bowl and whiz them with an electric mixer. Depending on the texture, you may not need to add anything. You'll need to do a taste test to see if they're good as-is or if you should mix in more sweetener, liquid, or spices like cinnamon, nutmeg, or allspice. For a super-sweet touch, top with marshmallows and place under the broiler for a few minutes.
Sweet Potato Croquettes
For a creative take on potato croquettes, make them with mashed sweet potatoes instead of ordinary mashed potatoes. For a sweet version, you can mash up candied sweet potatoes as the base for this recipe. For a savory version, start with basic baked sweet potatoes and mash with a bit of butter and salt. Then, follow a basic recipe for potato croquettes. You'll just need to stir in egg and milk or cream, roll into balls or patties, brush with an egg wash, coat, with breadcrumbs, and bake.
Sweet Potato Souffle
Use leftover boiled sweet potatoes, a few eggs, and other kitchen staples to prepare a delicious souffle. This sweet potato souffle recipe gets its sweetness from the unique addition of canned pineapple. What a tasty, tropical treat!
Sweet Potato Fritters
Use a basic recipe for vegetable fritters to savory prepare sweet potato fritters. Or, for a sweeter treat, use an apple fritter recipe but use chunks of leftover cooked sweet potato for half of the apples. This tasty treat is similar to croquettes, though fritters are fried in oil rather than being baked in the oven.
Main Dishes Featuring Leftover Sweet Potatoes
Sweet potatoes aren't limited to side dish status. They can also be a primary ingredient in some awesome main courses.
Beef Stew With Sweet Potatoes
Prepare your favorite beef stew recipe, then stir in chunks of baked or boiled sweet potatoes just before serving. Let them sit in the hot liquid for long enough to heat through. You can omit the ordinary potatoes called for in the original recipe and replace them with sweet potatoes. Or, for an extra-comforting savory dish, make the recipe as-is, simply adding pre-cooked sweet potato chunks to the original ingredient list.
Sweet Potato-Topped Shepherd's Pie
Make your favorite Shepherd's Pie recipe, whether meat-based or a vegan version. Instead of topping the casserole with regular mashed potatoes, opt for savory mashed sweet potatoes.
Stuffed Sweet Potatoes
If you have leftover whole sweet potatoes that have been baked or boiled, convert them to stuffed sweet potatoes. Simply cut in half, scoop out a bit of the pulp, which you can set aside to make mashed sweet potatoes. Then, fill the hollow area with a mixture of your favorite vegetables with cheese or meat. For example, a Tex-Mex combination of corn, sliced olives, sliced jalapenos, cooked chicken, and white cheese would be delicious. Bake in 350 degree Fahrenheit oven for 20 minutes or until heated through.
Meatloaf With Hidden Sweet Potatoes
Are you looking for a way to sneak more vegetables into your family's diet? Or, with the high price of groceries, would you like to find a way to help make ground meat go further? You'll be delighted to discover this hidden vegetable recipe for sweet potato meatloaf. Making this dish is a great way to use up leftover sweet potatoes while making the most of a pound of ground beef or turkey.
Sweet Potato Hash With Egg
Cut leftover sweet potatoes into chunks or strips. Sprinkle with salt and pepper. Stir-fry in pre-heated olive oil until heated through. Transfer to a plate and top with a fried egg prepared just the way you like it.
Sweet Potato Starters
Leftover sweet potatoes can also be a great ingredient for meal starters, like soups and appetizers.
Quinoa Sweet Potato Salad
Cook a batch of quinoa, seasoning with salt, cinnamon, and cumin. Then, add some diced cooked sweet potato. Chill and serve as a salad, or serve warm alongside strips of romaine lettuce so everyone can assemble their own quinoa sweet potato lettuce wraps. You could also mix in a can of drained corn and/or a can of drained black beans.
Sweet Potato Hummus
The base for hummus doesn't have to be limited to chickpeas. Substitute leftover mashed sweet potato for up to half of the chickpeas (also known as garbanzo beans) in your favorite hummus recipe. Seve with pita bread, celery sticks, carrot sticks, or tortilla chips.
Sweet Potato Soup
If you have quite a few leftover baked or boiled sweet potatoes, make a batch of sweet potato soup. Simply use your favorite recipe for pumpkin soup, but replace the pumpkin with an equivalent amount of sweet potato.
Chili
Extend the flavor and nutrition of your favorite vegetarian chili recipe or chili recipe by adding in chunks of firm leftover sweet potatoes. So they don't get mushy, wait to add in pre-cooked sweet potatoes until about five minutes before serving. This will give them just enough time to heat through.
Baked Goods With Leftover Sweet Potatoes
Leftover sweet potatoes can be very useful in baking recipes. Sweet potatoes are interchangeable with pumpkin in sweet treats. The same is true for butternut squash, acorn squash and some other types of winter squash.
Sweet Potato Quick Bread
Did you know that you can substitute cooked sweet potatoes for pumpkin in your favorite pumpkin bread recipe? It's true! Just puree leftover cooked sweet potatoes and substitute for canned our pureed pumpkin. You can use plan sweet potato for your puree. Or, if you're looking for more of a cake-like flavor, use leftover sweet potato casserole that has been sweetened.
Sweet Potato Pound Cake
You can make a super-quick sweet potato pound cake with a yellow cake mix, a cup of mashed sweet potatoes, and a few basic ingredients (a teaspoon of nutmeg, three eggs, and a half cup of milk). Bake at 350 degrees in an angel food or Bundt pan for around 45 minutes. When it cools, top with store-bought or homemade cream cheese frosting. If desired, dress it up by putting some pecan or walnut chunks on the frosting.
Sweet Potato Muffins
Sweet potatoes are often used as a substitute for eggs in vegan baking. Even if you're not vegan, this technique is a great way to use leftover sweet potatoes. Simply substitute 1/4 cup of plain mashed sweet potato that has been cooked for one egg in your favorite muffin recipe. You can replace any or all of the eggs in muffin recipes, as well as other baked goods. These make a great snack or quick breakfast. You can even freeze them for later.
Sweet Potato Pie
Since sweet potato pie recipes call for the tubers to be cooled and peeled, this is the perfect dish to make when you have a stockpile of leftover sweet potatoes in the fridge. It's a delicious dessert that can be enjoyed warm or cold. For a super-rich treat, top with fresh whipped cream and serve with eggnog to drink.
Many Options for Leftover Sweet Potatoes
Having leftover sweet potatoes opens the door to many delicious recipe possibilities. Try one (or more!) of these tasty dishes the next time you have extra. You and your family are sure to enjoy these ideas so much that you may want to make extra sweet potatoes on purpose the next time you cook some of these colorful tubers. You can also use these same recipe ideas anytime you have leftover yams.