Whether you follow a vegetarian diet or want to add more meatless meals to your weekly menu, delicious vegetarian chili recipes pack plenty of flavors into every bowl. Chilly weather means it's chili weather (see what we did there?), so lean into the meat-free coziness of these delicious meals.
From simple chili recipes that take less than 30 minutes to prepare to recipes that simmer in a slow cooker for hours (hands-free), the end result is a mouthwatering, satisfying bowl of vegetarian chili. These are perfect for bringing to potlucks or just enjoying in the warmth of your own home. We won't tell anyone if you go back for a second bowl.
Favorite Traditional Vegetarian Chili
There's no reason to mess with a good thing. This simple, crowd-pleasing recipe has all the favorite chili flavors of beans, tomatoes, peppers, and onions. Add in some spices and plenty of love, and no one is going to miss the meat. Serves 4-6.
Ingredients
1 tablespoon olive oil
1 white onion, diced
1 red bell pepper, seeds and membrane removed and chopped
1 tablespoon minced garlic
1 teaspoon ground cumin
2 teaspoons ancho chili powder
1 can diced tomatoes, undrained
1 can tomato sauce
1 can black beans, drained and rinsed
1 can kidney beans, drained and rinsed
1 teaspoon salt (or to taste)
Directions
In a large pot, heat the olive oil on medium-high until it shimmers. Add the onion, garlic, and bell pepper and cook, stirring occasionally, until tender, about five minutes.
Add the ground cumin and ancho chili powder. Cook, stirring, for one minute more.
Add the canned tomatoes, tomato sauce, and beans. 
Salt to taste.
Bring to a simmer and reduce the heat to low. Simmer, uncovered, on low heat for half an hour, stirring occasionally.
This dish is excellent served with cornbread.
Quick Tip
Want to give your meatless chili a meaty flavor and texture? There are tons of options for meat substitutes. We like using Beyond Beef Crumbles or Boca Crumbles and cooking them in a frying pan with the onion, garlic, and pepper. They'll take on the flavor of the spices and add a delicious umami taste.
Quick Vegetarian Chili
Don't have a ton of time on your hands? We get it. We're busy, too. This fast and easy weeknight chili recipe has none of the meat and all the delicious goodness you expect. The secret? You start with salsa. Serves 4 to 6.
Ingredients
1 can red kidney beans, drained and rinsed
1 can pinto beans, drained and rinsed
2 cans stewed tomatoes, undrained
1 jar of your favorite salsa
1 packet chili powder (or 1-2 teaspoons, to taste)
Pinch of red pepper flakes (optional)
Pinch of cayenne pepper (optional)
1 teaspoon salt (or to taste)
Directions
Combine all ingredients in a medium-sized pot, stirring to mix. 
Heat on a burner set on medium, stirring occasionally, until the chili simmers, about 10 minutes.
Reduce the heat to low and simmer, uncovered, for 20 minutes more, stirring occasionally.
Crock Pot Three-Bean Vegetarian Chili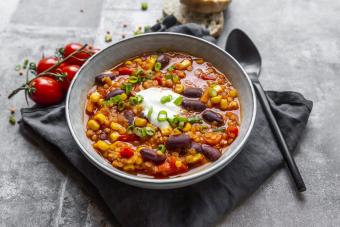 You really can't beat the hands-off magic of a great slow cooker recipe. Best part? You'll smell this delicious vegetarian chili cooking as soon as you walk in the door. Serves 4-6.
Ingredients
1 can black beans, drained and rinsed
1 can red kidney beans, drained and rinsed
1 can garbanzo beans (chickpeas), drained and rinsed
1 can black bean soup
1 can chopped tomatoes in puree, undrained
1 onion, diced
1 stalk celery, chopped
1 clove garlic, diced
1 tablespoon chili powder (more or less to taste)
1 teaspoon salt
Directions
Place all ingredients in the crock pot.
Stir to mix ingredients.
Cover crock pot and cook on low setting for six to eight hours.
Vegetarian Chili Recipes: A Healthy Choice
Vegetarian chili recipes are a great way to incorporate meatless meals into your diet or just give your family a change from the standard flavor profile of meat. You're not limited to one recipe, either. We like having a chili night a couple times a month, and it's always fun to add a few new recipes into the mix.