What goes with chili? This is the million dollar question as we head into the fall and winter months. Cornbread is the obvious answer. But for those who want to spice things up, we detail what to serve with chili to mix up your menu and make a masterpiece meal.
Corn Chips
Anyone who loves chili knows that adding a bit of crunch brings the perfect contrast to this delicious dish. Fritos are a fantastic choice for preparing a tasty Frito pie, but you can also grab Tostitos or H-E-B's Texas Dippers to create a similar recipe.
Helpful Hack
If you want to enjoy your chili on the go, just open up an individual Fritos bag and pour your chili and cheddar cheese right inside! Grab a plastic fork and you're good to go!
Loaded Grilled Cheese
For the folks who are looking for a heartier meal, consider serving some loaded grilled cheese with your chili. What, pray tell, is a loaded grilled cheese? Glad you asked. This savory sandwich features the signature cheddar we always love, but it also has caramelized onions and pulled pork inside. This is a mouthwatering meal that's guaranteed to fill you up and leave you truly satisfied.
Fries or Potato Wedges
Chili cheese fries are a classic dish for a reason! Smother your favorite spuds in this spicy stew, and you'll have the perfect combination of protein and starch.
Need to Know
To add a bit of sweetness to your meal, consider frying up some sweet potatoes instead of the typical russets. These can go great with both sweet potato and black bean chili, as well as traditional meat-based recipes.
Loaded Baked Potatoes
Loaded baked potatoes are always a fan favorite, and chili is a solid choice for sprucing up your spud with fantastic flavor. Best of all, you can still top it with your favorite fixings — cheddar cheese, crispy bacon, green onions, and sour cream.
Quesadillas
This is a less obvious choice. But for those diners who want to have a lighter meal, a cheese quesadilla can serve as the perfect pairing. This also keeps the focus on the star of the show, the chili.
Garlic Bread
What goes with chili are dishes that contain the same ingredients as your main meal. Most chili recipes contain garlic, making garlic bread a fine choice to partner with this savory stew.
When preparing this starchy side, we recommend keeping things simple. Press some fresh garlic and mix it with olive oil or salted butter. Then, apply a light layer to your bread of choice and throw it under the broiler until golden brown!
Onion Rings
Onion is another staple ingredient in most chili recipes, making onion rings another enticing choice to have with your chili. These also add a little crunch to your meal.
Jalapeño Poppers
Jalapeño poppers add a little extra pizzaz to your meal. For those unfamiliar with this amazing appetizer, all you need to do is cut your peppers in half, removing the top, veins, and seeds. Smear a thick layer of cream cheese in the center and then wrap them in bacon.
Once the prep is done, bake them at 400°F for approximately 25 minutes on a baking sheet, flipping them halfway through. Finally, broil for two minutes, and you have a spicy snack to enjoy with your meal!
Fried Avocado
Since many folks like to garnish their chili with avocado chunks, fried avocado is a fun addition to this southwestern meal. Just like when you fry up chicken, you will need three bowls: one with egg, one with flour, and one with panko bread crumbs. Next, pour some oil into a saucepan and set it on medium heat.
Then, slice your avocado into wedges and proceed to dip each slice in flour, followed by the egg bath, then the panko crumbs. Gently slide your avocado into the oil and cook until both sides are golden brown. Give them a second to cool and then bon appetit.
Roasted Brussels Sprouts
What vegetable goes well with chili? Roasted brussels sprouts, of course. This staple southern side can serve as a great green to go with your stew, and it adds a nice contrasting texture.
To prepare this dish, halve your brussels sprouts and coat them in a nice layer of olive oil, freshly pressed garlic, and your favorite chili seasoning. Evenly distribute them on a non-stick baking sheet and put them in the oven at 425°F for 15 minutes, flipping halfway through. Finally, stick them under the broiler for five minutes and serve.
Pico de Gallo
If you are looking for crunch, but with a Tex-Mex feel, you also have the option of serving pico de gallo with your corn chips and chili. This can be a great topping, or you can eat it on the side.
Cowboy Caviar
Another fantastic vegetable mix to serve with your chili is cowboy caviar! If you haven't heard of this Texas dish, it's a refreshing mix of black beans, black-eyed peas, sweet corn, diced tomatoes, finely chopped bell peppers, jalapeños, red and green onions, and fresh cilantro, all tossed in a red wine vinaigrette. This can be a great choice if you believe that beans don't belong in your chili.
Southwestern Salad
For those wondering what vegetable goes well with chili that requires no cooking, the answer is a southwestern salad! This features many of the main ingredients in your chili, but at a varying temperature!
Mix chopped romaine, diced roma tomatoes, black beans, chopped bell peppers, corn, and diced avocado. Then, toss the mixture in a cilantro-lime dressing. It is light, refreshing, and requires minimal prep.
Corn on the Cob
If you want to add color and sweetness to your chili cookoff, you maize well throw some corn on the cob on the grill or in the oven. This is a lighter choice that can be served hot, or you can let it cool and mix it with cilantro and lime juice to create a cool contrast to your warm chili.
Hot Dogs
When asked what goes with chili, both Texans and Californians can agree that a hot dog is the optimum choice! This hearty ballpark food is a grand slam for those looking for a filling meal. Top the combo with shredded cheddar, jalapenos, red onions, queso, or whatever toppings you relish the most.
Spaghetti
Unlike regular chili, Cincinnati-style chili features some sweeter flavor notes, like cinnamon, cloves, nutmeg, and allspice, and it is traditionally used as a topper for spaghetti noodles. While this may seem odd to southerners, it's actually a delightfully tasty dish! Don't forget to finish it off with oyster crackers to add a bit of a crunch.
Rice
Another odd but appetizing pairing is chili served over a bed of white rice. This is a quick and easy side to serve with chili, and it doesn't take any attention away from the main event.
Mexican Fruit Salad
Want to know what to serve with chili that is cool and sweet? Pineapple, watermelon, and mango tossed in a chili lime dressing! Officially called Mexican fruit salad, this sweet and zesty dish can help to subdue the spice for those who can't handle quite as much heat in their meal.
What to Serve With Chili Depends on The Type of Chili You Serve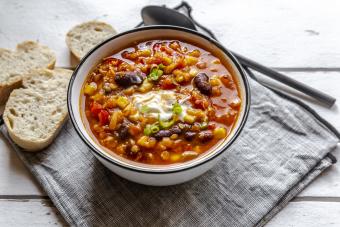 What goes with chili will depend on how you prepare this eclectic dish. Some folks prefer their chili with meat and beans, while others go the vegetarian route and sub in beets. Then there are the people like it sweet, preparing it Cincinnati-style or with a sweet potato base. No matter what your recipe calls for, just make sure that your pairings either have shared ingredients or choose a simple starch. This will ensure that the meal will meld together magically.