If you long for the first day of fall each year, it might be due, in part, to the irresistible fall flavors that are popular during the final months of the year. We love getting that first pumpkin spice latte or having the first slice of apple pie each autumn. But those aren't the only food flavors to love during fall. There are tons of ways to add fall flair to your foods and enjoy the seasonal and delicious flavors of autumn.
Have an Apple a Day This Autumn
Apple picking might be one of your favorite fall activities. That means you're probably looking for fun ways to add apple flavor to your foods.
Beets Are Underrated as a Fall Flavor
That's right, we said beets! Beets are such an underrated flavor during fall, but they are actually so delicious when prepared correctly.
Browned Butter Makes Everything Better
Though you can have browned butter all year round, it fits best into the fall flavor category. Browned butter, which is butter that's simmered until the milk solids turn brown, has a familiar nutty flavor. Adding browned butter to your fall baked goods, especially cookies and frostings, will give them an instant autumn upgrade. Sally's Baking Addiction has a tutorial to help you brown butter.
Sweet Caramel Complements Rich Desserts
We dare you to think of a single warm, autumn dessert that isn't made more decadent with a drizzle of caramel. Caramel flavor works well with a long list of other flavors like chocolate, pumpkin, cinnamon, banana, apple, and vanilla. Add caramel to your fall cakes, cookies, tarts, and even your coffees.
Fast Fact
Salted caramel is also a popular variation of the sweet treat during the fall months.
Cinnamon Spices Up Your Autumn Eats
Cinnamon is one of the star flavors during the fall, and that's mainly because it's so versatile. Cinnamon's signature spice brings warmth to desserts, coffees, drinks, and even savory dishes like roasted carrots and pork chops. If you're planning to use cinnamon in a savory dish, choose Ceylon cinnamon, since it's less sweet that common baking cinnamon.
Try adding cinnamon in these unexpected places:
Hot teas
BBQ pork or chicken
Milk
Roasted root vegetables
Ham or bacon dishes
Chili
Salad dressing
Cranberries Are Bright & Bursting With Seasonal Flavor
You might think of cranberries as a winter or Christmas flavor, but these berries actually peak in early autumn. Meaning fall is a great time to incorporate some cranberry flavor into your recipes. Using dried cranberries is a tasty way to infuse the tart flavor into your autumn eats.
Sprinkle cranberries over a seasonal salad.
Add dried cranberries to your fall bread for a fun texture.
Mix cranberry drinks for your fall gatherings.
Add cranberries to savory dishes like chicken, pork, and turkey.
Mix up a cranberry mayo or a cranberry dressing for your sandwiches and salads.
Figs Complement Other Fall Flavors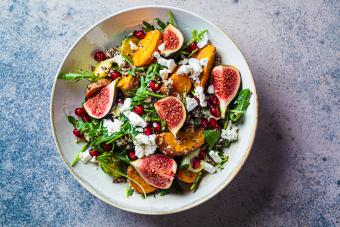 Figs have finally gained the attention they deserve in recent years. These late summer and early fall fruits complement many other flavors we love during the autumn months. Fig pairs well with warm fall spices like cardamom and cinnamon, savory herbs like rosemary, dairy and meat products, and other fall fruits like apples and pears. Figs are also excellent in cocktails.
Ginger Is Bold & Warm for Fall
Ginger is the aromatic spice that makes your seasonal gingerbread dishes feel warm and cozy. Ginger is a versatile spice that adds flavor to sweet and savory dishes.
Use ginger in stir-fry dishes for extra warmth and spice.
Ginger makes a sweet and spicy dressing.
Ginger cocktails are packed with flavor.
Ginger teas are cozy and comforting.
Ginger adds flavor and health benefits to your fruit smoothies.
Cakes, cookies, and sweet breads highlight ginger's spice.
Hazelnut Pairs With Rich & Sweet Flavors
Hazelnut is an earthy fall nut that perfectly complements many of your rich and sweet autumn dishes. Hazelnut is delightful in coffee, elevates the richness of chocolate desserts, and complements the warm spices found in many fall recipes.
Maple Is an Autumn Classic
We love to live by Buddy The Elf's motto in the fall: everything is better with maple syrup. We probably wouldn't drizzle it on spaghetti, but we still stand by the classic fall flavor and its ability to sweeten everything it touches. Add maple flavor to these dishes to elevate your basic fall recipes.
Hot tea
Coffee
Roast brussels sprouts
Bacon
Ham
Breads and cakes
Cookies, donuts, and pastries
Granola
Popcorn
Cornbread
Sweet potatoes
Carrots
Pork chops
Walnuts
Pears Work Well With Sweet & Spicy Flavors
It would take less time to list all the fall foods that pears don't go with. Because pears complement sweet and spicy flavors, they're one of autumn's most versatile fruits. Rather than focusing on all the flavors you can enjoy alongside pears, we suggest finding a few recipes that allow pears to be the star of the show.
Pear martinis help the spicy side of the fruit shine.
Pear's sweetness takes center stage in a green smoothie.
The subtle sweetness and warm spice of pears stand out in pies, crisps, and tarts.
Pecan Flavor Shines During Autumn
Does anyone else look forward to that first slice of pecan pie on Thanksgiving? You know, pie isn't the only place you can use the buttery flavor of pecans. The classic fall flavor brings a sweet nutty profile to all sorts of foods and drinks.
Our pecan bourbon martini (find it in our Thanksgiving dessert cocktail recipes) complements some of your holiday sweets.
Pecans add subtle fall flavor to your classic banana bread recipe.
Pecan flavor brings a sweet and buttery quality to your favorite coffee or latte. Combine pecan and maple flavors in your brew for a real treat.
Pecans are a must for your fall charcuterie boards.
Try pecans on your favorite fall salad for a sweet crunch.
Toss a handful of pecans on top of pancakes, waffles, French toast, or muffins for an easy fall breakfast.
Pistachio Is the Underrated Nut of Fall
Pistachios are available year round, but they fit so perfectly alongside other classic fall flavors. Pistachios also work well in savory or sweet dishes, meaning they're a versatile nut for all your autumn foods. The earthy nut is delicious atop creamy pasta sauces, infused in a latte or cocktail, or sprinkled on roasted vegetables like brussels sprouts or green beans.
If you're adding pistachios to a dessert, try combining the nut with these complementing flavors:
Coconut
Raspberry
White chocolate
Orange
Matcha
Cranberry
Apricot
Dark chocolate
Rose
Honey
It's Not Fall Without Pumpkin-Flavored Everything
This fall flavor truly needs no introduction. Pumpkin (and pumpkin spice) dominates the fall food world. We count down the days until the pumpkin spice latte launches and we sip on those until it's time to eat pumpkin pie on Thanksgiving.
Those are the classic and most popular ways that pumpkin flavor is used today. But we think pumpkin flavor has a place in more dishes than you might imagine.
Rosemary Is Fall's Comforting Herb
If you only use one herb during the autumn months, make it rosemary. This herb is aromatic and somehow tastes like a stroll through the forest. Since it's an herb, adding it to your savory dishes is easy. Rosemary is delicious on chicken, beef, potatoes, vegetables, and breads. You can even grow your own rosemary at home, so you never run out of the robust herb.
Sage Is Fresh & Earthy
Want an herby fall dish, but you're short on rosemary? Sage is just as delicious! It has a stronger peppery taste, but it's still lovely in all the same dishes as rosemary. It's also tasty in creamy pasta sauces, brewed into a tea, or infused into a grapefruit martini.
Spice Up (or Sweeten) Your Autumn Dishes
Fall gives us colorful leaves, refreshing breezes, and a long list of flavors that make the dishes of the season so scrumptious. Use these strong and punchy flavors to brighten your fall palate and enjoy all the seasonal delights of autumn.