Cozy fall cupcake flavors are one of the reasons we look forward to baking in autumn. Fall cupcakes are warm, sweet, and even a little spicy — we're looking at you, pumpkin spice. We've found the most flavorful cupcakes for fall that fit perfectly into your seasonal baking lineup.
Popular Pumpkin Spice Is a Classic
Pumpkin spice cupcakes are a must for your autumn baking menu. There's a reason pumpkin spice desserts are so beloved this time of year: they're cozy, sweet, and perfectly spiced for that warm fall vibe we all love so much. These homemade pumpkin spice cupcakes feature a fluffy pumpkin cake and a sweet cinnamon frosting.
Cake Ingredients
½ cup unsalted butter (softened)
1½ cups white sugar
2 large eggs
1 can pure pumpkin puree
1 teaspoon vanilla extract
¼ cup sour cream
¼ cup whole milk
1½ cups all-purpose flour
½ teaspoon salt
1 teaspoon baking powder
½ teaspoon baking soda
2 teaspoons pumpkin pie spice
Frosting Ingredients
1 cup unsalted butter (softened)
4 ounces cream cheese
4 cups powdered sugar
3 tablespoons heavy cream
2 teaspoons vanilla
3 tablespoons cinnamon
Pinch of salt
Directions
Preheat oven to 350°F and line two cupcake baking trays with cupcake liners.
Beat your butter and sugar in a stand mixer, on medium, for at least five minutes. You want the mixture to become fluffy and pale in color.
Add in the egg, vanilla, sour cream, and pumpkin.
While your mixture creams, whisk together all the dry ingredients for your cake and set aside.
Add half of your dry mixture to the mixer and beat until just combined.
Add the milk and mix again.
Fold in the remaining dry mixture with a spatula, careful not to over mix.
Pour your batter into the cupcake trays (you should have enough for 20 - 24 cupcakes).
Bake for 18 minutes or until the cake "springs back" when you touch the top.
Set aside to cool completely.
Start making your frosting by beating the butter and cream cheese in a stand mixer until it's very pale.
Add the sugar, mixing on low and working your way up to medium.
Add in the cream (you can adjust with more or less cream to get your desired consistency).
Add in the vanilla, cinnamon and salt.
Mix until you have a fluffy frosting.
Make sure your cupcakes are completely cool before you frost them.
Pecan Pie Cupcakes Feel Like Two Desserts in One
Pecan pie is scrumptious all year round. But it shines during fall, since it's a dessert staple on many Thanksgiving tables. We love the idea of saving the actual pie for that food-filled Thursday in November and making these pecan pie cupcakes, from Eats Delightful, for the other autumn days.
Get Warm & Cozy With a Chai Latte Cupcake
This flavor and spice combo tastes exactly like fall. If you love chai lattes this time of year, you'll find a chai latte cupcake decadent and comforting. Half-Baked Harvest makes this chai latte cupcake with a caramel brûlée frosting, and we think it's the perfect autumn dessert.
Try Easy Caramel Apple Cupcakes
Fresh and fruity with a hint of fall's warmth, these caramel apple cupcakes are easy to whip up. These are a great example of how you can take an ordinary cake mix and transform it into an impressive cupcake recipe.
Ingredients
Yellow cake mix, prepared according to package.
2 teaspoons cinnamon
½ teaspoon nutmeg
1 apple, finely chopped
1½ cups unsalted butter (softened)
5 cups powdered sugar
5 tablespoons caramel sauce
Pinch of salt
Additional caramel sauce and apple slices for decorations
Directions
Prepare the cake mix according to the package instructions.
Add cinnamon, nutmeg, and the chopped apple to the mixture before filling your cake pan and baking.
Start preparing your frosting by adding butter to a stand mixer. Mix for at least five minutes or until the butter is pale.
Add your powdered sugar, caramel, and salt and mix until fluffy.
Frost your cupcakes and top with an additional drizzle of caramel and an apple slice.
Maple Bacon Cupcakes Bring the Sweet & the Salty
Pumpkin spice may be the most popular fall flavor, but sweet maple isn't far behind. The autumn flavor pairs well with contrasting salty and savory flavors, making it bacon's ideal dessert mate. Bacon on a cupcake might sound strange at first, but this recipe from Blue Bowl will make you a bacon believer.
Sweet Potato & Marshmallow Make a Yummy Combo
Move over pumpkin spice and cream cheese. This duo is just as tasty! Sweet potato cupcakes with a fluffy marshmallow frosting — toasted, of course — have the perfect level of sweetness. Sprinkled With Jules shows us that if you love sweet potato casserole at Thanksgiving, you'll love these sweet potato cupcakes all season long.
Make Your Own Pumpkin Cheesecake Cupcakes
Pumpkin spice plus a cupcake is already a worthy dessert. Throw in a rich cheesecake filling, and you've got a fall cupcake that's unforgettable and unmatched at the holiday dessert table. All you need is a trusty pumpkin cake recipe (we love this recipe from Beyond Frosting), a cream cheese frosting, and the easiest pumpkin cheesecake filling ever.
Ingredients
4 ounces cream cheese (softened)
⅓ cup granulated sugar
2 tablespoons pumpkin puree
1 teaspoon vanilla extract
1 teaspoon pumpkin pie spice
Directions
Cream your softened cream cheese and sugar in a stand mixer for 3-4 minutes. You can mix by hand as well.
Add the pumpkin, vanilla, and spice.
Mix until well combined.
Use a piping tip to create a hollow space in your baked cupcake.
Pipe your filling into the baked cupcake, careful not to overfill, and frost.
Helpful Hack
Don't throw out your pumpkin guts when you're carving jack-o'-lanterns. Instead, make the pumpkin puree for these cupcakes.
Try Sweet & Spicy Mexican Hot Chocolate Cupcakes
How about a bit of heat alongside your sweet fall dessert? Mexican hot chocolate is a bit spicier than what you may call "hot cocoa." This creative recipe from The Novice Chef has all the cozy, rich chocolate you're craving with a cayenne pepper heat to help the flavors really pop.
Make It Boozy With Vanilla Bourbon Cupcakes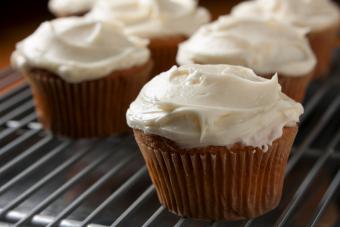 Talk about warm! Spiked bourbon vanilla cupcakes are sweet and comforting, with that extra punch you might be looking for in the chilly weather months. We love this creative recipe from The Chunky Chef.
Salted Caramel Mocha Cupcakes Are the Ultimate Fall Treat
Salted caramel and rich mocha come together for a coffee-infused cupcake that's rich and decadent without overdoing it. You can use caramel or cream cheese frosting for this flavor combo. The star here is the espresso-filled mocha cake that carries your caramel drenched topping.
Ingredients
½ cup unsalted butter (softened)
1 cup white sugar
1⅓ cup all-purpose flour
½ teaspoon baking powder
¼ teaspoon salt
⅓ cup cocoa powder
¼ cup sour cream
1 large egg
1 teaspoon vanilla extract
½ cup brewed coffee
2 teaspoons espresso powder
½ cup milk
Directions
Preheat oven to 350°F and prep your cupcake pan with liners.
Start by creaming the butter and sugar until the mixture is fluffy and pale. This will take a few minutes.
While the mixture creams, whisk together the dry ingredients and set aside.
Add the egg, vanilla, and sour cream to the butter mixture and mix until combined.
Dissolve the espresso powder in the brewed coffee.
Add the milk to the coffee mixture.
Add the coffee mixture and the dry ingredients, alternating between wet and dry, to your mixer. Finish the batter by mixing the final portion of dry ingredients with a spatula until just combined.
Bake for 20-22 minutes.
Make Autumn the Season of Cupcakes
With all these clever fall cupcake ideas, you'll have enough recipes to try one each week of the season. From the warm and spiced to the rich and sweet, these autumn cupcakes are all worth trying before fall is over.