Preparing cupcakes for a party, holiday, or fun Friday night just got easier. Quick and easy cupcake decorating hacks will have your dessert on the table in no time. Make the cutest cupcakes for every occasion with these easy cupcake frosting ideas.
Make Simple Flower Petals
Making cupcake flowers is a quick and easy decorating hack, and all you need is a piping tip and a spoon. With a round piping tip, pipe four to five dollops of frosting on your cupcake in a circle. Use a small spoon to gently drag the dollop toward the center of the cupcake, creating an effortless flower petal. Use candies, frosting, or a gumball to add the flower's center.
Try Hi-Hat Cupcakes
Hi-hat cupcakes are the perfect way to hide less-than-perfect frosting swirls. Give your cupcakes a generous swirl of frosting and don't stress too much over how it looks, since you'll be coating it in chocolate. Pop your cupcakes in the freezer for half an hour to make sure the frosting is firm. With a large, deep cup full of chocolate ganache, flip your cupcakes over and dunk them straight in. Gently pull your cupcake upward and set aside as you wait for the chocolate to set.
Use the Flat Frosting Trick
This cupcake decorating tip is way easier than it looks. Add a generous scoop of frosting to your cupcake and use an offset spatula to spread it out and smooth the top. Flip your cupcake upside down and place on a parchment-lined baking sheet. Pop your cupcakes in the freezer for 15 minutes or until the frosting sets. Once your cupcakes are ready, pull them out and flip them right-side-up to reveal perfectly smooth and flat frosting. Now you can add edible writing or other decorations for a cupcake that looks as good as the ones in the bakery.
Make Powdered Sugar Shapes
If you want to skip the frosting but still add something sweet to your cupcakes, powdered sugar is an elegant and simple route. Use cookie cutters or shapes cut from parchment paper as stencils when you sprinkle the sugar for a playful cupcake design.
Add Color With Chocolate Candies
If you want colorful cupcakes but want to skip dying all that frosting, colorful candy will do the trick. Use white or chocolate frosting as your base and spread it evenly on your cupcake with an offset spatula. The frosting layer will act as glue for your chocolate candies. Place them as evenly as possible for a lineup of colorful cupcakes.
Coat Cupcakes in Sprinkles
Whether you want to add color, crunch, or just cover a frosting mistake, sprinkles go perfectly with cake and frosting. Use an ice cream scoop to create a perfectly round frosting application and roll your frosted cupcake tops in your choice of sprinkles. Fill in gaps or adjust your sprinkles with a clean pair of tweezers or a toothpick.
Top Cupcakes With an Extra Treat
Sometimes the best decoration for a cupcake is another sweet treat on top. Set a cookie, animal cracker, candy, or even a savory treat like popcorn or chips on top of your cupcake for a fun decoration that doubles as an additional snack.
Use a Star Tip to Make Simple Flowers
Piping flowers on your cupcakes doesn't require years of experience or fancy tools. You can achieve a simple frosting flower with a star frosting tip. Use even pressure on your piping bag as you hold it completely straight over the cupcake to make this frosting design look professional. Pipe small, individual flowers all over the cupcake by gently releasing the pressure on your piping bag. This frosting flower hack is often referred to as the hydrangea design, and it's perfect for a baby shower, birthday, or mother's day event.
Make Shapes With Sprinkles
Even without a steady hand, you can add shapes, letters, and numbers to your cupcakes. A small cookie cutter creates the perfect stencil for adding sprinkles to your cupcakes in a structured way.
Cover Fruit in Luster Dust
One of the easiest ways to add elegance to your cupcakes is with luster dust. Though gold is the most commonly used color, edible luster dust comes in a variety of shades. Add it to fresh fruit for an edible cupcake topper that looks high end and expensive.
Create Easy Hot Chocolate Cupcakes
Hot chocolate or coffee cupcakes are simple to make, and most of the toppings are edible. Use white frosting to make a tall swirl on the top of your cupcake. Sprinkle with cinnamon or chocolate shavings. Add a peppermint stick for a festive detail or cut a section off a straw and add to the frosting to create an iced coffee look.
Make S'mores Cupcakes With a Jumbo Marshmallow
S'mores cupcakes are unbelievably easy to create. Once your cupcakes finish baking, set your oven to broil. Place a jumbo marshmallow on top of each cupcake and pop them back in the oven until the tops brown and the marshmallow looks sufficiently roasted. You can achieve the same look with a small kitchen torch.
Make Simple Chocolate Decorations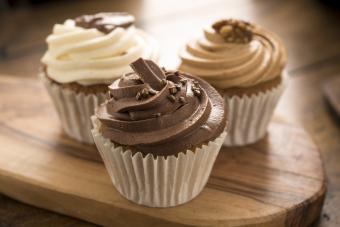 Edible cupcake toppers are easy to make ahead of time using melted chocolate, parchment paper, and a piping bag. Fill your piping bag with melted chocolate and cut the tip of the bag to your desired thickness. Pipe shapes like hearts, stars, snowflakes, and abstract designs directly onto the parchment paper. Allow the chocolate to set and carefully remove from the parchment paper for homemade edible cupcake toppers.
Create Whimsical Rainbow Cupcakes
Rainbow cupcakes for a birthday party or a lucky St. Patrick's Day celebration come together easily with a few sweet treats. Frost your cupcake with a layer of blue buttercream and create two small clouds with chopped mini marshmallows. Connect the clouds with a colorful candy strip for a simple rainbow topper that's completely edible.
Decorate Cookie Monster Cupcakes
Cookie Monster cupcakes are the perfect treat for a little one's birthday celebration. Impress party guests of all ages with your creative cupcake decorations. Pipe deep blue frosting on your cupcakes and place two candy eyes on top. Place a half of a small chocolate chip cookie on the front of the cupcake for a birthday tribute to the beloved blue puppet.
Show Off Your Egg-Cellent Cupcake Skills
Kick your Easter dessert game up a notch with this simple Easter egg nest cupcake. Cover your frosted cupcakes in a layer of shredded coconut and top with two or three chocolate Easter eggs. You can even dye the coconut with food coloring to brighten up the decoration.
Make Fun Faces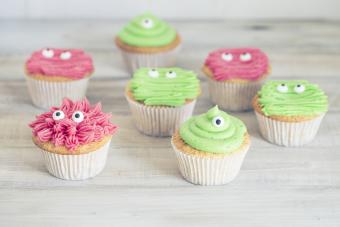 A simple swirl of colorful frosting is the base for these wacky and delicious cupcakes. Make monster faces for Halloween or just funny faces for a creative kids' party. Add candy eyes for a simple silly face and invite kids to help you decorate with all the goofy details that get them giggling.
Craft Cookies & Cream Bats
Edible cupcake toppers for Halloween make the holiday even sweeter. Use an Oreo to create a spooky bat on the top of your trick-or-treat sweets. Use one side of the cookie as the base for your bat's face and add eyes and fangs with frosting. Use the other half of the cookie to create bat wings by cutting it in half and attaching one wing to each side of the bat's face.
Get Spooky With Licorice Spiders
Licorice makes the perfect set of legs for your creepy crawly birthday cupcakes or spooky spider cupcakes. Use frosting, candies, or sprinkles to craft the rest of your bug body, and attach licorice legs in green, black, or red. Try inserting the licorice strips into the cake to help the decoration stay intact.
Pipe Buttercream Trees
Whether it's Christmas trees for a holiday gathering or a forest of frosting for a birthday bash, this little hack will have your cupcakes ready in half the time. Frost your trees ahead of time by piping buttercream on a mini ice cream cone. The cone will help you create that perfect tree shape, and you can add them to your cupcakes right before the celebration so you don't have to worry about damaging your decorated cupcakes before the party.
Build Marshmallow Snowmen
This easy holiday cupcake starts with a layer of white frosting. A jumbo marshmallow with a snowman's face, drawn with an edible marker of course, finishes this festive treat for an effortless Christmas cupcake.
Create Festive Christmas Wreaths
A star-tip and a piping bag are all you need to achieve this Christmas cupcake look. Use even pressure to pipe a wreath shape on your cupcake, leaving the center empty. A 223 tip, also called the grass tip, can also help you create this look by applying even pressure as you swing the piping bag slightly forward and backward with your wrist. Finish your wreath with powdered sugar snow or sprinkle decorations.
Add Sparkle to Your Cupcakes
Sparkling cupcakes are an elegant way to ring in the new year, celebrate Christmas, or throw a fancy party. Use maraschino cherries with the stems still attached to make these glittering cupcake toppers. Drain the cherries of their juice and pat dry with a paper towel before rolling them in edible glitter. Place your cherries stem-side-up on your frosted cupcakes for a high-end dessert.
Spend Less Time Decorating & More Time Celebrating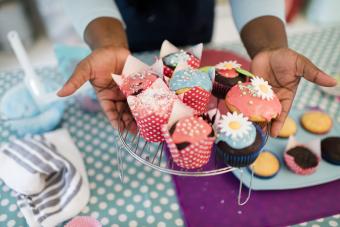 With these cupcake decorating tips, you'll spend less time fussing over the details and more time enjoying the party. Edible cupcake toppers, quick decorating hacks, and simple ways to add fun to your treats will have you excited to bake and even more excited to eat.