Cupcakes are one of life's simple joys, and a fun cupcake filling makes the experience of that first bite even sweeter. Give your favorite cupcake recipes an exciting and easy surprise inside with these cupcake filling ideas. From simple fillings for vanilla cupcakes and decadent fillings for chocolate cupcakes, these ideas will have friends and family begging for the recipe.
Salted Caramel Cupcake Filling
If you want to add instant richness and decadence to your cupcake, nothing is more indulgent than salted caramel. A burst of salted caramel in the center of a vanilla, chocolate, or coffee cupcake amps up the sweetness and warmth. Banana and apple flavors also complement the salty-sugary goodness of rich caramel.
Marshmallow Fluff Cupcake Filling
This cupcake filling idea just requires a step inside your pantry. Marshmallow fluff or marshmallow cream elevates your chocolate cupcakes, and there is no extra cooking or baking involved. Transform basic chocolate cupcakes into hot chocolate or s'mores cupcakes with a dollop of marshmallow cream in the center.
Mocha Mousse Cupcake Filling
A homemade chocolate mousse is well worth the extra effort when you take that first bite of your mousse-filled cupcake. This mousse adds rich coffee flavor to chocolate or vanilla cupcakes and packs an extra caffeine punch in coffee cupcakes.
Ingredients
1¼ cup heavy whipping cream
¾ cup chocolate ganache frosting
2 tablespoons powdered sugar
1 teaspoon coffee granules
Instructions
Use an electric mixer to combine the cream, sugar, and coffee until the sugar and coffee are fully dissolved.
Beat the mixture on high until stiff peaks form, similar to making whipped cream.
Gently fold in the chocolate ganache frosting and let your mixture chill for at least 30 minutes.
After the mixture is chilled and completely smooth, you're ready to fill your cupcakes with this indulgent whip.
Lemon Curd Cupcake Filling
Tart and refreshing, lemon curd brings bright flavor to the center of your vanilla, strawberry, and lemon cupcakes. You can purchase lemon curd in a jar or make your own for a punch of flavor in your favorite cupcake. If you want to enhance the flavor of your lemon curd, top your cupcakes with fresh raspberries or blueberries.
Rhubarb Jam Cupcake Filling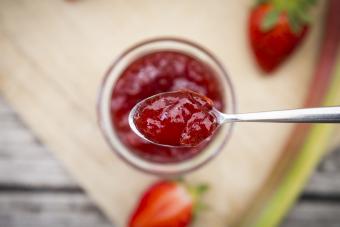 If you really want to show off your culinary skills and flavor knowledge, try an unexpected cupcake filling like rhubarb jam. These rhubarb jam recipes complement the flavors in orange or strawberry cupcakes or jazz up a simple vanilla cupcake.
Fresh Fruit Cupcake Filling
Cupcake fillings don't have to be creamy or overly sweet to impact the flavor profile. Add your favorite fresh fruit to the center of cupcakes to mix things up with texture and tartness. Strawberries, raspberries, blueberries, blackberries, and even caramelized bananas and apples elevate simple cupcakes with one ingredient.
Whipped Peanut Butter Cupcake Filling
Peanut butter lovers rejoice with this smooth and creamy cupcake filling idea. Add whipped peanut butter filling to chocolate or vanilla cupcakes or fill peanut butter cupcakes with the mixture for peanut butter fanatic's ultimate dessert.
Ingredients
2 cups creamy peanut butter
4 ounces softened cream cheese
2 cups powdered sugar
1 tablespoon heavy cream
Instructions
Use an electric mixer to whip your peanut butter and cream cheese until the mixture is fluffy and pale.
Add the sugar and heavy cream and continue mixing for 2-3 minutes.
Add additional cream or a pinch of salt to reach your desired consistency and taste.
Cannoli Cream Cupcake Filling
Cannoli and cupcakes are both delicious, but they are even more decadent when combined into one dessert. Fill chocolate, vanilla, or pistachio cupcakes with a traditional cannoli cream filling and indulge all of your favorite dessert cravings in one bite. Add chopped pistachios or mini chocolate chips to the filling or the tops of your cupcakes for a fun and crunchy texture.
Raspberry Cupcake Filling
If you want a cupcake filling that's sweet, tart, fruity, and even elegant, raspberry is the way to go. Raspberry filling in a cupcake complements a few flavor profiles. For a punchy and bright treat, add raspberry filling to lemon cupcakes or balance it with a sweet lemon frosting. For decadent indulgence, a dark chocolate cake heightens the richness of a raspberry filling. To make your raspberry filling the star of the show, use it in a white chocolate or vanilla cake and top with a sweet raspberry or lemon frosting.
Cheesecake Cupcake Filling
Bring one of the most beloved desserts to the center of an ordinary cupcake to create an extraordinary treat. A simple cheesecake filling adds tart creaminess to chocolate or fruit-based cupcake flavors. A cheesecake center also adds an extra special element to red velvet cupcakes.
Ingredients
8 ounces softened cream cheese
⅓ cup white sugar
1 teaspoon vanilla extract.
Instructions
Using an electric mixer on medium speed, mix all ingredients until fluffy.
Allow your cheesecake mixture to chill for half an hour before filling your cupcakes.
Use fruit puree, jams, extracts, or cocoa powder to create any variation of cheesecake filling you like.
Because this is a no-bake cheesecake filling, you'll add the filling to your cupcake after they bake in the oven and completely cool.
Chocolate Hazelnut Cupcake Filling
A fan favorite in many desserts, chocolate hazelnut spread adds a rich center to your plain cupcake flavors. Try adding a scoop of chocolate hazelnut spread, like Nutella, to chocolate, peanut butter, and vanilla cupcakes. This single-ingredient cupcake filling will be an instant crowd pleaser.
Pudding Cupcake Filling
From pistachio and banana to classic chocolate, an instant pudding filling is an easy way to add flavor and creaminess to your cupcakes. There are endless flavor combinations you can create with the long list of instant pudding flavors available, so be imaginative! Add lemon pudding to strawberry cupcakes, butterscotch pudding to vanilla cupcakes, or chocolate pudding to classic yellow cupcakes. Prepare your instant pudding according to the package directions and let it chill before scooping or piping into your cupcakes. Keep in mind that too much pudding might make your cupcakes unstable, so don't add over 1-1½ tablespoons to a standard-size cupcake.
Pastry Cream Cupcake Filling
Once you know how to make a basic pastry cream, your cupcake flavor combination options will truly be endless. Use this pastry cream recipe to create fillings for Boston cream pie cupcakes, coconut cream cupcakes, crème brulee cupcakes, and countless fruit-topped cupcakes.
Whipped Cream Cupcake Filling
One of the simplest cupcake fillings that requires very little prep on your part also complements nearly every cupcake flavor. Add whipped cream to orange cupcakes for an instant dreamsicle dessert. Fill chocolate cupcakes with whipped cream and top with an espresso buttercream for a decadent latte cupcake. Add whipped cream to any fruit-flavored cupcake to add a light, fluffy, and slightly sweet surprise to your classic dessert.
Fill Your Cupcakes Like a Pro
Once you've decided on the tasty filling for your next batch of cupcakes, make sure you know how to fill them like a pro baker.
Make sure your cupcakes are completely cool or refrigerate them prior to filling to make the cutting process easier.
Remove the center of your cupcake to make room for the filling. Use the back of a piping tip to cut and remove equal amounts of cake from each of your cupcakes by firmly pressing down on the tip and rotating slightly as you go. Press the tip ½-¾ of the way into the cupcake, making sure you don't cut it completely in half or remove the bottom.
Fill a piping bag with your filling of choice, making sure you don't overfill the bag. Secure the end of the bag by twisting it tightly. Snip off the end of the bag, aiming for a ¼-inch opening.
Insert the tip of your filled bag into the cupcake and apply gentle, even pressure with your hand as you slowly lift the tip of the piping bag out.
Cover the top of your filled cupcake with the excess cake pieces or leave it open, since you will cover it with a delicious frosting.
Become a Creative Cupcake Maven
Now that you know how to fill cupcakes like a pro and choose flavor profiles that will truly impress, you'll be the cupcake connoisseur of your friend groups and family. Your creative cupcakes will be the star of all your birthday celebrations and dinner parties.