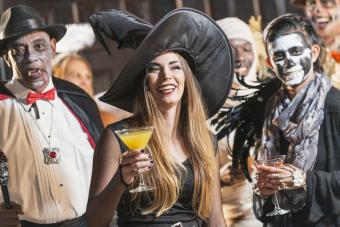 It may feel like Halloween is only made for children, what with the focus that's given to trick-or-treating and dressing kids up for their neighborhood trunk-or-treats. However, adults can enjoy Halloween too, and this focus on the 'kids' aspect of All Hallows Eve might mean that you're fresh out of adult Halloween party ideas. Have no fear, because there's a wide-world of creative, unexpected, and down right creepy types of Halloween parties you can throw together for a frightful night of fun.
Celebrate in the Courtyard
About 90% of all Halloween parties you've attended in the past have taken place in the middle of someone's living room, with the furniture pushed to the edges and streamers hanging from the ceiling fans. Avoid rearranging your entire house this year by shifting the Halloween celebrations outdoors into your courtyard. Utilize the outdoor energy, and decorate with sparse, simplistic baubles to add some warmth to the communal space. Things like carved pumpkins, fairy lights, and tea candles can give you just the right kind of vibe.
Host a Zombie's Lunch
If you and your friends have to schedule your get-togethers two months in advance just to accommodate everyone's schedule, then maybe a quick midday meal is the best way to celebrate the spooky season. Instead of putting together a giant rager, whip up a zombie's lunch by layering deli meats overtop of a plastic skull, and serving your favorite Halloween-themed finger foods on the side. This is the no-pressure party you and your busy friends are looking for.
Traditional Trick-or-Treat Bash
You're never too old for trick-or-treating, and a funny way to have you and your friends relive each of your childhoods is to put together a traditional trick-or-treat or trunk-or-treat party. Everyone should dress up with their favorite costumes and grab treats from the various bowls of candy that everyone puts out for each other to enjoy.
Get Out of Town
Halloween can be a busy holiday for parents, but if you're an adult without any kids, then an awesome way to get away from the neighborhood hubbub is to travel to a remote area and throw an incredible Halloween party. Rent an Airbnb or borrow a friend's cottage in the woods to set that isolated tone that the best horror movies exude. Bring fear to your favorite friends with a spooky, out-of-town Halloween party.
Get Back to Your Roots
Not all Halloween parties have to be decked out in orange and purple; rather, you can imbue a bit of rustic living with your next holiday celebration. Use natural decorations like pine needles, sticks, pecans, and apples to really create a soft, cozy space for an intimate gathering. You can even set up candy apple stations using your rustic ingredients for a little treat to enjoy that night.
Five-Minute Set Up
Sometimes, life throws you a curve ball and either you forget to get your house decorated in time for the party that you're hosting or the boxes of dazzling decorations that you've ordered get lost in the mail. For times like these, a few simple decorations on the walls and around the house are better than nothing at all. Balloons and streamers can bring a quick old-school charm to your party that'll remind everyone of their favorite classroom Halloween party.
Creepy Cupcake Party
If you're looking for something to add to your Halloween party itinerary, then a creepy cupcake decorating station is a great idea. You can buy cupcake mix and decorating materials in bulk for relatively cheap, and the personalized aspect will keep everyone engaged. You can even host a competition at the end to see who decorated the creepiest looking cupcake before everyone digs into their delicious snacks.
Occupy the Kids With a Mini-Party
Unfortunately, not every adult party can be absolutely kid-free. In this case, you can host a miniature Halloween party just for the kids in a large spare room or bedroom to keep them entertained while the adults can play. Things like finger painting, animated movies, and shadow puppets are great activities to make the kids feel included, but keep them out of your hair for a few hours at least.
Host a Gothic Soiree
For a refined evening in, you can put together a gothic soiree that takes inspiration from the Victorians and the Romantics for their unique design aesthetics. Choose a rich color palette, anatomical drawings, ravens and crows, and other such imagery to make your house transcend into the late-19th century dinner and a séance event you've always wanted to attend.
Embrace the Autumn Colors
The neutral tones that come with the autumn season are so warm and inviting that they make for the perfect inspiration for holiday party decorations. Incorporate fruits and vegetables that are in season, like the ever-present gourds, as well as fall-flavored dishes and drinks to give your guests a fully fall experience.
Birthdays Don't Stop for Holidays
If you're cursed with a Halloween birthday, then you know how difficult it is to try to get enough friends who're free together to actually have a celebration. Bypass the trouble this Halloween season by throwing a Halloween birthday party. Whether you want yours to be upscale and Instagram ready or cheap and tacky, make your Halloween birthday party completely yours.
Too Much Is Never Enough
There's no such thing as having too much of a good thing, and the opulence of Halloween decorations can attest to that. Don't hesitate to put together an over-the-top Halloween party this year. Think twenty strings of lights and baskets upon baskets of bat-shaped confetti to bring your night away from home to life.
BYOA: Bring Your Own Appetizer
Bring your own appetizer is a great idea to have large holiday parties with your peers that don't cost a ton of money. With everyone chipping in to bring their own favorite snack or sweet, you can cut down on catering costs and invest in other areas of the party — such as picking out high-quality booze or paying for live entertainment. You can also use this idea for corporate parties as well, since it divvies up the responsibility for hosting the party equally among everyone.
Marry the Night
Some people have a great sense of humor or just really love Halloween, as tons of couples around the world choose to tie the knot on All Hallows Eve. If you or someone you know is planning to do this, a super fun way to incorporate Halloween into your theme is to host a cursed and kooky reception equipped with candlelit Halloween dinners, cobwebs, and skulls abound. You might even want to have your guests dress up in their favorite Halloween costumes.
Cursed Candlelit Dinner
Not every party has to have a thumping bass track and body glitter; you can host a scaled-down Halloween dinner that is just as fun as the local rave. One way to set the spooky mood is to keep all of your conventional lights turned off and use candlesticks, tea lights, and string lights to light up the room. This localized lighting will create unique shadows around the room and really set the tone for an intimate gathering with friends.
Terror Tent Party
Whether you're four or ninety-four, you can throw together a terror-rific time for your guests with a party held in a large indoor tent. If you happen to have a tent on-hand, you can pitch that in the middle of your living room, or if you've got a few large sheets and some chairs, you can create a makeshift one as well. The point of this party is to get cozy, and so throw pillows, string lights, and bowls of fresh popcorn can help make that happen. And if your younger brood decides to crash the bash, there's always enough room for a few more.
Halloween Picnic With Friends and Family
Picnicking used to be a really common hobby, and yet as technology changed and recreational habits evolved, people started going on fewer and fewer picnics. However, you can bring back this joy of picnicking by hosting your own Halloween picnic. Perfect for adults with kids who can't come to a late-night party, this easy mid-afternoon get-together will let you and all the people you love bask in the festivities for a few hours.
Party Fall Festival Style
Half of the reason people are infatuated with autumn is because of its unique color palette and the way this transitional period affects how nature looks right before people's very eyes. Incorporate this into your Halloween celebrations by using the natural surplus of the autumnal landscape. Using wheat stalks and gourds, you can create an entryway and dinner table fit to be featured in any Instagram story.
Autumn Garden Party
Although garden parties come with their own historic conventions, you can throw together your own Halloween garden party by getting the best fall blooms and turning your backyard into a whimsical Halloween garden. Orange, black, and purple flowers are a must-have for this tea-time event.
Put Your Leaf Piles to Good Use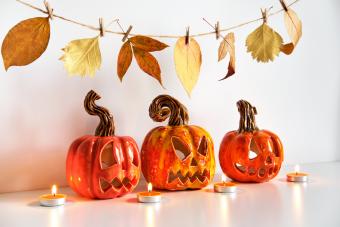 Don't toss those piles of fallen leaves into trash bags and get rid of them this Halloween season; rather, take the best, most beautifully colored ones and string them together using fishing wire to create a magical fallen leaf backdrop for your holiday party. These fallen leaf displays make for fabulous photo back-drops, and they're elegant enough that you'll be tempted to keep them up year-round.
Down to the Bones
If you're feeling culinarily artistic this fall, you can put together a unique charcuterie board experience for your friends and family to enjoy. Taking a life size skeleton, you can outfit him with different types of deli meats to simulate his long-gone muscular structure. You can make the macabre into a meal with this interesting approach to your Halloween party snack table.
Get Witchy With It
Make all of your friends embrace the mystical origins of Halloween by hosting a witch-themed gathering. Encourage everyone to dress up as their own type of witch, and celebrate All Hallows Eve with traditional cocktails, dishes, and a quick spell or two. All it takes is a little magic.
Arts and Crafts for All Ages
You're never too old to do a little arts and crafts, and you can bring back this creative spirit to adult Halloween parties by setting up different holiday crafting tables. Let guests paint their own miniature pumpkins or decorate their own paper bag masks. Half of the fun of childhood parties was getting everyone together to make something they could bring home, and there's no reason you should stop getting to do that once you're an adult.
Orange You Glad It's Halloween?
Much like red and green are associated with Christmas, orange is synonymous with Halloween. For an in-your-face Halloween celebration, only choose orange colored decorations and snacks. Pumpkins are a must-have, of course, but orange icing, orange cheese puffs, orange lights, and candy corn are among some of the things that you can add to your space to really set the mood.
Mix Holidays Together
You're not alone if you keep your Christmas tree up year-round, and you're also not alone if you like to get those Christmas decorations up before Thanksgiving comes around. Either way, if you've got your Christmas tree sitting in the corner of your living room, then you should embrace the weird and mix your holidays together. Get ahead of your friends' silly jokes and decorate your Christmas tree for Halloween this year. This way, you're covered for both your Halloween and Christmas parties.
Fright Night Feature
Host a Fright Night Feature in your backyard for your friends who aren't the faint of heart. Prepare a roster of your favorite scary Halloween movies, whether it's classics or the latest releases, and gather around an outdoor projector. Make sure to pop enough popcorn and get the fog machine going, because this is a night you won't want to miss.
Blackout Party
Blackout events are a long-held tradition where people wear all black to an occasion, and what better way to celebrate the darkest of holidays than with a blackout party on Halloween? Instruct all of your guests to wear black, and only black, to the party so that you all seamlessly blend into the night sky. You can also really get creative with the types of lighting that you put out, such as with bonfires, only jack-'o-lantern lights, or black-lights, to dance the night away in front of.
Reclaim Halloween for Adults
Take back Halloween for the adults around the world by using these Halloween party ideas to give you some inspiration, or the incentive, to host your very own Halloween get-together. Whether it's two weeks before or the night of, you and your friends can put together an evening as you all sure could do with a fright night of fun.