No Halloween party is complete without a snackable appetizer spread filled with lots of finger foods and other yummy munchies. Whether you need just a few Halloween party appetizer ideas or you want to put on a spooktacular spread with more than enough choices to satisfy even the pickiest of guests, you're sure to love these occasion-specific options. When it comes to Halloween party snacks, ideas are plentiful. The 15 suggestions below are definitely more treat than trick!
Halloween Party Finger Food Ideas
Make it easy for your guests to munch and mingle by serving some tasty finger foods they can easily pick up and eat directly from the serving dish or pile up on their plates.
Bloody Finger Sausages
Cocktail weenies are pretty standard party fare, but you can make them really stand out on the Halloween buffet by serving them in a creative way. Rather than having guests spoon sausages from a slow cooker, arrange these tiny sausages around a dish of store-bought or homemade barbecue sauce on a platter. Dab a bit of sauce on the end of each weenie, then lay an almond slice on top. Voila! Your sausages will be transformed from basic fare to bloody fingers waiting to be dipped and devoured. These make an excellent kids' and teens' Halloween party food, too.
Cheesy Bat Balls
Make your favorite cheese ball recipe and roll it into individual serving-sized balls of approximately two inches in diameter. If desired, roll each ball in a mixture of sunflower and pumpkin seeds or your favorite nut varieties. These balls represent bat bodies. Refrigerate for a few hours before the party. Just before guests arrive, place dark blue or black tortilla chips on both sides to form bat ears, then use piped cream cheese and sliced black olives to make eyes.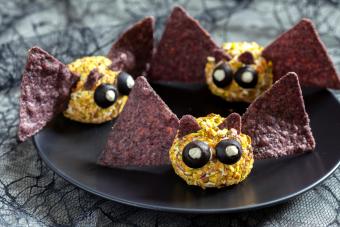 Witch Eyeballs
To make this gruesome-looking but surprisingly flavorful finger food, you'll need to prepare two recipes. Follow your favorite deviled egg recipe, but also make a batch of pesto sauce. Prepare the eggs as usual and refrigerate until just before the party starts. When you take the eggs out of the fridge, spoon pesto sauce over the filling. Add a sliced olive to the center of each egg to complete the illusion that you're serving a platter of witch eyeballs.
Mummy Tartlets
These mummy tartlets are an easy-to-make Halloween party treat. You can start with your own homemade pie crust baked into mini tartlet forms or purchase store-bought tart crusts or even mini phyllo shells. Whatever base you use, simply spoon pizza sauce into tiny pre-baked crusts and top with strips of cheese fashioned to resemble mummy gauze. Add two canned black beans to the center to form eyeballs. Broil at 425 degrees for around five minutes; just long enough for the cheese to brown a bit.
Delicious Halloween Party Dip Ideas
You don't have to stick with finger foods for your Halloween spread, whether you're making Halloween party foods for adults or kids. Offer a variety of food choices by including a selection of scary-looking but flavorful dips for guests to scoop onto their plates to enjoy.
Halloween Hummus
Substitute black beans for chickpeas in your favorite hummus recipe to create this terrifying-looking yet tasty Halloween party snack. Pipe some sour cream on the top in the shape of a spider web and finalize the presentation of this eerie-looking concoction with a spider fashioned from black olives. Serve with dark blue or black corn chips or your favorite type of party cracker.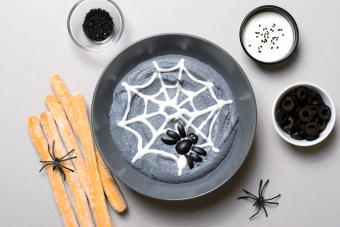 Unholy Guacamole
Guacamole is a pretty standard appetizer, but it becomes a particularly great snack idea for a Halloween party when you present it as if it's coming forth from a frighteningly carved pumpkin. Make it even more seasonal by sprinkling a few pumpkin seeds on top for garnish. Serve with your favorite varieties of crackers, chips, and/or cut-up celery and carrots.
Layered Spider Dip
Turn ordinary seven-layer dip into spooky fare by using the olive layer to fashion a scary spider on top. Simply spread a can of refried beans on the bottom of a shallow casserole dish, followed by layers of sour cream, salsa, guacamole, tomatoes, cheese, and olives. For a spooky flair, dollop a bit more guacamole on the center to serve as a base for the arachnid display. Arrange shredded white cheese to form a spiderweb over the guac, then place an olive arachnid on top. Serve with tortilla chips.
Cauldron Brew Dip
Got access to tomatillos? If so, you can make your very own witch's brew to serve to your party guests. Simply prepare a batch of salsa verde and serve it in a black bowl, or place any glass or ceramic bowl inside a novelty cauldron from your favorite party supply store. Serve with tortilla chips. If you can't get tomatillos, use basil, olive oil, and pine nuts to whip up a batch of pesto. If you use pesto, serve it with pita chips.
Crunchy Appetizers for a Halloween Party
Your party guests are sure to appreciate some crunchy munchies to nibble on throughout the night. Offer several options to ensure that everyone finds something to satisfy their cravings.
Roasted Pumpkin Seeds
Pumpkin seeds are a great snack to serve at a Halloween party, either instead of or in addition to nuts. They're very budget-friendly, as you can simply make roasted pumpkin seeds using the seeds that come out of any pumpkins you carve for the occasion. You can make all the same kind or vary the flavor of different batches by using different spices and seasonings. If you're expecting a big crowd, ask a few friends to save seeds from their pumpkins to share with you as well.
Corny Halloween Trail Mix
Create your own Halloween-specific trail mix by combining popcorn, candy corn, pretzels, and mixed nuts. Fill small, single-serving size glasses, cups, or jars with the Halloweeny snack. Line them up on the party buffet so that it's super easy for your guests to snag one any time they're feeling a bit munchy.
Dare-to-Dip Veggies
For an interesting and Halloween-specific take dippable raw veggies that pack a crunch (pun intended), carve some colorful bell peppers in the style of a jack-o'-lantern and use them as serving vessels. Simply insert a variety of cut-up raw vegetables in each of the peppers that you carve and place them on a serving tray alongside a bowl of ranch dip. If desired, use orange food coloring to tint the dip in honor of the occasion.
Fruity Pumpkins
What looks like a tiny pumpkin but is sweet and juicy? The easiest ever Halloween party snack, that's what! Just purchase some tangerines or satsumas and peel them. Leave them whole, as they're pumpkin-like in appearance as is. Finish your sweet, sweet masterpiece by pressing a small piece of celery cut to look like a pumpkin stem into the top. You're done! Just place the fruit on a tray so guests can serve themselves.
Pumpkin Fluff
Want to serve a sweet fruit dip at your Halloween party? Whip up a batch of marshmallow fluff dip, but add a few tablespoons of canned pumpkin and ½ teaspoon of pumpkin pie spice. (Pro tip: This is a great way to use up leftover pumpkin). Serve with cut-up apples. If you want orange dip but don't want it to have a pumpkin flavor, stick with the standard fluff recipe, but stir in orange food coloring.
Halloween Cake Pops
Cake pops are a great sweet treat to serve at a Halloween party. Simply make a batch of cake pops using any flavor cake you prefer. Use orange candy melts for dipping to create the looks shown below. To decorate your cake pops after they have hardened, add piped on pumpkin stems or spider webs and spiders fashioned out of fondant or gum paste. For an easier option, just roll your cake pops in orange and black sprinkles and/or sugar before they harden.
Devilish Cupcakes
For an easier-to-make finger food version of cake, opt to serve some devilish cupcakes. Make a batch of chocolate cupcakes using either a traditional cupcake recipe or a gluten-free version that uses almond flour, or even a boxed mix. Top each one with red frosting, then use fondant, modeling chocolate, or gum paste (or even chocolate chips) to fashion devil horns on the top.
Nibbles and Noshes for a Halloween Party
You can't go wrong with any of these tasty Halloween food ideas. From frightfully delicious finger foods and appetizers to savory and sweet party foods to munch on, every guest is sure to find plenty of seasonal snacks to sample and enjoy. And don't forget the drinks! Whether you want spooky Halloween shots, magical Halloween martinis, plentiful Halloween party punches, or creepy Halloween cocktails, your food and drink menu will keep the party going.