Planning a Halloween party for teenagers or kids can be a lot of fun, even if some of the guests are uber picky. Fortunately, there are a lot of great kid- and teenage-friendly Halloween party food ideas. Use the Halloween fare ideas below to put on a fantastic feast. These hauntingly good suggestions are sure to please even the most finicky and hard-to-impress young party guests as instantly Insta-worthy.
Monster Burgers
If you're doing a complete meal at the party, monster burgers make a great main course. For little kids, stick with sliders and preassemble burgers with condiments arranged to depict monster faces. For big kids or teens, set up a DIY hamburger bar with cooked patties, buns, cool burger toppings, and common condiments. Challenge guests to put together their own scary-faced sandwiches. For maximum fun, award a few prizes for the most monstery-looking burgers.
Spaghetti Monster
For a fun and kiddo-friendly Halloween feast, you can't go wrong when you serve spaghetti monster plates for the main course. Just prepare spaghetti with red sauce the same way you would for any occasion, but add a spooktacular touch by outfitting each serving with a scary monster face. You can use savory edibles like cheese and olives, or even apple slices and berries.
Pumpkin Pizza
Kids, tweens, and teens love pizza parties, no matter what the occasion. For a creative Halloween twist, make pumpkin-shaped pizzas by adding a stem (made of dough) to an ordinary round pizza crust. Top with pizza sauce and cheese, then use other tasty toppings to craft a jack-o'-lantern face on top. Use sausage or hot dog slices as circles for the eyes and nose. Add a piece of olives to the eyes for the pupils and use more olives to create a mouth.
Mummy Toast
Spread finger-food-sized bread slices with a bit of marinara sauce, then top with strips of white cheese arranged to look like mummy wrapping. Add olive eyeballs and broil for about 10 minutes. The idea is to broil just long enough for the bread to toast and the cheese to melt just a bit. You could use cut-up tortillas, flatbread, or English muffin halves instead of bread.
Boiled Ghost Eggs
Basic boiled eggs might be boring, but kiddos are sure to get a kick out of this spooky version. Boiled eggs don't need much help to be adjusted to resemble ghosts. Just prepare some hard-boiled eggs, remove the shells, and use a kitchen knife to cut out ovals representing two eyes and a mouth. You may also want to trim the bottom flat so you can stand them up on a serving tray. If they don't all get eaten, you can use the leftovers to make deviled eggs the next day.
Bloody Eyeball Roll-Ups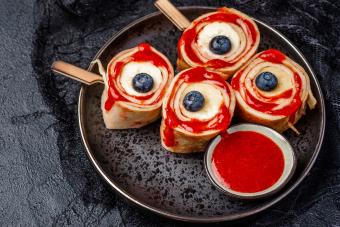 Did you know that you could turn flour tortillas, strawberry jam, bananas, and blueberries into disgusting-looking but delicious-tasting Halloween party food that young party guests will gobble with gusto? Just slice some tortillas and lay them flat on a cutting board, then slather with strawberry jam. Cut a banana chunk the same width as each tortilla slice, place it at one end, and roll up the tortilla. Place on a serving tray, then put a blueberry in the center of each banana chunk.
Ugly Mugs
Make multiple mug cakes recipes so there are enough for each party guest to have at least one. Set out a variety of toppings and decorating items, icing in various colors, marshmallows, candy pieces, and whipped cream. Challenge the youngsters to create their own ghoulish-looking mug cakes. Encourage the kids to vote on the scariest-looking mug, the most creative mug, and the most gruesome.
Spider Muffins
Bake a batch of chocolate muffins and convert them into spooky spiders by adding four strings of black licorice to each side to form the legs. Combine chocolate candy and small red or yellow candies (such as nonpareils) to form eyes. Use a dab of chocolate frosting to stick the candy pieces to each other and to the muffins.
Crispy Pumpkins
Whip up a batch of crispy rice treats using cereal, butter, and marshmallows, but also stir in some orange food coloring. Instead of pressing all the batter into a pan so you can cut it into squares, let it cool a bit and then fashion the mixture into small orange balls of about two inches around that represent pumpkins. Stick a chocolate chip on top to serve as the pumpkin stem.
Monster Eyeball Crispies
You don't have to limit your crispy rice treat creativity to pumpkins alone. The possibilities are limited only by the number of Halloween-appropriate food colorings you have. If you have purple, black, and/or green food coloring to add to the basic recipe, you can easily fashion some monster eyeballs. Just mold the mixture into flattened circles, then add a dollop of white frosting to the center, then place a chocolate chip or raisin in the middle.
Spiders on a Log
Little kids are sure to love this spooky version of ants on a long, and you might also find that tweens and teens get a kick out of this scary-looking snack as well. This no-cook snack is very easy to make. Just cut celery stalks into three- to four-inch sticks. Spread peanut butter (or almond butter, sunflower nut butter, etc.) in the middle and stick raisins on the top. Use chocolate frosting and marshmallow creme to embellish the raisins with spider eyes and legs.
Marshmonster Mouths
Kids and teens alike are sure to get a kick out of these easy-to-make marshmonster mouth treats. You'll need two apple slices for each one, which you'll use to create peanut butter and marshmallow sandwiches using apple slices rather than bread. Simply spread peanut butter on both slices, then line up mini marshmallows across one of the apple slices. Smoosh the other one, peanut butter side down, onto the top of the marshmallows.
Mummified Fruit
For a super-simple but cute way to encourage kiddos and teens to eat fruit at the party, dress up some fresh whole fruit like mummies. Simply choose a few types of fruit that work well as Halloween finger foods (such as apples or bananas) and wrap them in a bit of gauze. Use a black marker to draw on facial elements. If the guests aren't too young, you can also add some non-edible decorative elements like novelty eyeballs and spiders.
Decorated Halloween Cake
Decorating Halloween cakes is a lot of fun. This is a good thing, as no Halloween party for young people is complete without at least one kind of cake. Whether you opt for an easy Halloween cake that has a simple spiderweb design paired with some scary eyes or a more elaborate haunted house or graveyard cake design, there are plenty of fun and creative options to consider.
Great Kid-Friendly and Teenage Halloween Party Food Ideas
Even the most finicky kids and teenagers will be able to feast until they're full when you offer flavorful selections like these. The spooky food ideas above are frighteningly fun and even quite filling, and they'll pair perfectly with a flavorful punch recipe. Whether you choose to prepare just a few or you make them all, your Halloween party is sure to be a hit with the young people lucky enough to be invited.