Half the fun of planning a Halloween party is putting together the menu. Whether you love to cook for special events or are searching for the easiest possible way to ensure that your guests feel treated (rather than tricked!), you're sure to find inspiration. Once you review these Halloween party food ideas, your biggest challenge will be figuring out how to limit the menu to just a few selections for a single party. You just might decide that you need to host more than one Halloween bash.
Open-Face Monster Sandwiches
For a ghoulish take on the traditional tiny tea sandwiches often served at parties, serve a selection of open-face monster sandwiches. Simply lay slices of sandwich bread on a tray and top with cheese, veggies, meat, sandwich spreads, and other items cut and arranged to create monster faces that are so ghoulish they're actually adorable.
Ghostly Protein Bites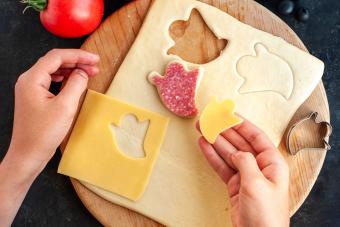 Use Halloween cookie cutters to cut slices of cheese and cured meats into Halloween-y shapes. Place on a tray and service with crackers for a simple presentation. For a more elaborate spread, include meat and cheese cut in this manner on a full charcuterie board, complete with fruit, nuts, veggies, and spreads selected specifically to stay in line with a Halloween theme, such as blood-red pepper jelly or orange marmalade.
Jack-O'-Lantern Chips and Salsa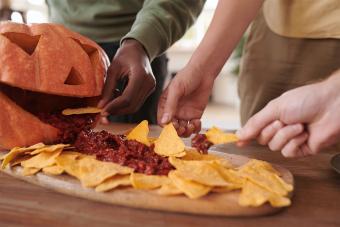 Instead of just sitting out a bowl of chips and salsa, place a bowl of your favorite salsa inside a hollowed-out pumpkin that's carved jack-o'-lantern style. Place the salsa-filled jack-o'-lantern on a tray and surround it with tortilla chips for guests to dip. For a bit of a gruesome (but in a good way) touch, dribble some of the salsa onto the tray, with the chips carefully arranged around it.
Pumpkin Oranges
For the easiest ever Halloween party food idea, simply purchase some mandarin oranges or clementines. Peel them, leaving the pith in place. Put them on a tray, then stick a bit of green rope-style licorice into the top of each orange. It's amazing how much these simple snacks resemble tiny pumpkins.
Halloween Dinner Party Food Ideas
If you're planning a Halloween dinner party, you'll need to go beyond basic snacks and finger foods. Fortunately, there are plenty of spooktacular options. From eerie entrees to spooky sides, it's not difficult to put together a Halloween party menu to remember.
Pumpkin Quiche
Adapt your favorite quiche recipe for Halloween by stirring in chunks of cooked pumpkin (or equally-orange butternut squash) instead of--or in addition to--some of the vegetables you usually include. For example, you could use a broccoli quiche recipe, but replace the broccoli with pre-cooked pumpkin or butternut squash.
Black and Orange Chili
Vegetarian chili recipes and meat-based chili recipes can easily be modified to have a very Halloweeny look. Just use all black beans instead of other types of beans. While the chili is cooking, bake or roast some butternut squash. Cut it into chunks and stir it into the chili just before serving. For an even more Halloweeny touch, substitute pumpkin puree for the tomato component of the recipe.
Pumpkin Pilaf
Pumpkin pilaf is an elegant addition to any Halloween dinner party. Simply add chunks of roasted or baked pumpkin to any rice pilaf you prefer. To make the dish look extra Halloween-y, stir in some cooked black beans just prior to serving. With the addition of beans, you could serve this as a vegetarian entree instead of using it as a side dish.
Roasted Carrots and Pumpkins
Roasted root vegetables are a great side dish idea for a Halloween party meal. To keep them in line with your Halloween theme, use only orange vegetables such as whole or chopped carrots paired with pumpkin chunks. You could also add in some butternut squash, or use it instead of pumpkin if you prefer.
Simple Ideas for Halloween-y Sweets
No Halloween party is complete without a delicious display of Halloween-themed desserts. You'll definitely want to have a Halloween cake or some Halloween cupcakes, but don't stop there. Your guests will be doubly delighted if you offer even more sugary treats.
Frosted Halloween Shortbread Cookies
It's easy to dress up shortbread cookies for Halloween. Buy some plain shortbread cookies at the supermarket (we'll never tell!). Dress them up for the occasion by slathering on a layer of orange frosting and finish them off with sprinkles in Halloween or fall-centric colors.
Ghostly Brownies
This super-cute Halloween dessert is extremely easy to prepare. Start by baking a batch of brownies, either using a boxed mix or your favorite go-to brownie recipe. Once the brownies are cooked, while they're still hot, plop marshmallows on top. The heat from the freshly baked dessert will cause the bottom of the marshmallows to melt a bit, so they'll take on a ghostly form. Use chocolate frosting and/or tiny black candies to dab on ghoulish features.
Halloween Candy Tray
Purchase a variety of unwrapped Halloween-appropriate candies and arrange them on a tray to create an attractive, mouth-watering presentation of yummy Halloween-theme sweets. Start with things like candy corn, mellowcreme pumpkins, and jelly beans in Halloween colors, then add any kinds of store-bought or homemade Halloween candy you think your guests will enjoy.
Ghoulish Fruit Salad
Even fruit salad can take on a Halloweeny-feel when you serve it in a "bowl" that's really a hollowed-out piece of yellow or green fruit — such as an apple, grapefruit, or melon — that has been carved to resemble a ghoul. Place the fruit ghoul on a tray. Fill the top (head) with pink or red melon chunks to resemble brains. Arrange a variety of mixed fruit spewing forth from its mouth.
Creative Ideas for Halloween Party Potions
No Halloween party is complete without a selection of occasion-themed beverages for guests of all ages to enjoy. Be sure to prepare some nonalcoholic punch recipes, preferably ones that are blood red or orange, along with a selection of flavor-filled Halloween cocktails. Add a unique flair by dubbing the concoctions and potions on your beverage menu with creative Halloween drink names.
Have a Frighteningly Flavorful Halloween
Who knew there were so many great ideas for Halloween party food? Whether you're hosting a party in honor of Halloween or are throwing a Halloween-themed birthday party at another time of year, your guests are sure to be impressed by your creative culinary approach to the occasion. Have a happy and flavor-filled Halloween!