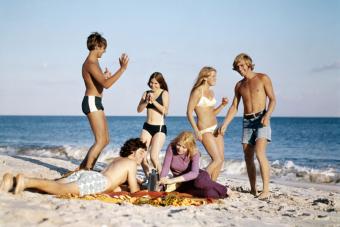 There's something about music from the 1970s that just exudes an infectious sunny and carefree energy. Such a vibe can make for a perfect pairing with a beach themed party, and there's more than just a few 70s beach music hits for you to choose from. Whether you like to keep your music on the nose or want to get creative with your top picks, practically any song from the '70s can turn into the perfect beach song when played at just the right moment.
70s Beach Party Music to Get a Groove Going
When it comes to party planning, the thing that'll make or break you is your party playlist. From eclectic bog vibes to middle school throwbacks, these uniquely monikered playlists make up thousands of the custom creations stored on everybody's favorite streaming apps. But, you can't always rely on other people's hard work to set the right mood for your specific party. As summer draws nearer and you get ready for each of your oceanside weekend getaways, the need to have a rock-solid playlist to jam out to is increasingly paramount.
Thankfully for you, the 1970s--one of the greatest decades in music history--can provide you with the backdrop for all of your beach party music playlist needs and desires. Here're thirty of the best 70s beach music songs to bask in alongside the surf and sand.
Jimmy Buffett's Margaritaville
To start off your 70s beach party playlist, look no further than the king of resort rock, Jimmy Buffett, and the song that inspired the incredibly popular Margaritaville Cafe. Released in 1977, Buffett's classic tune about the drunken mishaps and ruined relationships that come when the summer sun peeks out from behind the winter clouds is a great way to start off your party.
Barry Manilow's Copacabana (At the Copa)
While you and your guests are spending time enjoying the beachfront views, take an aural trip down to the Copacabana, "the hottest spot north of Havanna." Let Barry Manilow's 1978 dramatic, upbeat song help the burgeoning party ignite.
Eddie Money's Two Tickets to Paradise
Eddie Money's insistent beat parallels the urgent requests he makes to the listener in his famous 1977 smash hit, Two Tickets to Paradise. This upbeat dance tune will absolutely send you and your guests to a beachy paradise if you're wistfully partying in the landlocked suburbs of the world.
Rupert Holmes' Escape (The Piña Colada Song)
You can't host a proper a beach party without christening it with a couple of rounds of Rupert Holmes' 1979 song Escape (The Piña Colada Song). This is the quintessential beach song from the 1970s. Sway along to Holmes' tale about two estranged lovers accidentally meeting back up with each other on a wild getaway. It's even better if you have an actual piña colada in hand.
The Embers' I Love Beach Music
This jazzy song from The Embers is definitely one to queue early in your playlist thanks to its smooth sound and obvious beach connections. Make sure that when you're adding it to your list, to grab that first 1979 single, and not the band's overproduced later renditions.
Queen's Seaside Rendezvous
Queen's Seaside Rendezvous might have been eclipsed by other songs (cough, Bohemian Rhapsody, cough) off of their 1975 studio album, A Night At the Opera, but the bouncy ditty about a sweet English romance will give your guests a chance to take a break from dancing to fill up their drinks and snacks.
Ike and Tina Turner's Proud Mary
If you want a beach party that has the fever and pitch of a freight train, then Ike and Tina Turner's Proud Mary has to be on your playlist. Released in 1971, this song mimics the swells of a party as it begins off slow and steady and suddenly launches into a massive brass arrangement and dance number.
Lynyrd Skynyrd's Sweet Home Alabama
While you're at it, you might as well take a dip on the Southern side with Lynyrd Skynyrd's 1974 smash hit Sweet Home Alabama. You don't have to know how to catch catfish with your bare hands or the best way to boil come crawfish to bring the intense spice of Southern life to your beach party this summer.
Olivia Newton John and John Travolta's Summer Nights
While this may seem like an unconventional pick for your beach party playlist, it's actually the perfect underdog song. Almost anyone between the ages of 10 and 60 knows at least half of the lyrics to this musical number. It's kitschy and boisterous, and perfect for a summer afternoon.
Linda Ronstadt's Heat Wave
Linda Ronstadt's contributions to both the music industry and female musicians around the world are prolific. Yet, your party should be most concerned with queuing up her jazzy pop number from 1975 called Heat Wave. Similarly constructed as Summer Nights, but vastly more complex, you can't help but shimmy a little when listening to Heat Wave.
Earth, Wind & Fire's Boogie Wonderland
If a couple of animated penguins can get down to this song and repopularize it some 40 years after its release, then you and your beach blanket party goers can, too. Earth, Wind & Fire's infectious 1979 disco hit will make you forget all about your future sunburn and hangover in favor of dancing to the beat.
The Police's Message in a Bottle
The Police's 1979 song Message in a Bottle has the right kind of frantic beat for a late-night beach bonfire party. Although its ties to the sand and the surf might be looser than some of these seventies songs, this '79 banger will get even the most tired party goers blood pumping again.
Looking Glass' Brandy (You're a Fine Girl)
Now, if you've been inspired by the sea shanties that've taken over social media in the past few years, then this 1972 cautionary tale about a sailor's love for the sea is the perfect song for your sandy bash. Get ready to hear the best kind of tipsy call and responses you could ask for when you press play on this one.
ABBA's Mamma Mia
Here we go again, bringing the '70s superstar group ABBA back into the spotlight. With sand between your toes, you and your friends can do your own rendition of the classic musical number from ABBA's hit eponymous stage production. Just hit play on the song and see how many people's heads turn at the first few chords.
Styx's Come Sail Away
When it comes to beach themed parties, Styx probably isn't the first musical choice that comes to mind; however, the band's biggest hit and ambitious rock opera single will have you and your guests dreaming of sailing away on the open seas.
The Village People's Y.M.C.A.
Honestly, when it comes to the Y.M.C.A. not much has to be said. From the parent-chaperoned dances in elementary school where everyone first heard the joyous shouts of the Village People to every party ever since its 1978 release, this song is a must have at any get-together that you're hosting.
Elton John's Island Girl
For a funky mid-seventies beachside resort number, check out Elton John's Island Girl. One of his lesser-known hits, this song is just as upbeat and infectious as all of his other major singles, and will have your guests on the dance floor in no time.
Sister Sledge's We Are Family
Another party classic, Sister Sledge's 1979 song We Are Family is a staple at wedding receptions around the west. However, you don't have to limit where you get to enjoy this number. Take it to the beach blankets and sand castles littering your party area and bring your whole family together with just a few notes.
The Ramones' Rockaway Beach
Whoever said you had to stick to easy listening for your beach party playlist? If you want something a little more aggressive, but still on-brand with your party, then you should definitely add the Ramones' 1977 song Rockaway Beach which feels like it should be in a teenage delinquent film's version of Beach Blanket Bingo.
Maxine Nightingale's Right Back Where We Started From
If you're going to use '70s music to pump up the life of any party, you'd be remiss to not include Maxine Nightingale's incredible song Right Back Where We Started From. This disco hit starts off strong and doesn't ever lighten up, making sure that there's no chance for the party to hit a lull.
The Trammps' Disco Inferno
Let The Trammps warn you about getting burned with their sultry voices singing 'burn, baby, burn' in their 1976 song Disco Inferno. This song isn't the only thing that's heating up on the sandy shores of your beachy party.
Mungo Jerry's In the Summertime
Mungo Jerry's song In the Summertime comes just off the tail-end of the 1960s, when folk-inspired percussive tunes were all the rage. You and your guests will fall under Jerry's sun-soaked spell when you put this song on.
Elvis Presley's Burning Love
You can thank Elvis' late-60s comeback for songs like Burning Love. With his vocals as rich and they ever were, this fast-paced rock tune is a far cry from his rockabilly '50s love songs, and will be a hit at your beach party.
Hues Corporation's Rock the Boat
Hues Corporation's Rock the Boat might be a bit on the nose for some people, but for others it's the exact type of '70s energy that they need when they're hosting a beach themed party. With its soulful chorus and relentless horn section, you'll want to keep this song on repeat.
Electric Light Orchestra's Mr. Blue Sky
Chances are high that you're putting your beach party together during the summer months, and there's no better way to bask in that sweet summer sun than while listening to Electric Light Orchestra's Mr. Blue Sky. Released in 1977, you won't be able to stop yourself from singing along to the falsetto runs that slide across the happy song.
Seals and Crofts' Summer Breeze
This easy listening song from 1972 might not be up to everyone's taste thanks to its unique representation of classic seventies male falsetto and airy vocals, but it's a great choice if you aren't looking to turn your beach party into a sandy dance party.
Steely Dan's Reelin' in the Years
This early '70s hit from Steely Dan has an easy-goingness to it that so many songs from the seventies seemed to have captured. You and your crew will simultaneously be happy and nostalgic when listening to this soft rock song.
Alice Cooper's School's Out
Perfect for a teen beach party filled with the unadulterated joy of being out of school for the summertime, Alice Cooper's song School's Out debuted in 1972. This gritty, though still tame, rock song will give you a cool vintage vibe to your teenage get together.
Donna Summer's Last Dance
Just like when bartenders shout last call, you should keep Donna Summer--the seventies pop and disco queen--and her 1978 song Last Dance in your pocket to whip out at the end of the party. Help your guests get their final boogie out in style while also encouraging them to get ready to call it a night.
Elton John's Don't Let the Sun Go Down on Me
This 1974 epic tune from Elton John has to be the last song of the night, and is a particularly poignant pick if you're hosting an evening beach party. You can sync up the actual ocean sunset with Elton John's musical belt as you all enjoy the sun setting on the party that you'll never forget.
70s Beach Music Sounds and Sunshine
As any frequent party planner knows, your party is only as good as the music you have playing in the background. Thankfully for you, the 1970s was such a prolific decade in music history that there's an endless number of options to choose from. In fact, you have enough hits to last you months worth of beach parties without having to repeat any song once.