A birthday is the perfect excuse to host a big backyard bash. Throw the most exciting backyard birthday party of the year and have all your neighbors hoping for an invitation. These backyard birthday party ideas will make your house the talk of the neighborhood.
Build a Backyard Water Park
For warm weather months, a water park birthday is the perfect way to cool down. Construct your own water park right in your backyard, and your tiny party guests will crown you the best party host ever. Mix and match slip and slides, sprinklers, splash pads, and small pools for a makeshift water park experience that is much easier to navigate than a giant amusement park.
Host a Bonfire
Gather your closest friends around the bonfire for s'mores and scary stories. This backyard party feature is perfect for adults or teens who want something low-key and full of memories. Keep it casual and stress-free by encouraging guests to arrive at dusk for a quick bite and a relaxing night by the fire.
Design an Obstacle Course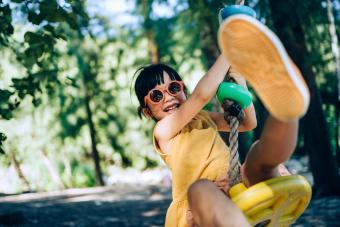 From toddler to tween, an obstacle course is fun and challenging. Make your own backyard obstacle course for an exciting party activity that gets kids off the couch and out in the fresh air. Make challenges age appropriate and encourage parents to send their child in play clothes because they are guaranteed to get messy with this party feature.
Rent a Food Truck
Skip the catering and rent a food truck instead! You don't have to worry about prep or clean up with this backyard birthday party idea, and your guests will love the experience. From taco trucks to ice cream trucks, there are endless ways to introduce a bit of local cuisine to your gathering.
Make It a BBQ
If you're hanging out in the backyard anyway, you may as well turn your party into a full-blown barbeque. Invite guests of all ages for some classic barbeque cuisine or mix things up with grilled pizza and dessert. Cooking and dining outside is always fun, and your backyard BBQ party is no exception.
Build Your Own Bar
Your party isn't complete without a tempting selection of drinks. Serve them bar style on a DIY pallet bar. This party feature will be the focus of your celebration, and guests will love "ordering" their favorite cocktail. For a kids' party, turn this into a lemonade stand!
Light Up the Trees
If you're expecting your party to extend well past sundown, make sure your backyard is aesthetically prepared. Hang as many twinkle lights as you can from tree branches, or wrap them around the base of trees or along a fence. You can also use lanterns and torches to illuminate your backyard celebration. With all these lights, you're free to party the night away.
Offer Shaded Dining
A backyard party is wonderful during the warm weather months, but guests might seek shade when it's time to eat. Make sure you have plenty of umbrellas, canopies, and natural shade available for guests to escape the heat and sun.
Create Comfy Seating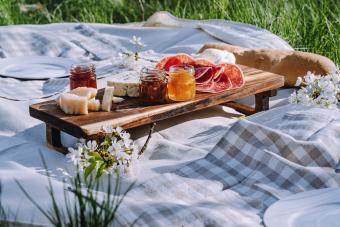 Make your backyard party dining space extra cozy to encourage guests to linger for conversation. Pillows, blankets, and comfy cushions are inviting around a pallet table and look elegant for a boho celebration. Dining picnic style is also a fun way to enjoy party food.
Get Creative With Beverage Storage
Make it easy for your guests to grab a refreshing drink. Display your drinks in a fun way for your backyard bash. Use anything from a rustic wheelbarrow and garden planters to a canoe or antique wagon. Whatever vessel you choose, fill it with ice and keep it fully stocked with drinks for your guests.
Serve Food in Large Jars
Whether it's a gourmet pasta salad or simple party pretzels, keep your food safe from insects and debris. Use large glass jars to store your food safely and make setting the food table simple. Lids keep the wildlife out, and the clear glass helps guests see exactly what's inside while letting you know when you need to replenish.
Have an Outdoor Survival Station
This outdoor party feature doesn't have to be big or fancy. Simply designate an area as your outdoor party survival station and keep it stocked with sunscreen, insect repellent, sunglasses, and small bottles of water so guests feel prepared for an afternoon in the great outdoors. Add glow sticks to the mix if you expect guests to party after sundown.
Go Backyard or Go Home
Planning a backyard celebration can still be casual and laid back. But with these simple backyard party ideas, your celebration will have just a touch of style and creativity. Grab your sunglasses because this backyard bash will be a bright one!