Show off your fun side and let loose with a tropical tiki party. Whether you're celebrating a birthday or just looking for an excuse to gather with your friends, a few tiki party ideas will level up your soiree. Make it casual or go all out with the best tiki party decor and food.
Center Your Party Around the Bar
To officially call it a tiki party, there must be a bar. Even if you don't have an existing bar area in your home, you can convert your kitchen counter, dining table, or patio into a tiki bar offering all the tropical drinks to your guests.
Host a Tiki Bonfire
A bonfire adds a laid-back vibe to any party, and this is especially true for a tiki-inspired get together. Build a bonfire for your friends to gather around and make it the central focus of your tiki party. Provide plenty of seating and a few blankets if the evening is cool so your guests feel entertained and comfy.
Make It a Cookout
All the best tiki party foods come from the grill anyway, so you may as well go the extra step and make your gathering an official tiki cookout. Encourage guests to bring a food contribution and set all of your party decor up outdoors. Nothing says tiki like a plate of grilled goodies in one hand and a fruity drink in the other.
Plan Your Party Near Water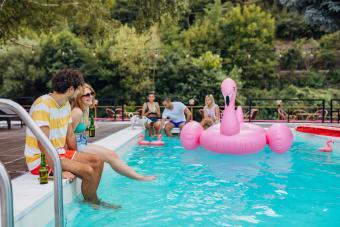 Though you can host a tiki party virtually anywhere, a body of water nearby just makes the whole experience feel more authentic. Whether it's by the pool, on a boat in the middle of the lake, or on a sandy beach, the chance to take a dip will certainly entice your guests to embrace every part of your tiki-themed gathering.
Hang Twinkle Lights
Keep your tiki party going all night long with an abundance of twinkle lights. Whether your party is taking place indoors or outside, plenty of twinkle lights will add to the laid-back vibes and help guests feel like they are enjoying an authentic tiki celebration.
Include Classic Tiki Torches
The one element you absolutely must have to call your get together an official tiki party is a lineup of tiki torches. Whether they feature real fire, a flameless torch, or come as an inflatable, a collection of tiki torches will let your guests know exactly what sort of party you have planned. Include them in your outdoor dining area, near the entrance of your home, or anywhere you expect guests to linger.
Add Bamboo Details
A few subtle bamboo elements will help your tiki party come together and feel cohesive. Use bamboo placemats, lanterns, serving trays, and baskets for textural details that take your celebration to the next level.
Choose Colorful Dinnerware
A tiki party is a great opportunity to add bold colors and fun details to your dining experience. Use colorful glasses, plates with vibrant patterns, and serving platters shaped like every tropical element you can imagine. Break out all the colorful and striking dinnerware in your collection for this gathering.
Use Palms in Your Decor
The key to a great tiki party is to use subtle decorative themes to maintain the laid-back vibes. A few palm details in your party decor will keep the tiki theme relevant. Use palm leaves on the dining ware, table settings, centerpieces, and even include an actual palm tree or two for an authentic tiki celebration.
Offer Tiki Themed Drinks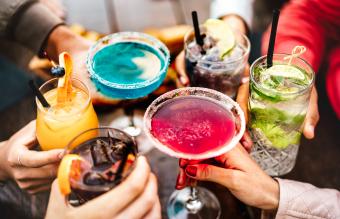 Give your guests the fruity and fun drinks they came for. Your tiki party will be a hit with the perfect line up of tiki bar-inspired drinks and cocktails. Create a menu on a chalkboard or small printed cards so guest can see all their drink options at a glance.
Serve Bacon-Wrapped Appetizers
Carve a Pineapple Bowl
Go all in on the tiki party theme and offer your appetizers in bowls made from pineapples or coconuts. You could serve a refreshing pineapple salsa or a sweet fruit salad in one half of a hollowed pineapple. With enough pineapples, you can even offer your main course in a hollowed half for each guest.
Create a Kabob Bar
Offer a new twist on the classic grilled kabobs for your tiki party. Let guests build their own skewers by setting up a bar that offers all the best kabob selections. Once guests have piled on the protein, vegetables, and fruit, you can throw their kabobs on the grill. Use skewers of various colors to help guests keep track of their kabobs.
Make It a Pizza Party
Whether you're hosting a tiki party for your closest friends or planning a tiki-themed celebration for kids, pizza will certainly be a hit. You can choose Hawaiian pizza toppings and other interesting options and even make homemade grilled pizzas for a tiki twist on a classic.
Try Tropical Twists on Desserts
Finish your tiki festivities with a tropical treat. Give guests a chance to make their own tropical acai smoothie bowls, serve a selection of frozen fruit whip, or choose cut-out cookies in the shape of tiki masks, tropical fruits, and flamingoes.
Turn Up the Tropical Themes With a Tiki Party
Give your friends and family a mini vacation with a tropical tiki-themed party. Your tiki drinks, tropical food selections, and paradise-inspired decorations will give every guest a small getaway. With a laid-back tiki party, you'll be the most relaxed party host your friends have ever seen.