For a spring or summer celebration, a picnic-themed party is entertaining for adults and kids alike. A picnic birthday party is a unique way to celebrate a loved one in the great outdoors. A few picnic tips will have you well on your way to planning the perfect picnic bash of the season.
Encourage Guests to Grab a Blanket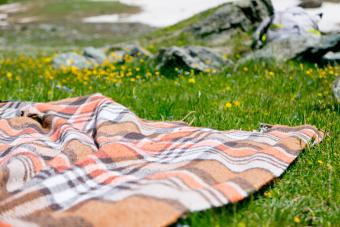 You can't have a proper picnic party without plenty of picnic blankets. Let your party guests select their own comfy blanket by displaying a cozy collection at your party's entrance. Let partygoers choose their favorite pattern or material before they pick the perfect spot to settle in for the celebration.
Host Your Party at Sunset
If you're going to be outside, choose the most beautiful time of day to celebrate. Invite your guests to join in on a sunset-watching party with a picnic theme. Watch the sun go down together, then break out the lanterns, candles, and sparklers to light the night sky. This cozy party idea is perfect for serving drinks and breaking out a birthday cake for an adult gathering.
Set Up Mini Picnic Areas for Kids
Kids love eating outside on the ground! Celebrate a little birthday with picnic blankets, fun food, and all the sweet picnic treats. Set up spots for kids to dine picnic style, even if the adults are having lunch or dinner at the table.
Make Seating Comfy
Sitting on the ground gets old after a while, so make sure your guests feel comfy. Add plenty of pillows, layers of blankets, and even a table or two to keep your picnic party so cozy that guests will never want to leave.
Mix Up Some Tunes
Spending time in nature is a perk of hosting a picnic party, but you might need some entertainment along the way. Play music throughout your party on bluetooth speakers or encourage your musically talented guests to bring their instruments and dancing skills.
Decorate With Picnic Necessities
Decor for a picnic-themed party can be simple, yet clever. Use checker print or gingham on table cloths, disposable plates, and platters. Create cozy layers with blankets and use picnic baskets to hold everything from drinks and food to utensils and party favors.
Pack Fun Lawn Games
If you're going to celebrate outside, you might want additional entertainment options for adults and children. Plan for a few rounds of catch, horseshoes, or cornhole for a picnic party setting that's perfect for creating memorable moments.
Serve Food on Wooden Platters
This picnic party trick will instantly elevate your casual gathering into a sophisticated celebration. Use beautiful wood platters, boards, and even cutting boards to serve your party food. Your menu items will look effortlessly chic on picnic-inspired platters, and guests will love making their selections from such a visually appealing table - or, in this case, a blanket.
Serve Gourmet Sammies
Whether you're serving chef-level creations or just hoping kids will eat your PB&J sandwiches, the art of serving a party is all in the appearance. Make your sandwiches ahead of time and slice them in small portions served on platters. You can also tie them with wax paper and twine for a rustic vibe. Presenting your simple party food in a creative way will show guests you take picnicking seriously.
Offer Picnic-Inspired Desserts
If you're hosting a picnic, you gotta have pie -as well as all the other signature picnic foods. Offer desserts inspired by picnic treats in a clever way. Serve hand pies in classic flavors like blueberry and cherry. Give guests a taste of a picnic classic with a pink lemonade cake or irresistible lemon bars. You could even serve cookies that look like pies, picnic baskets, or bumblebees.
Show Off Your Picnic Planning Skills
Every party and picnic needs careful planning to be a celebratory success. With these helpful hacks, you'll have the picnic party guests will gush over until the end of summer. Start packing your basket because you're on your way to being the classiest party host of the neighborhood.