Get outside, use all the bright colors, and enjoy your child's spring birthday with an unforgettable party. Spring birthday party ideas will help you plan the best bash of the season. With outdoor themes, lots of bugs and flowers, and the peachiest spring party activities, a spring birthday party theme celebrates your growing little bud or bloom.
Host Your Party at the Park
Most local parks allow you to reserve or rent space for parties so you can host the perfect spring birthday bash. Kids have plenty of space to run and play while parents enjoy the warm weather. Keep your food and decor simple and let the fun of a day at the park take center stage.
Plan a Cookout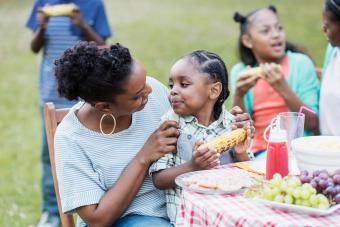 A spring celebration is an opportunity to break out your grilling gear. Plan a backyard cookout that kids will love and parents will welcome. A few lawn games and tables will make this spring gathering entertaining and comfortable for guests.
Make a Mini Campsite
Get your camping gear ready! A mini campsite at your child's birthday party will encourage little guests to embrace the great outdoors. You can set up a small tent or two, a faux fire pit, and plenty of camping gear to keep kids entertained until cake time. If you want to share the real camping experience with your birthday girl or boy, plan an overnight camping trip and invite all their friends the next day for campsite food and birthday cake.
Celebrate Spring on the Farm
There are a few ways you can celebrate a spring birthday with your little farm enthusiast. Plan a trip to your local farm for the day, with a few friends to tag along, and get a glimpse of real farm life before going out for lunch and birthday cake. You can also plan a farm-themed birthday party in your own home with all the animal-inspired decor and farm-themed food.
Pack a Picnic
Nothing says spring like a picnic. Pack up and head to your local park or hit the hiking trails for a birthday celebration on the picnic blanket. Invite a few of your child's friends for a small gathering full of their favorite picnic treats and lots of adventure. You can also host a picnic-themed party in your own backyard so parents can enjoy some leisure time as the kids play.
Choose a Bug or Butterfly Theme
Bees are buzzing and the butterflies and coming out of their cocoons, so let them inspire your spring birthday party. Butterfly and floral decor or lots of bug-inspired food will have your child so excited to celebrate their special day in spring.
Serve Bright & Springy Beverages
Prep Spring Sandwiches
Sandwiches are a crowd pleaser for kids, and you can make them spring-inspired with just a few cookie cutters. Make peanut butter and jelly, ham and cheese, or fluffer-nutter sandwiches in the shape of flowers, bugs, or animals for an easy spring party food that's affordable and simple to prepare.
Make Veggies Fun
Offer a healthy side dish with a fruit or veggie platter that's extra fun. Make flower or bug shapes with your produce to keep on theme. Celery makes the perfect stem for flowers, sliced strawberries are great for petals, and baby carrots make cute and colorful bodies for butterflies, caterpillars, and beetles.
Get Kids Giggling With Dirt Dessert Cups
Dirt cake cups full of gummy worms will have your tiny guests snickering as they dig in. You can serve dirt cake in one large trifle dish or make individual cups for each child that look like small pots full of dirt and crawling with bug-shaped candies.
Frost Floral Cupcakes
Floral cupcakes are easy to make and even easier to buy. Frost cupcakes with simple flowers and add a few bug candies or butterfly toppers to drive your spring theme home. These cupcakes smell even better than the flowers that inspired them.
Choose a Naked Spring Cake
A naked cake can be just as colorful and yummy as one covered in buttercream flowers. Choose a naked layer cake overflowing with flavor and fruit for an unexpected birthday cake that celebrates all the beauty of spring.
Set Up a Gardening Station
Show kids the fun of gardening and send them home with a party favor they can watch grow. A small gardening station with tiny pots, soil, seeds, and kid-friendly gardening tools will help them grow their own flower, herb, or vegetable.
Build Birdhouses
Building or painting birdhouses will have kids entertained until it's time to blow out the candles. This take-home craft will be a fun memory of the celebration and encourage kids to observe the beauty of nature as their little house becomes a home for a lucky bird.
Have a Petting Zoo
There is no better time to have a petting zoo at a party than in springtime. With all the baby animals making their appearance, your party guests will love getting to see them up close. A petting zoo is an unforgettable spring birthday surprise for your little one.
Make Flower Crowns
Flower crowns go with childhood and springtime. Help your child and all their friends make this must-have nature accessory. A small flower crown station at your party will have little partygoers embracing nature and expressing creativity all in one place. This springy activity doubles as an exciting party favor.
Help Your Child Spring Into Their Next Year
A spring birthday is an opportunity to celebrate new life and the new year ahead for your child. Show them how excited you are for their special day and plan a spring party full of all the best parts of the season. Fun with friends, spring decor, and all the best food they look forward to every year will have them feeling lively and loved.