You've done all the work of packing up, moving, and unpacking. Isn't it time you took it easy and showed off all of your hard work? Sounds like the perfect chance to host a housewarming party. Whether you're looking for housewarming party ideas or you want a theme to tie it all together, you have loads of options to suit any home, be it a house or an apartment.
A Little Help From Friends
There's nothing wrong with accepting a little help from friends and family, especially if you're overwhelmed by your task list. Any of these housewarming themes can help you put everything together a little easier.
Stock the Bar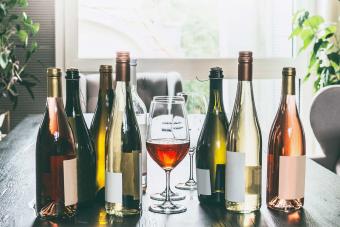 When you send out your invitations, make note that your housewarming party requires an entrance fee: a bottle of booze! A stock the bar party helps to replenish and stock your home bar, especially if you threw a party where you drank your way through your stash prior to moving. Who has the time to wrap all those bottles? But now you can be ready to go for your next time hosting, or even a night in, with a fully stocked bar of spirits, wine, beer, and mixers.
A Bookish Soiree
Are you someone who can never get your nose out of a book? There's nothing more stressful or inspirational than an empty bookshelf. Invite your guests to bring their favorite book or two, or one they think you'll enjoy. As a bonus, they can add a note to you on the inside.
Growing a Garden
If you're a plant person, you'll forego your own water to nourish your plants, and somewhere there are never enough plants in your life. If you love to be in the dirt outdoors or surround yourself with greenery inside of the house, invite your guests to bring a cutting, plant, or seeds for you to grow and nourish. If they're not the green thumb type, then a plant pot makes a great substitute for bringing a plant. Your home will be cozy in no time.
Game Night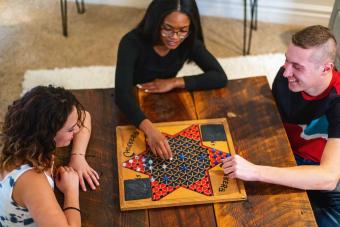 Nothing makes people come together, or laugh harder, than a good old-fashioned game night. Have friends bring their favorite game along with them to play that night, and if they want, leave an extra game to stock your own shelves with games. It can be as simple as a deck of cards and some dice! Or go big with board games and other group games such as a breakout room.
Pot Luck
Host a pot luck housewarming party by having your friends and family bring over their favorite dishes and enjoy an evening of snacks or meals buffet style! You can suggest a theme or ask for people to sign up for an appetizer, entree, or dessert. Although, if you only had dessert, would that be such a bad thing? As a bonus, they can leave you a copy of their recipes so you can reference them for years to come.
Party Ideas
Put your home on full display by adding a few activities for your guests, this way they can see your new home in all its glory.
International Tour
Assign each room a different country, and decorate appropriately. Don't forget to add the finishing touch of the cultural food and drink! If you want to keep it local, select a few states that are significant to you and your guests, or go even smaller and have food from different local restaurants in each room.
Christmas in July
Decorate each room with a different holiday theme; now's your chance to capitalize on those cobwebs in your basement and go full Halloween! Be sure to toss on some music, adjust the lighting, or have the perfect snack for each holiday as guests travel through the calendar.
Wine Tasting
Host your own wine tasting night by focusing on a different style of wine in each room. If wine isn't your jam, or you know your guests are more into craft beers, you can have a small sample of each to make sure everyone feels right at home. Guide your friends through your home with varying reds, whites, and rosés or stouts, lagers, and pale ales.
House of Modern Art
If you're artificially inclined, there's a great chance you have quite a bit of art brimming from every corner of your house- both of your own and the beautiful pieces that you've acquired. Take a moment to spread all of this art out around your house and give people a chance to enjoy a night at the museum while showing off your home.
Summer Fun in the Sun
You don't need to host a housewarming party right when you move in, so if you waited a few months, no one will fault you, especially if you're waiting for a beautiful summer day. Have your guests over and throw a backyard BBQ, complete with burgers and ribs and some lawn games, including lawn golf or some bocce. Don't forget a cooler filled with ice-cold beverages and some finger foods.
Scavenger Hunt
Really introduce your guests to your house with a scavenger hunt! Depending on the size your housewarming party, you can face your guests off against each other, or split everyone into teams. You can go as big as you want (find the shower with the rubber duck!) or small (find the hidden clover!). You can even send them outside around the house or through your neighborhood, depending on the weather.
Alphabet Party
When you invite your guests, ask them to bring something that starts with the letter of their first name. This could be a game, a drink, or food. While this does leave you in a bit of a perilous position for planning snacks, if you're the type to leave things up to chance and love a good surprise, then this party is a great way to bring fun to your new home.
Taco Night
Everyone loves taco night. You can spread out throughout the house by having a different style or taco filling in each room, or you can keep the tacos in the kitchen for easy planning. Have both vegetarian and vegan options on hand too to make everyone feel welcomed. Don't forget the margaritas!
Hollywood
If you're a movie fanatic, you can share your love by styling each room after a favorite movie or tv show of yours. Consider playing the soundtrack, projecting the movie, or having a notable food or drink to complete the experience. Bonus points if you add props and a camera for people to take pictures with!
Colors
A color party is an easy theme for a housewarming party. Pick out a few colors to spread across your rooms, and ask your guests to dress in one of those colors. For each room, place out food, drinks, snacks, and appropriately colored decorations, plates, and glasses. Go big on the color in your new home.
Throwing a Housewarming Party That'll Make a House a Home
Invited to a housewarming party? It's an accomplishment moving into new digs! Throw open your doors and windows and invite your best friends and family to join you in the celebration. Whether you want a low-key celebration or want you go big, there's a housewarming party idea ready to make your house a home. Then use these quotes to congratulate someone on their new home!