Birthday Cupcake Pictures Perfect for Kids
If you are looking for new ideas for your kid's birthday cake, cupcakes are a great option. Their small size makes cupcakes easily customizable and perfect for smaller hands. These birthday cupcakes pictures will give you the inspiration to help your little one smile on their special day.
Germ-Free Candle Blowing
A single cupcake with a candle for the birthday child to make a wish on is a way to keep germ-spreading to a minimum. Even if you serve up a traditional birthday cake, use the cupcake just for the blowing out part.
Edible Party Favors
Opt for fun, themed treat boxes and cupcakes with a flatter frosting style. Beautifully decorated cupcakes in single serving boxes make perfect take-home party favors for different occasions. If you're hosting a party at a fun venue such as a trampoline park or guests will be busy playing water games, cupcake favors are an easy way to still incorporate birthday cake.
Creepy Critters
If your child loves creepy, crawly bugs, these insect cupcakes will hit the spot. Use candy, fruit, and colored frosting to design party-perfect bugs. Some candies to try are:
Gummy worms
Chocolate chips
Malted chocolate balls
M & Ms
Candy corn
Sprinkles
Unicorn Magic
Get inspired by the world of magic with trendy fantasy cupcakes like those that resemble unicorns. Mix pink and blue frosting in your pastry bag to get the ombre swirled effect. Use fondant or a moldable candy such as modeling chocolate to create the ears and horn. You can add edible glitter to get an even more magical look.
Monster Faces
If your child has a Halloween birthday, or simply adores monsters, create fun monster cupcakes. Start with dark chocolate batter, mix your frosting with sprinkles, then fashion monster faces out of cookies and candies. You can also use piping nozzles to create the effect of monster fur.
Hooray for Hula
Hawaiian, tropical, or luau parties are enriched by hula girl cupcakes. Party supply stores carry these and similar cupcake toppers. Simply make your favorite cupcakes, stick in the hula girls, and you're ready to go! For extra tropical points, use tropical pineapple and coconut in your cupcakes.
Select Creative Liners
Decorative cupcake liners are readily available, so make use of them! For elegant parties, use simple foil liners. For bright, bold bashes, use colorful liners. Choose colors and patterns your child loves or that match the theme of the party. Make the whole presentation cohesive by decorating the cupcake with sprinkles or icing that mimics the liner pattern.
Use Color to Your Advantage
Rainbow-colored sprinkles are commonly used as kids' birthday cupcake toppings, but sprinkles come in a wide array of colors and shapes. Choose sprinkles that best complement your party's colors and theme. For the most visual appeal, pick sprinkles that contrast sharply with your frosting color.
Kids Birthday Cupcake Toppers
Whether you use plastic toys, fondant, candy shaped into specific objects, printable cupcake toppers, or even other edible items like mini cookies or fruit, cupcake toppers are an easy way to decorate. Make sure your toppers are non-toxic and let kids know before you hand them out if they are edible or not.
Bring on the Bling
Candy coated dots, metallic shimmers, or sugar crystals are beautiful toppings for decorating birthday cupcakes. These cupcakes are suited for princess, Barbie, and other girly themes. You can buy special sprinkles that look like gemstones or simply use decorating sugar in jewel tones to get the same look. Choose the same color frosting and sprinkle for a monochromatic look or accent frosting with a different colored sprinkle.
Top it With Flowers
Flowers, either real or fake, make beautiful cupcake toppers. You can purchase pre-made candy flowers, pipe flowers with a decorating tip, or use real edible flowers. Make sure that the flowers you choose are safe to be near food.
Luscious Layers
Make use of layers to create visually appealing displays. Whipped cream icing, fudge, fondant, buttercream, and toppings can all be layered. Get this fun rainbow look by piping several colored frostings in medium-thick layers.
Fondant Accents
You can create almost any shape and design with fondant by coloring and cutting it. Take your child's party theme to the next level with flat or 3D shapes and characters set atop the cupcakes. For fun superheroes like these, cut out basic shapes like circles for the background and ovals for the faces then add details with piping gel.
Sweetly Simple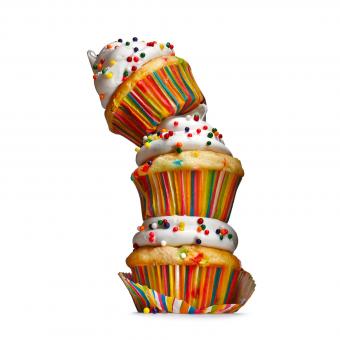 Cupcake decorations do not have to be complicated to be effective. In fact, sometimes simple is better. Rainbow cupcake liners and sprinkles are easy to find at any store and have a classic birthday feel. Simply using colored cakes or frostings and pre-made decorative elements you can create fun and simple treats.
Cupcake Tower Presentation
Cupcake towers help present birthday cupcakes in a space-efficient way and look cool. You can purchase a cupcake tower rack or make your own by stacking smaller cake stands on top of each other.
Animal Inspiration
Turn your child's favorite animal into a cupcake with a few simple decorating tips. Search online for basic drawings or cartoon images of the animal, particularly look for ones without a lot of detail, to use as inspiration. Piping nozzles can help create the look of fur or scales and store-bought tubes of decorating gel create the eyes, mouth, and snout.
Giant Cupcake
A giant cupcake gives a whimsical feel to your birthday cake presentation. You can serve it surrounded by actual cupcakes too. There are special pans available to make this shaped cake or you can simply stack round cakes and carve them into the cupcake shape. Use a smooth frosting technique or fondant to make the bottom "liner" part of the cake. Then, pipe the frosting on the top to resemble cupcake frosting.
Cupcake Imposter
If you've got a kid who hates cake, try making cupcake imposters. These little desserts look like the shape of a traditional cupcake but aren't made of sponge cake. Simply make your cheesecake or another dessert in a cupcake pan then top with a frosting-like topping such as whipped cream.
Cupcake Pops
Cake pops are on trend for kid and adult parties. You need to mix crumbled cake with a firmer frosting to make the actual cake pop. Then you can mold it into any shape. Use a mini muffin tin to help you get the classic cupcake shape. Carefully insert a candy stick into the bottom of the mini cupcake pop. Frost the mini cupcake pops like you would a regular cupcake and you've got a kid-friendly birthday treat.
Focus on Flavor
While cupcakes are fun to look at and serve as a decoration for the party, the most important part of this dessert is really the taste. If you don't feel like you can create any of these awesome birthday cupcake ideas, make sure you choose a cake mix and frosting with winning flavors.